Movie channels account for almost a quarter (24%) of India's television viewership, according to the 2018 Yearbook of the Broadcast Audience Research Council (BARC India), a joint industry company of broadcasters, advertisers, and advertising and media agencies. Within the genre, Hindi-language movie channels lead the rest by far, accounting for 69%. The next three are movie channels in southern languages, with Telugu way ahead of other languages but a distant second to Hindi. The pie diagram is based on the average number of weekly impressions.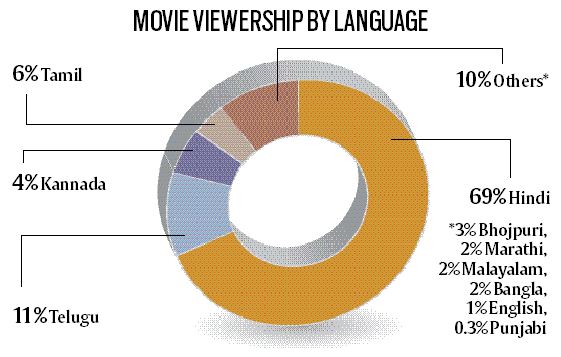 In terms of time spent per viewer, Hindi movie channels on an average (01:21:42) engage a viewer for 18 minutes more than Telugu channels (01:03:05). Next to Hindi, viewers spend the longest times on southern-language movies — 00:46:06 on Tamil, 00:45:20 on Malayalam. and 00:44:22 on Kannada channels. The shortest durations are on Punjabi (00:18: 06) and English (0:21:17) movie channels.
These viewership times and weekly impressions do not correlate directly with the number of movie channels in a given language. While Hindi leads once again, with 33 movie channels, the next highest number is 19 English movie channels (see bar graph).
The gender breakup shows male viewership (53%) higher than female viewership, with slight variations depending on language. However, the urban-rural divide is starkest among southern-language movie channels, with a 61% rural viewership compared to 39% urban. While rural viewership is higher across the country, the gap is much narrower at the national level, and with Hindi-language movie channels. In terms of age, those between 15 and 50 years account for two-thirds of all movie viewership.
For all the latest Explained News, download Indian Express App