Even as petrol and diesel climbed to all-time highs and the Opposition protested across the country Monday, the government ruled out any immediate reduction in excise duty in order to bring down the retail prices of auto fuels, and instead urged the states to take action. While Andhra Pradesh announced a Rs 2 per litre cut in VAT on petrol and diesel following poll-bound Rajasthan's announcement of a 4 percentage point cut Sunday, states have been largely unenthusiastic.
Why is it so difficult for governments to cut taxes on auto fuels?
Taxes on petrol and diesel are a key revenue source for both the Centre and states, and a cut will hit their fiscal position.
The Centre mopped up Rs 2.29 lakh crore from excise duty on petroleum products in 2017-18 and Rs 2.42 lakh crore in 2016-17. Excise duty on petrol is currently Rs 19.48 per litre, and on diesel, Rs 15.33 per litre. The Centre raised excise duty nine times between November 2014 and January 2016 to shore up its finances as global oil prices fell. It cut excise duty just once — by Rs 2 per litre — in October last year.
Crude petroleum attracts 20% oil industry development cess, and a National Calamity Contingent Duty (NCCD) of Rs 50 per metric tonne. There's no Customs duty on crude, but petrol and diesel attract a Customs duty of 2.5%.
Rates of state sales tax or Value Added Tax (VAT) vary from state to state. Unlike excise duty, VAT is ad valorem, and results in higher revenues for the state when rates move up.
Also read | Govt rules out cuts in fuel taxes, looks at NRI bonds for rupee
States' earnings through sales tax/VAT on petroleum products increased to Rs 1.84 lakh crore in 2017-18 from Rs 1.66 lakh crore in 2016-17. Maharashtra earned Rs 25,611 crore from sales tax/VAT on petroleum products in 2017-18, the highest in the country — followed by UP (Rs 17,420 crore), Tamil Nadu (Rs 15,507 crore), Gujarat (Rs 14,852 crore) and Karnataka (Rs 13,307 crore).
Also, most states that impose the highest tax rates on petrol and diesel are struggling with high gross fiscal deficit as a percentage of their GDP (see chart). Assam, for instance, has a fiscal deficit of 12.7% and imposes a VAT of 32.66% or Rs 14 per litre, whichever is higher, on petrol, and 23.66% or Rs 8.75 per litre, whichever is higher, on diesel.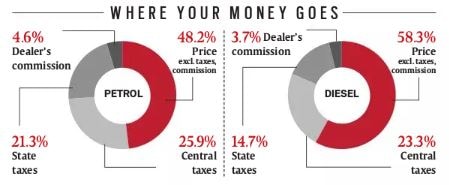 Among the states that impose the highest VAT on petrol and diesel, Maharashtra, with a fiscal deficit of 1.8% of GDP (2017-18 revised estimates), may have some room to reduce levies. With a fiscal deficit of 0.3%, Delhi, too, has some cushion, even though its VAT rate on petrol is relatively low at 27%. Among the 29 states, Goa has the lowest VAT rate of 17%, plus a green cess of 0.5%, on petrol.
Rajasthan had a fiscal deficit of 3.5% in 2017-18, and plans to keep it to 3.0% in 2018-19. Sunday's VAT cut will make petrol and diesel cheaper by Rs 2.50 per litre, but will cost the state exchequer an estimated Rs 2,000 crore in revenues.
Besides taxes, the Centre and the states have other earnings, too, from the petroleum sector. Adding dividend income, dividend distribution tax, corporate/income tax and profit on exploration of oil and gas, the Centre's total earnings from crude and petroleum products were Rs 3.43 lakh crore in 2017-18 and Rs 3.34 lakh crore in 2016-17. Along with the dividend income, state governments' earnings from crude and petroleum products stood at Rs 2.09 lakh crore in 2017-18, and Rs 1.89 lakh crore in 2016-17.
Could the inclusion of petrol and diesel under GST change this situation?
LPG, kerosene, naphtha, furnace oil, and light diesel oil attract GST, but five other petroleum products — crude oil, high speed diesel, motor spirit (petrol), natural gas, and aviation turbine fuel — lie outside the new tax regime. The Constitution (One Hundred and First Amendment) Act, 2016 empowers the GST Council to recommend the date on which these five items are to be brought under GST. The Ministries of Petroleum and Natural Gas and Civil Aviation have approached the Finance Ministry for inclusion of petrol and diesel, and jet fuel respectively under GST. While natural gas and jet fuel will likely be the first of the five to enter the GST tent, contingent upon approval by the GST Council, neither the Centre nor the states have so far been forthcoming on including these five petroleum products in the new indirect tax regime.
Even if petrol and diesel are included under GST, prices are unlikely to fall. This is because of the GST principle of keeping rates close to the earlier tax rates. In June, Bihar Deputy Chief Minister Sushil Kumar Modi, who is a member of the GST Council, said that bringing petrol and diesel under GST would not have a big impact on prices, as states will levy additional taxes to boost revenues.
"Most people feel that if we put petroleum products under GST then the highest slab of 28% will be levied and prices will come down. [In fact,] It will affect prices only in a minor way," Modi had said at the PHD Chamber of Commerce and Industry's national conclave on GST. The trend worldwide, Sushil Modi said, has been that if petrol and diesel are included in GST, states levy additional taxes "over and above to prop up revenue". "If they (states) forego (tax), how will they earn revenue?" he asked.
So does it mean that if the government does not cut prices, it will have insulated its finances from erosion?
Not quite. The Centre may still have to bear some direct costs, since all fuel product prices are not market-linked. Kerosene and LPG prices continue to be regulated, with the government subsidising these products to protect society's weaker sections. Budget 2018-19 put the LPG and kerosene subsidy bills at Rs 20,377.80 crore and Rs 4,555 crore respectively, taking the total subsidy to Rs 24,932.80 crore. The LPG subsidy includes a direct benefit transfer component of Rs 16,477.80 crore. The depreciating currency — the rupee crashed 94 paise to 72.67 against the dollar Monday before closing at a life-low of 72.45 — and rising crude oil and gas prices will only raise the government's subsidy burden on these two items.
Also, higher oil prices and capital outflows push up inflation, significantly increasing the government's borrowing costs. The yield on the 10-year benchmark government bond rose to 8.16% Monday, the highest since November 25, 2014, up 9 basis points over Friday's close, as rising oil prices stoked inflation pressures. RBI has raised the repo rate — its key lending rate — at two successive meetings by a total of 50 basis points, and is expected to raise it further in its October meeting.
The Indian Express website has been rated GREEN for its credibility and trustworthiness by Newsguard, a global service that rates news sources for their journalistic standards.