Written by
Amitabh Sinha
|
Updated: February 15, 2017 11:43:48 am
The PSLV-C37 will inject into orbit 104 satellites from 7 countries, nearly 3 times the highest number flown by a single mission currently. A 'flock' of 88 will get to work to map every inch of the planet in super high resolution, creating images of limitless potential.
WATCH VIDEO | Why Is ISRO's PSLV-C37 Rocket Launch With Record 104 Satellites Important?
Why is this launch significant?
The rocket is carrying almost 3 times the record number of satellites launched in a single mission — Russia's Dnepr rocket carried 37 payloads in June 2014. In January that year, American company Orbital Sciences Corporation's Antares rocket flew with 34 satellites; the Dnepr had carried 32 payloads in November 2013. On June 20 last year, ISRO's PSLV-C34 launched 20 satellites.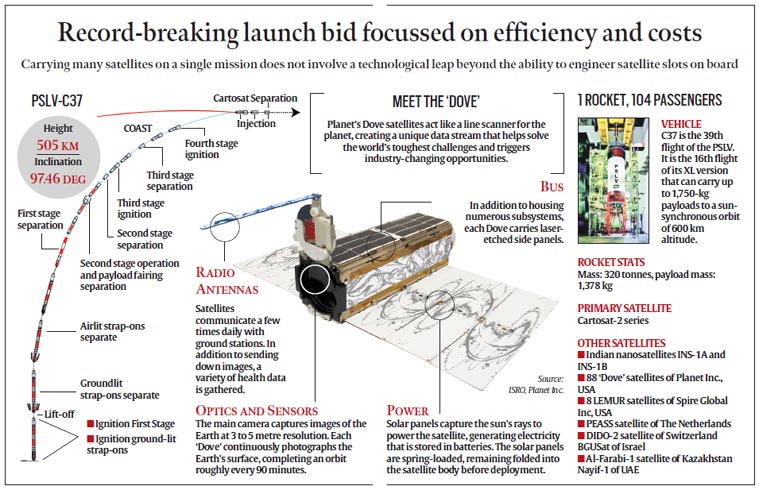 What challenges do so many satellites present?
No great technological leap is involved. Smaller and lighter satellites have made it possible for rockets to carry more of them. The number of satellites that can be loaded on a rocket is restricted only by the space available and the carrying capacity of the launch vehicle in terms of weight. But satellites have to be stacked together in certain configurations so that they can be ejected in desired orbits without disturbing the flights of others or colliding with each other. This requires lot of engineering innovations.
Also read: Prolific ISRO attempts a century today, promise of hi-resolution Earth map on board
WATCH VIDEO | ISRO Sets World Record, Successfully Launches PSLV-37 Rocket With Record 104 Satellites Into Orbit
Rockets often use 'container' satellites for a bunch of sub-satellites. After the container is injected, it fires the sub-satellites into their respective orbits. Both the Dnepr and Antares rockets had container satellites. In the ISRO launch, however, each satellite will be ejected independently from the rocket.
Will the satellites be released in one go or one after the other?
The Cartosat-2 series satellite will be the first, and the two Indian nano-satellites, INS-1A and INS-1B will follow. The other satellites, including the 88 'Dove' satellites, will then be released in pairs over a period of 10 minutes. At the time of separation from the rocket, the satellites will be travelling at more than 7.5 km per second.
But why do rockets need to be packed with so many satellites?
With an ever-increasing number of space-based applications, the demand for satellites is growing rapidly. The number of rocket launches, however, have remained limited. Additionally, it makes sense to pack more on a single rocket because of cost considerations.
The Indian Express website has been rated GREEN for its credibility and trustworthiness by Newsguard, a global service that rates news sources for their journalistic standards.