Written by
Amitabh Sinha
|
Updated: February 15, 2017 11:42:08 am
At 9.28 am on Wednesday, the PSLV-C37 rocket lifted off from the spaceport at Sriharikota, on board a mindboggling 104 satellites from 7 countries. The Indian Space Research Organisation (ISRO), already an achiever of extraordinary feats, will be attempting to outdo itself — never before have so many satellites been carried on a single rocket.
WATCH VIDEO | Why Is ISRO's PSLV-C37 Rocket Launch With Record 104 Satellites Important?
The record for the most satellites launched in a single mission is 37 — by Russia in 2014. Last June, ISRO sent up 20 satellites in one go, its personal best. It is using the same rocket this time — the XL version of the popular Polar Satellite Launch Vehicle (PSLV), to push the boundaries of efficiency and effectiveness in space launches.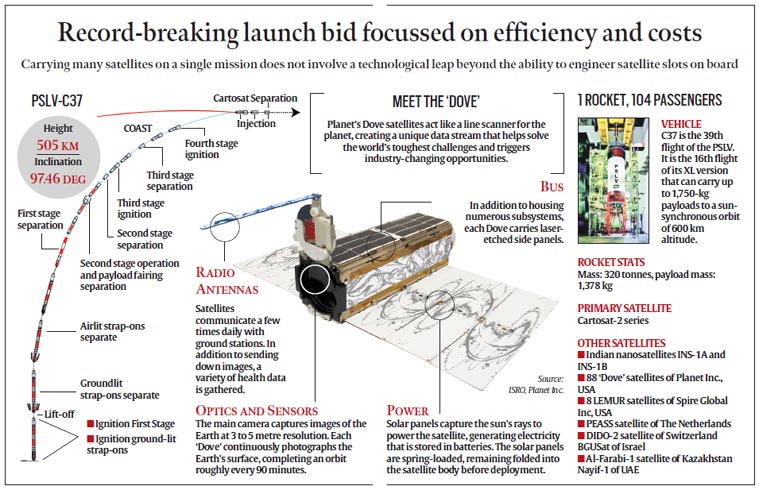 That said, packing a rocket with a large number of satellites does not signify any major technological leap.
With smaller satellites — like the 'Cubesats' that measure 10cm x 10cm x 10cm and weigh between 1 kg and 10 kg — becoming the norm, it is possible to load more and more of them on to a single rocket. Satellites that are even more small and light are becoming popular too, and are being used for a variety of space applications.
When ISRO put in to orbit 10 satellites on the PSLV-C10 in June 2008, it created a world record. But the record was subsequently broken several times by Russian and American rockets.
WATCH VIDEO | ISRO Sets World Record, Successfully Launches PSLV-37 Rocket With Record 104 Satellites Into Orbit
Also read: How important is this ton?
About 3 years ago, a rocket carrying cargo for the International Space Station tried to launch 104 tiny satellites, each no bigger than a typical computer chip, developed by Cornell University, but that attempt was not successful.
Wednesday's launch is significant not just for ISRO but also for Planet, an American company that owns 88 of the 104 satellites that will be on board. Formerly known as Planet Labs, the San Francisco-based company that started just 6 years ago already has about 60 satellites in the largest constellation of earth-imaging satellites. If Wednesday's launch is successful, it will own more satellites in space than any other agency in the world.
The PSLV-C37 will carry a "flock" of 'Dove' satellites from Planet, each measuring 10cm x 10 cm x 30cm and weighing about 4.7 kg.
Planet had put another flock of 12 of these satellites on the PSLV-C34 mission last year that flew a total 20 satellites. The 88 Doves on PSLV-C37 will take Planet's constellation to 100, which will create the most detailed imagery of the earth's surface ever. According to a report in The Daily Mail, these satellites will together prepare a staggering 50-trillion pixel image every day, mapping every single inch of the planet. A variety of applications need such images.
Planet announced last week the acquisition of Terra Bella, another company that operates satellites and provides high-resolution satellite imagery of the Earth, from Google. Terra Bella's current constellation consists of 7 satellites that are able to capture both images and videos.
The primary passenger on the PSLV-C37 rocket, however, is a Cartosat-2 series satellite. It is used to produce high-resolution images of the Indian landmass for applications like rural and urban management, coastal land use and regulation, monitoring of road networks or water pipelines, and for building various kinds of land information systems. Last year's launch of 20 satellites in one go included a similar Cartosat-2 series satellite. Four Cartosat-2 satellites are already in space.
amitabh.sinha@expressindia.com
The Indian Express website has been rated GREEN for its credibility and trustworthiness by Newsguard, a global service that rates news sources for their journalistic standards.