India and Myanmar "opened" two land border crossings last week. But weren't these crossings already open?
On August 8, the two countries operationalised a Land Border Crossing Agreement that had been in the pipeline for long, and which they signed on May 11 during External Affairs Minister Sushma Swaraj's visit to Myanmar. The key change as a result is that any Myanmarese or Indian national with a valid passport and visa can now cross over without requiring special permission. The two crossing points are at Moreh in Manipur, opposite Tamu in Myanmar's Sagaing division, and Zokhawthar in Mizoram, opposite Rhikhawdar in Myanmar's Chin state.
Earlier, these crossing points were meant only for people of the border villages on either side — for family visits, buying and selling in the border markets and, from the Myanmar side, to consult doctors or get diagnostic tests done. Border passes valid for up to three days were issued for these visits, and travel was restricted to 16 km from the crossing point. Passes were issued to other citizens, but they could not stay overnight across the border. Indian citizens could travel to Tamu for a day visit with a pass costing Rs 20. To travel further on either side, cross-border visitors needed special permits. For Indians, the process had to be initiated by a Myanmar-based travel agent and, in many cases, needed approval from no less than the President of Myanmar.
Under the new regime, local residents will continue to have the right to cross over with a border pass within 16 km. For all others with a passport and visa, the crossing points will be open routinely to travel anywhere in the other country.
READ | Myanmar officially opens Indo-Myanmar land border, special land entry permissions abolished
Does that mean you can now drive across to Myanmar in your own vehicle?
Not until the two countries sign a Motor Vehicles Agreement. "The Land Border Agreement is 50% of the work done, the other 50% is the Motor Vehicles Agreement," India's Ambassador to Myanmar Vikram Misri told The Indian Express. The Motor Vehicles Agreement, first proposed in 2015, is envisaged to include Thailand, too — India is building a "Trilateral Highway" connecting the three countries as a key element of its "Act East" policy. The Trilateral Highway is aimed at increasing trade, tourism and people-to-people contact with ASEAN, through Myanmar and Thailand.
V S Seshadri, a former Ambassador to Myanmar, told The Indian Express that the operationalising of the Land Border Agreement was "a signal to tour operators to get their act together" on travel groups, especially for pilgrimage to Indian Buddhist sites. During Prime Minister Manmohan Singh's 2012 visit to Myanmar, he and then Myanmar President Thein Sein had agreed on an Imphal-Mandalay bus service, and a trial run was held in December 2015. Last year, during Prime Minister Narendra Modi's visit, the modalities of the cross-border service were discussed. However, finalisation has to flow from a Motor Vehicles Agreement — until then, officials said, bus services up to the border on either side, depending on the numbers of travellers, could serve the purpose.
India has a 1,643-km border with Myanmar in four Northeastern states. Myanmarese Buddhist pilgrims, medical tourists, and students travel to India. Thousands of Manipuris live in and around Mandalay; going to Imphal for them until now meant taking a flight from Yangon to Kolkata. With the opening of the border crossing, the 110-km journey from Imphal to Moreh will take about three hours, and from Tamu to Mandalay another four. A pilgrim from Mandalay need not go to Yangon anymore, and instead could head to Imphal by road and then fly to Bodhgaya.
Where does the work on the Trilateral Highway stand?
First proposed in 2002 by India, the Trilateral Highway was intended to connect India to Thailand, and beyond to Cambodia, Laos through Myanmar, and promote trade, business, tourism and people-to-people contacts, and spur the economic development of the Northeast. It was scheduled to open in 2016, but is now expected to be completed only by 2021. The road goes from Moreh/Tamu, and across Myanmar to Mae Sot in Thailand, covering a distance of nearly 2,000 km.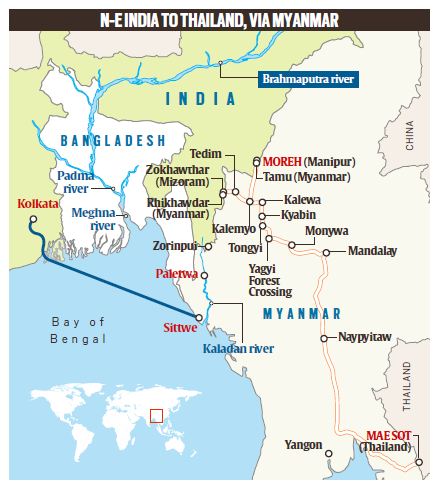 In March, Minister of State in the Ministry of External Affairs V K Singh told Rajya Sabha that on a section of the Trilateral Highway — the Tamu-Kyigone-Kalewa (TKK) Road, also known as Friendship Road, constructed and upgraded by the Border Roads Organisation and handed over to the government of Myanmar in 2009 — India is repairing 69 bridges. It is also constructing/upgrading the Kalewa-Yagyi section of the highway in Myanmar.
"Both these projects pass through challenging geographical terrain that prolonged the process of project design and selection of executing agencies," the Minister said.
The second land border crossing at Zokhawthar-Rhikhawdar will be connected to the Trilateral Highway at Kalemyo, near Kalewa.
Besides the Trilateral Highway, India is also executing the ambitious $484 million Kaladan Mutlimodal Transport Project, to link the Indian mainland to the Northeastern states via Myanmar. Under this project, loaded freight ships will leave Kolkata port and dock at Sittwe, a port in Myanmar's Rakhine province. There, the goods will be loaded on barges that will transport them upstream on the Kaladan river to Paletwa. From Paletwa to Zorinpui on the Mizoram border, and further inland into the Northeast, the goods will be transported by road.
While the dredging of the Kaladan, the construction of the unloading and loading terminals at Sittwe port and Paletwa have been completed, and seven barges readied and handed over to the Myanmar government, the road remains a work in progress. The 109-km road construction project from Paletwa to Zorinpui began only in April this year, and given the challenging terrain, the deadline of 2019 is unlikely to be met. The road from Zorinpui to the nearest National Highway also needs to be upgraded.
The Indian Express website has been rated GREEN for its credibility and trustworthiness by Newsguard, a global service that rates news sources for their journalistic standards.