On May 13, the Cabinet approved the flagship Namami Gange programme to clean and protect the Ganga, incorporating significant new funding and implementation elements.  Shyamlal Yadav outlines the national effort to clean the holy river, its history, and what has changed.
[related-post]
FOCUSSED
Ganga, Yamuna, Gomti, Damodar, Mahananda, Chambal, Beehar, Khan, Shipra, Betwa, Ramganga and Mandakini have been moved to a new Ministry NRCP. NRCP had 42 rivers and 195 towns in 20 states under it.
Namami Gange is 100% centrally funded. The intention is to "ramp up progress" of the Ganga clean-up mission, the government has said in a release.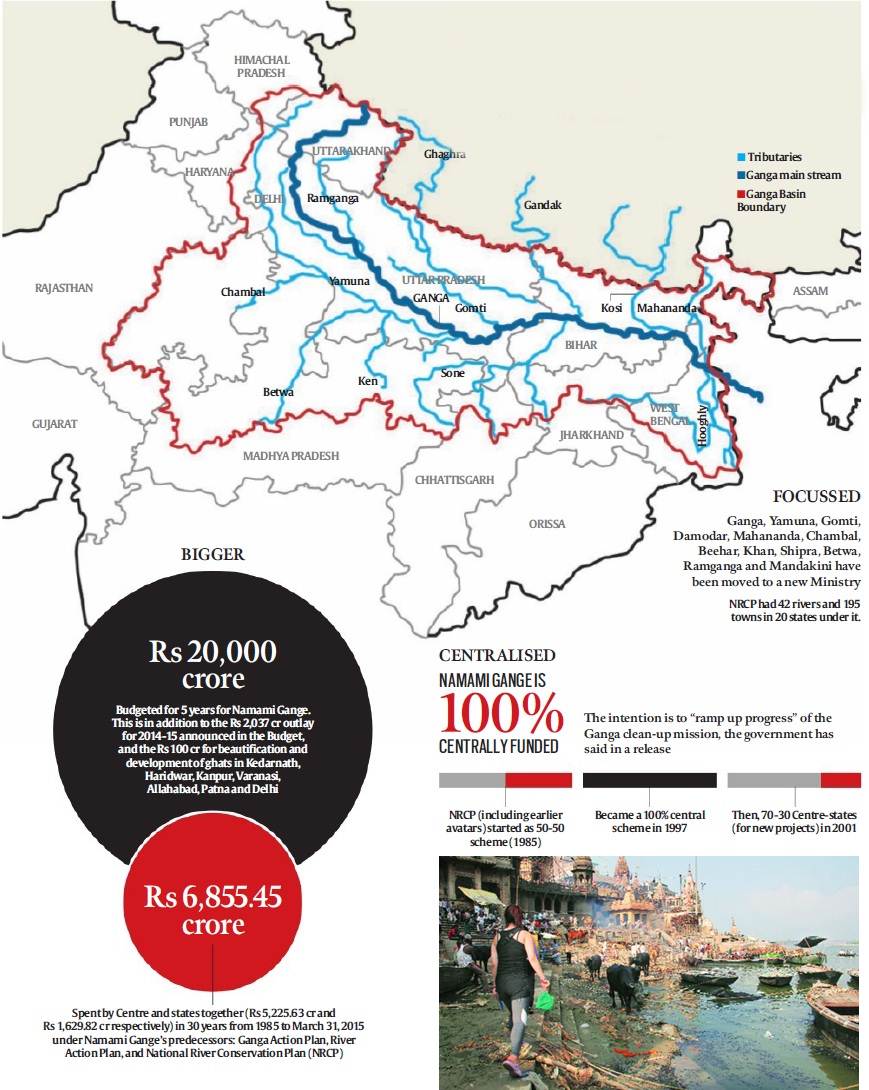 47 TOWNS, 12 RIVERS
Covered under the project in 8 states. Dept of Drinking Water Supply and Sanitation proposes to make 1,632 gram panchayats by the Ganga open defecation-free by 2022, at a cost of Rs 1,700 cr (central share). Several ministries such as Environment, Shipping, Urban Development, Tourism, Rural Development have been working with the nodal Water Resources Ministry to undertake projects.
PEOPLE-CENTRED
According to the government, a major change in implementation from earlier efforts will lie in the focus on involving people living on the river's banks. States and grassroots institutions such as Urban Local Bodies and Panchayati Raj institutions will be involved by implementing agency National Mission for Clean Ganga (NMCG) and its state counterparts, State Programme Management Groups (SPMGs)
POLLUTION FOCUS
Pollution abatement interventions: Interception, diversion, treatment of waste water in drains through bio-remediation/ in-situ treatment/use of innovative technologies/sewage treatment plants/effluent treatment plants; immediate measures to arrest inflow of sewage; PPP/SPV approach for pollution hotspots; 4-battalion Territorial Army Ganga Eco-Task Force; possible new laws
Alarming levels of pollution: A river is considered polluted when the Bio-Chemical Oxygen Demand (BoD) level rises above 2mg/l. A recent Central Pollution Control Board report says about 2,300 km of Namami Gange rivers are polluted, including 550 km of Ganga, 667 km of Yamuna, 250 km of Gomti. Some 12,363 km of India's 275 prominent rivers (including Namami Gange rivers) are polluted
WHAT ABOUT OTHER RIVERS?
Rs 1,500 cr were provisioned for NRCP in the 12th Plan, but only Rs 388.38 cr were provided in the first three years. For 2015-16, projected requirement for rivers other than Ganga and its tributaries was Rs 295 cr; only Rs 40 cr have been provided. Environment Minister Prakash Javadekar has been seeking funds unsuccessfully for a pollution control project for the Mula-Mutha in Maharashtra. A Rs 444 cr project for the Sabarmati was sanctioned last year, but no money has been released yet.
HISTORY OF UNDERACHIEVING
Ganga Action Plan Ph I & II:
Prime Minister Rajiv Gandhi launched Phase I in 1985, covering 25 Ganga towns in three states; Rs 862.59 crore were spent. Phase II covered 59 towns in five states; Rs 505.31 cr were spent. Rivers such as Yamuna, Gomti, Damodar, Mahananda had separate action plans. No results were visible.
UPA government's NGRBA effort:
The lack of tangible results from earlier efforts prompted the setting up of National Ganga River Basin Authority (NGRBA) by Manmohan Singh's government, focused on a basin-specific approach. 43 towns were covered in five states; Rs 1,027 crore were spent until March 31, 2015.
The Ganga Basin
The largest river basin in India in terms of catchment area, which constitutes 26% of the country's land mass and supports about 43% of its population. The basin is spread over 11 states.
📣 The Indian Express is now on Telegram. Click here to join our channel (@indianexpress) and stay updated with the latest headlines
For all the latest Explained News, download Indian Express App.