In the last months of his life, as he was hunted by the US drones that would ultimately find him early in 2015, Ahmad Farooq, deputy emir of al-Qaeda in the Indian Subcontinent (AQIS), prepared a speech that did not at the time reach its intended audience. "They were given permission to go to war, those who are battling the disbelievers," said Farooq from his sparse, mud-walled fortress in South Waziristan's Wacha Dara, "because they are innocent, and without doubt, Allah will help them with all his power, for they were expelled from their homes only for saying: he is our master".
That day, Farooq's mind was focussed far from the grim war raging around him — on the other side of the subcontinent, on a region he called "Assam-Burma". There, he said, thousands of Muslims were being driven from their homes because of a historic betrayal by the very Pakistan Army that was now fighting al-Qaeda in the borderlands with Afghanistan.
The Muslims of Bangladesh who sided with Pakistan had been driven into exile in Assam-Burma in 1971, Farooq claimed, demonstrating a stronger grasp of propaganda than history. Now, they were being killed in the lands where they had sought asylum, he said, while the Pakistan Army fought the jihadists who hoped to help them.
His speech should have been taken more seriously. As Myanmar's armed forces have escalated a murderous programme of ethnic cleansing against the country's Rohingya minority in Rakhine province, al-Qaeda has placed itself on the vanguard of resistance. For India, and for the wider region, this could have enormous consequences: al-Qaeda could gain long-term sanctuary in thinly-governed territories, just as several Northeast insurgent groups have. And India could find itself with a little Afghanistan, so to speak, on its eastern border.
*****
In October, hundreds of men armed with knives and rifles stormed Myanmar border police posts outside Maungdaw and Rathedaung, near the northwestern border with Bangladesh. They overran the police headquarters at Kyee Kan Pyin, and looted, according to officials, 62 weapons and over 10,000 rounds of ammunition. Border police outposts at Nga Khu Ya in north Maungdaw and Koe Dan Kau were also targetted. The attacks appeared to have been carefully planned — improvised explosive devices were used to prevent reinforcements from moving in. To military experts, the evidence suggested that the clash leaders, at least, had relatively sophisticated training.
Myanmar's army responded by burning down entire villages, satellite imagery gathered by human rights groups show — it was a crude effort to impose collective punishment, and to deprive the insurgents of support bases. Local militias were armed; rape, looting and torture were unleashed; humanitarian supplies to the area were barred.
But the fighting has continued. At Gwa Son village, after hundreds of people reportedly attacked troops and killed a Lieutenant-Colonel, 2 helicopters machine-gunned civilians including women and children, videos appear to show.
*****
Like so many of the subcontinent's Islamist insurgencies, this too treads a complex road, linking local communal frictions with seminaries in Karachi, and jihadist training camps in Afghanistan and Pakistan's northwest.
Following the October attacks, online jihadist networks released videos announcing the birth of Harakah al-Yaqin — Organisation for Faith. In a report last month, the nonprofit International Crisis Group provided new biographical information on the so-far pseudonymous leader of the group — Abu Ammar 'Junooni', also known as Hafiz Tohar. Abu Ammar, it said, was born to parents who had migrated to Karachi, and then on to Saudi Arabia — a not-uncommon trajectory for migrant workers from the region. He disappeared from Saudi Arabia in 2012.
Both Indian and Bangladeshi Intelligence believe Abu Ammar contacted al-Qaeda linked officials through the networks of the Harkat-ul-Mujahideen in Karachi — the parent organisation of both Ahmad Farooq and his to-be regional chief, Indian-born jihadist Sahaul Haq, also known by the pseudonym Asim Umar. The contact may have been made through clerics at Karachi's Jamia Uloom-e-Islamia, a seminary that has produced several jihadist leaders, and has long received Rohingya students.
*****
From 2014, both Rohingya and Bangladeshi jihadists linked to them were known to have been training at AQIS camps in Afghanistan — notably at a sprawling facility in Kandahar, which was detected in October 2015, as well as in South Waziristan. Bangladeshi al-Qaeda networks found no shortage of recruits in Rohingya refugee camps in that country; one of the men in the Harakah al-Yaqin video was reported to have been registered at the Nayapara camp in the far south, close to the River Naf that serves as the border with Myanmar.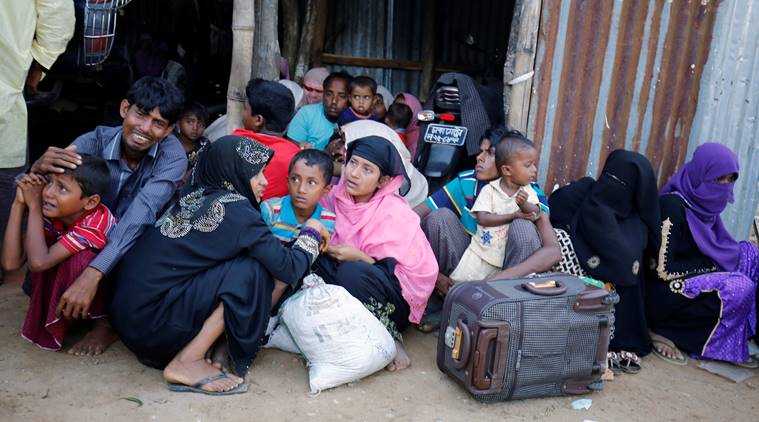 In October 2014, the first issue of the AQIS magazine, Resurgence, called Myanmar a "21st century concentration camp". It demonstrated granular knowledge of local conditions: "In Du Chee Yar Tan village in the Maungdaw township of Arakan, Buddhist Rakhine villagers killed eight Muslims who were being smuggled through the area, which is close to the Bangladeshi border. When the Muslims retaliated the next day by capturing a police officer involved in the killings and executing him, the police ganged up with the local Buddhist population and killed more than 50 Muslim men, women and children."
There are at least some indications that ethnic Bangladeshi networks in the UK, key to financing jihadist operations in their country of origin, might have some role in Myanmar, too. In December, two AQIS-linked message boards reposted messages "from a brother", saying he was "personally travelling on the 20th of December to Burma with a few brothers to help" displaced Rohingya. "For further information and inquires or to donate", the message gave a UK number.
Linked to the message was a video, which bore the logo of Deen Team, a UK charity with the same phone number. In 2014, the UK's independent charities regulator found it operating in high-risk areas, including Syria, and asked for the filing of documents, which it did not receive. In July 2016, the Charities Commission opened a formal investigation, noting that "the charity does not appear to have had a bank account since February 2015".
New Delhi has, so far, maintained a stoic silence on the Rohingya issue — fearful of alienating an ally whose help it needs to combat Northeast insurgents, and of ceding ground to China. It's important, though, that it counsels Myanmar's military of the perils of the path it is following. The crude means employed to contain the insurgency cannot, and will not, succeed — lack of political inclusion of the Rohingya will, moreover, engender a durable alienation and rage. For India, Bangladesh and the region, the consequences could be unaffordable.
praveen.swami@expressindia.com
The Indian Express website has been rated GREEN for its credibility and trustworthiness by Newsguard, a global service that rates news sources for their journalistic standards.