Last rabi season, especially the peak consumption period from November to January, saw farmers virtually scrambling for urea. Many paid Rs 400 and upwards for a bag — as against the official maximum retail price (MRP) of Rs 270 — while those who didn't could not procure their entire requirement even after extra trips to the market.
The primary reason was the government not undertaking imports sufficiently ahead of rabi plantings. Urea imports during June-October totaled 17.37 lakh tonnes (lt), compared to 43.82 lt in the same five months of 2013. Imports did pick up subsequently — to as much as 55.22 lt between November and March — but much of this material wasn't of use to the already-sown wheat, mustard or chana crops.
The government was solely to blame here, since urea imports are "canalised" through the State Trading Corporation, MMTC and Indian Potash Ltd. The logic for it has never been clear. Urea is no fissile material or sensitive item from a national security standpoint, justifying its imports solely through designated state trading enterprises (STEs). Moreover, such restrictions don't apply to di-ammonium phosphate, muriate of potash and other fertilisers; they are all freely importable under open general licence.
[related-post]
Worse, canalisation works against farmers' interests. The unprecedented urea shortages and black-marketing in 2014-15 was entirely due to the inability of STEs to contract imports in time; a new government taking its time to settle down would have only delayed further the process of deciding on the quantities and floating of global tenders.
Would this have happened had urea imports been allowed to be undertaken freely, just as it other fertilizers?
Well, we definitely wouldn't have had shortages. There was no reason, given that the average landed price of urea in India in 2014-15, at $ 303.94 per tonne, was below the $ 322.66, $ 417.40 and $ 481.74 for the preceding three years. Imports were, therefore, commercially viable, which may not have been so when global urea prices were high, scaling even $ 850-per-tonne levels in August 2008 at the height of the global commodity boom.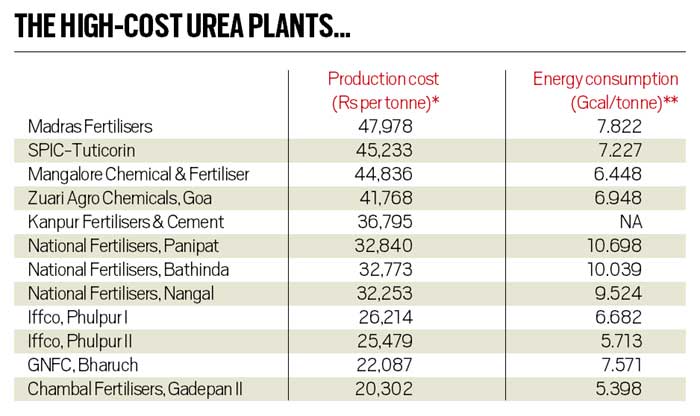 Moreover, one can expect import costs to have been even lower with private players unburdened by bureaucratic procedures. They would engage in opportunistic round-the-year buying without making much noise, unlike government canalising agencies whose public tenders for import quantities, ranging anywhere from 3 to 10 lt, only serve to push up world prices.
De-canalising urea imports, in other words, is not just pro-farmer, but also pro-taxpayer to the extent it helps reduce costs and the net fertiliser subsidy outgo. So what stops the government from simply allowing imports freely, as in other fertilisers? Imports are, in any case, necessary for meeting domestic requirements. In 2014-15, India's urea imports were 87.49 lt, with domestic production at 225.85 lt.
The official reason for not liberalising imports is the possibility of their leading to the closure of many (read, inefficient) domestic plants.
Currently, there are 12 urea units whose production costs of urea exceed Rs 20,000, or roughly $ 315, per tonne. These plants, accounting for some 61 lt or slightly over a quarter of total production, might shut down if the floodgates for imports are opened.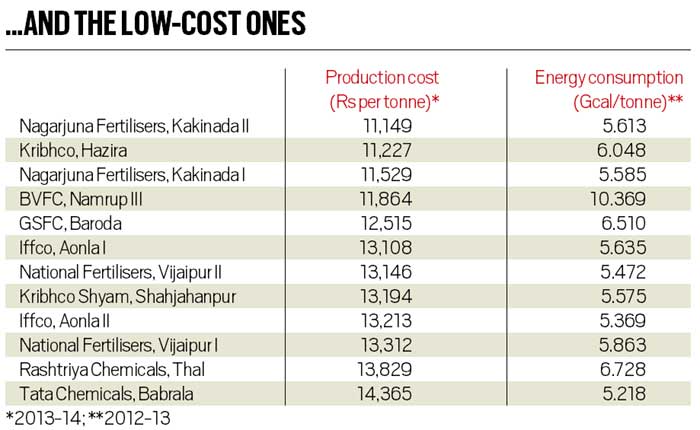 The above argument is, however, facile for two reasons. First, imported urea would sell not at Rs 20,000 per tonne, but at the MRP of Rs 5,360 fixed by the government. Since imports aren't going to happen at the latter price — around $ 85 per tonne — the threat to domestic industry may not really amount to much. Both importers and domestic manufacturers need government subsidy in order to sell urea at the fixed MRP.
Secondly, a major determinant of production cost relates to feedstock. Feedstock costs are low for plants operating on domestic gas sourced at $ 5.5-6 per million British thermal units (mBtu), as opposed to those using imported regasified liquefied natural gas at $ 12-13. But with the government deciding to make available gas to all urea units at a uniform "pooled" price — working out to $ 9-10/mBtu — from July 1, high-cost domestic producers would have no basis to complain. Their production cost will actually now come down, thanks to the lower pooled gas price.
Yet, there are those whose production costs are high for reasons purely to do with inefficiency. As the accompanying tables (below) show, many of the existing high-cost producers require over 7 giga-calories (Gcal) of energy to produce one tonne of urea. At the other end, we have low-cost producers that also consume only 5-6 Gcal for every tonne of urea.
On an average, pooled gas price of $ 10/mBtu — one mBtu equals 0.25 Gcal — a plant consuming 6 Gcal can produce urea at $ 290 per tonne, even after adding conversion costs of $ 50. Such a unit will hardly face threat of closure in the event of any flood of imports following de-canalising. This cannot be said about plants with unacceptably high energy consumption; if anything, they deserve to be shut down.
Ultimately, farmers and taxpayers should not pay for inefficient domestic producers and government traders, for whose sake urea imports are continuing to be regulated through canalisation. This should go at the earliest to preempt a repeat of rabi 2014-15.
harish.damodaran@expressindia.com