In the first standalone QS ranking of India's higher education institutes (The Indian Express, Tuesday), 9 of the IITs figure in the top 20, including 7 in the top 10, and 5 in the top 6, led by IIT Bombay. Institutions have been given scores on academic reputation (weightage 30%), employer reputation (20%), faculty-student ratio (20%), proportion of staff with PhD (10%), papers per faculty from Scopus database (10%), citations per paper from Scopus database (5%), proportion of international students (2.5%) and proportion of international faculty (2.5%).
Each of the top six institutes has an overall score of 75 or more, and almost all of them have scored in the 90s on academic reputation and employer reputation. For universities ranked lower among the top 20, scores vary hugely between one parameter and another.
READ | QS India University Rankings 2019: IITs grab top slots, check complete list
University of Delhi, at rank 8, scores in the 90s on both academic reputation and employer reputation, while scoring 16.3 on faculty-student ratio and 9.0 on proportion of international students. On the other hand, Alagappa University (Karaikudi), which scores 4.0 on academic reputation and 13.5 on employer reputation, breaks into the top 20 on the strength of high scores in the faculty-students ratio (93.6) and staff with PhD (95.1).
These India rankings do not necessarily match the QS World University Rankings that were released earlier this year. In that list, IISc Bangalore had been ranked 1 and IIT Bombay 2; this time, IIT Bombay is followed by IISc in the top two. This is because the two rankings uses different criteria — for example, while academic reputation is weighted at 30% in the India University Rankings, its weightage was 40% in the World University Rankings.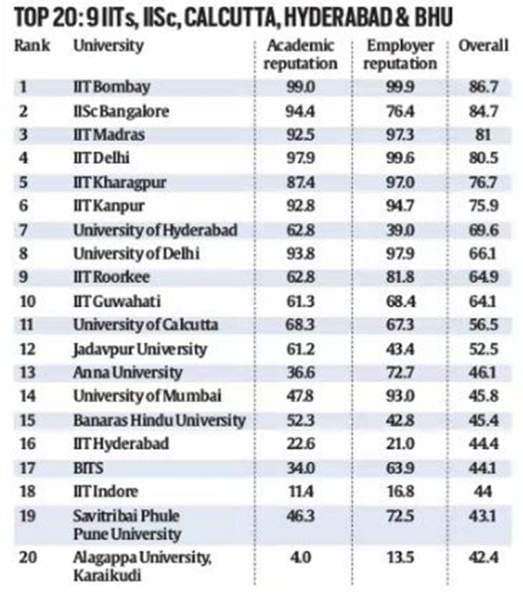 This Word Means
Moonmoon: Also called submoon, or a moon orbiting a moon. New research details if and when one may exist
The planets orbit the Sun, while various moons orbit the planets themselves. Is it possible for a moon to have a satellite of its own? A new research paper has described the circumstances in which this might be possible, but what has caught the fancy of the scientific community — and Internet users — is what to call such a moon of a moon. In their paper on the preprint server arXiv.org, astronomers Juna Kollmeier and Sean Raymond have used the term "submoon". Other scientists, however, have preferred "moonmoon".
READ | IIT-Bombay tops first QS ranking for Indian universities, IISc second
The word seems to have originated from another paper, also put up on arXiv this month. Researcher D H Forgan writes about a newly discovered object — an exomoon candidate orbiting a distant planet. Forgan presents calculations to show that the new object is not habitable, but adds that if it had a moon of its own that was Earthlike — which he describes as "moon-moon" — then that might have been a potential habitable world.
Following Kollmeier and Raymond's research on the circumstances in which a "submoon" might be possible, New Scientist magazine reported their findings and tweeted: "Moons can have moons and they are called moonmoons." This went viral (15,000 retweets and counting); since then, Internet users and scientists have suggested alternative names ranging from moonitos to grandmoons, moonettes and moooons.
No moonmoon is known to exist in the Solar System. For one to exist, very special circumstances would need to be place. The host moon needs to have a sufficiently large mass, and the moonmoon must be sufficiently small. Distance too is crucial. The moonmoon needs to be close enough to the moon to be bound by its gravity — but not so close as to be torn apart by tidal forces — and both moons need to be far enough from the planet to prevent the moonmoon from being caught in the planet's gravity, rather than the moon's.