Why was there a row over opening a liquor shop at Srinagar Airport?
The Airports Authority of India (AAI) floated tenders seeking bidders for a duty-paid liquor shop at Srinagar International Airport, which manages about 20 flights and 3,500 passengers daily. The move reportedly attracted 50 interested firms. But it also attracted vociferous protests, particularly as the airport is named after the 15th century Kashmiri Sufi saint, Sheikh Noor-ud-din-Noorani, also known as Sheikh-ul-Alam, a symbol of great piety.
The saint's shrine, near Srinagar's Hari Parbat Hill, is visited by numerous devotees. Angry protesters gathered holding placards that had the saint's title along with the words, "Stop planning to sell liquor in my name." Some protesters reportedly also felt the natural beauty of Kashmir was sufficient to boost tourism, and called for prohibition in the state, citing examples like Gujarat.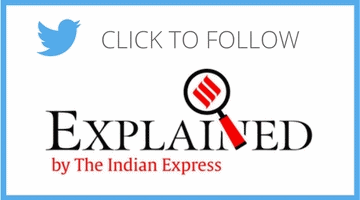 Did the separatists play a role?
The separatists have always opposed any move to set up liquor shops in the Valley, saying this goes against local culture. They also allege that the government deliberately tries to promote the consumption of alcohol to keep young people away from the "freedom struggle".
So, are there currently any liquor shops in the Valley?
Four — all in Srinagar. There are bars in several hotels and golf course locations.
What does the law say?
Setting up liquor shops in Jammu & Kashmir is governed by the J&K Excise Act of 1958 and the Liquor Licence and Sale Rules of 1984. Individual or groups must acquire a licence from the excise department before setting up a liquor shop. The two most relevant licences are "off-licences" (for liquor shops) and bar licences (for bars inside a hotel). It is up to the excise department's to grant or refuse a license.
Under the law, an individual can possess a maximum nine litres (or 12 bottles of 750 ml).
When can liquor licenses be refused?
A licence can only be given to a permanent resident of J&K. The excise department can refuse a licence for a liquor shop within 100 metres of an educational institution, hospital or religious place. Supreme Court guidelines on not having liquor shops within 500 m of a national highway apply; there can't be a liquor shop on a state highway either. A licence can be refused if the applicant fails to get a No Objection Certificate (NOC) from the state administration; this can be refused if the administration feels that the liquor shop could disturb public order.
Did AAI apply for a licence?
Reportedly not. In that case, say officials, it should not have floated tenders.
If AAI applies now, would it get one?
Excise officials say they can't issue any off-licences now because of a court direction. In 2011, when the J&K government sought applications for setting up liquor stores in the state, hundreds of people applied. The excise department drew lots, and 61 locations were selected through a computerised draw. However, there were allegations of foul play, and an applicant challenged the process. In the case Sandya Devi and Others vs State of J&K & Others, the J&K High Court stayed the issuance of fresh liquor shop licences.
How did the government react to the proposal to sell liquor at the airport?
Seeing that the proposal could trigger a controversy, the government stated there were no plans to set up a liquor shop at Srinagar Airport. In fact, the excise department wrote a letter to the AAI — which was made public — saying that no licence would be granted for an airport liquor shop, and asking them to stop the process.
What did the Airports Authority of India do then?
After the excise department snub, the AAI cancelled the tenders floated by it, citing "sentiments of the people". In a statement, which noted heated public reactions on media and social media, the AAI said: "It is hoped that with this communication, all controversies will be placed at rest."