Written by
Adil Akhzer
|
Updated: November 27, 2017 9:01:24 am
On November 16, the System of Air Quality and Weather Forecasting and Research (SAFAR) under the Ministry of Earth Sciences published a 'Scientific Assessment of Delhi Winter Air Quality Crisis' for the period November 6-16, which listed two "Extreme" events behind the smog that had smothered Delhi and its neighbourhood. "Extreme 2" was the much discussed stubble burning in Punjab, Haryana and Uttar Pradesh; "Extreme 1", the SAFAR report said, was a "large multi-day dust storm that emerged at Iraq, Kuwait and Saudi Arabia in the last week of October 2017 and continued up to November 3-4". Surprisingly for many, the report blamed this storm much more than the burning of stubble for Delhi's air quality crisis during that period — "the pollution contribution of Gulf dust storm on peak day (November 8) was around 40% and from stubble burning was 25%".
What was this dust storm 3,000 km away that succeeded in choking Delhi?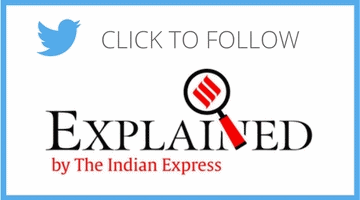 The Storm
On October 29, the Visible Infrared Imaging Radiometer Suite (VIIRS) aboard the NOAA/NASA Suomi NPP satellite captured images of a massive dust and sand storm over Saudi Arabia and Iraq which, a note released by NOAA said, was "reported to have originated in northern Syria and Iraq". Media reports in the Middle East said the storm triggered over 4,000 cases of suffocation across Iraq's governorates, forced Iraq's civil aviation authority to shut down flights and, according to the Al-Monitor, a US-based online newspaper that covers the Middle East through extensive local tie-ups, even halted fighting between the Iraqi forces and the Islamic State. On October 31, the newspaper said, operations to retake the city of al-Qaim had to be stopped due to poor visibility.
Also on October 31, Moderate Resolution Imaging Spectroradiometers (MODIS) aboard NASA's Terra and Aqua satellites released images of skies over Saudi Arabia and Iraq from two days earlier, red with a thick blanket of dust. A massive storm was "swirling", NASA said, the land was completely hidden, including most of Lake Therthar, which lies between the Euphrates and the Tigris. On October 30, visibility in parts of Iraq was down to 600 metres, and the following day, the dust storm engulfed Kuwait and the Persian Gulf. Operations at Kuwait's Shuwaikh port had to be stopped after visibility fell to 500 metres.
Getting Worse
While dust storms are normal in Iran, Saudi Arabia, Kuwait and Iraq, there has been an increase in their frequency, especially in Iraq, over the past decade. Scarce rain and advancing desertification are the key reasons, and Iraq's Prime Minister Haider al-Abadi is in discussions with the UN Environment Programme (UNEP) for a regional solution. UNEP had predicted last year that within the next decade, Iraq could witness 300 dust events per year.
A study published four years ago noted that "occurrences of dust and dust storms (sand storms) had enormously increased as compared with those occurring during the last century" in Iraq, and cited climate change as the main reason — which led to drastic changes in annual rainfall and temperature — besides other reasons such as drought, mismanagement of water, and abandonment of agricultural lands. ('Sand and dust storm events in Iraq', Sissakian et al., Scientific Research: 2013)
In neighbouring Iran, a World Metrological Organisation report said in 2016, a thick dust plume covered a massive swathe of the southeast on July 13-14. In the town of Zabol here, close to the Afghan border, the daily-averaged PM10 level was 10,000 µg/m3, and visibility was down to less than 100 m. The main reason for the dust in this area is apparently massive dam-building exercises that Tehran has undertaken, along with the diversion of water resources for agriculture. Storms in this area are capable of burying entire villages.
India-Bound
According to the SAFAR assessment, the late October-early November dust storm "was carried (eastward) by relatively cool winds". The report explained: "As air temperatures dropped, winds and dust were likely to slowly diminish, but by that time, it got into the upper part of atmosphere (1.5-3 km, 700-850 hpa) where winds became very strong (15-20 km/hr) and direction became towards India (westerly, north-westerly) and dust affected the larger region of NCR including Delhi."
The Middle Eastern storm, Dr Gufran Beig, Scientist-G and Project Director, SAFAR, told The Indian Express, "started on October 28 and was to subside by November 1, but due to its intensity, it prolonged until November 3-4 and entered 700 millibars, where there was a wind jet and direction was west and north-west". As the storm swept eastward, "it contaminated", Dr Beig said, "all path countries including West and North India".
György Varga, a climatologist based at the Hungarian Academy of Sciences in Budapest, who has studied dust storms in detail, told The Indian Express in an email interview: "During the period between October 29 to November 4, several huge multi-day dust storms darkened the sky and blanketed the Middle East countries… the strong NW shamal winds entrained an enormous amount of mineral particles (with diameter of some tens of micrometres) into the atmosphere. A high-pressure centre developed above the Gulf of Oman and the strong anticyclonic (clockwise) flow at 5,500 metres (above sea-level) transported atmospheric dust into the direction of Delhi."
Meteorologists in India have said that a high-pressure zone over Delhi and its neighbourhood and the absence of strong winds kept pollutants trapped close to the surface. Dr Ravindra Khaiwal, Associate Professor of Environmental Health at the School of Public Health, Postgraduate Institute of Medical Education and Research (PGIMER), Chandigarh, said: "During the second week of November, anti-cyclonic weather conditions were observed in North India, which helped in building up of pollutants in the lower troposphere." The SAFAR report noted: "The very calm surface wind conditions which do not allow to disperse pollution was due to anti-cyclonic circulation connected with late withdrawal of monsoon, persisting at about 700 hPa lower troposphere over northwest India with its centre near Delhi."
Other conditions added to the crisis, including stubble burning, which, the SAFAR report said, was "very high on November 6, and upper air winds became north-westerly (towards Delhi) with high speed and started pumping pollution in Delhi". These conditions started to change from November 11 onward because "there was no pumping and influence of stubble burning and Gulf storm dust after November 10 night onwards owing to slowing down of upper air winds and change in wind direction", the report said.
The Indian Express website has been rated GREEN for its credibility and trustworthiness by Newsguard, a global service that rates news sources for their journalistic standards.