Written by
Shalini Nair
|
Updated: January 18, 2018 8:36:59 am
A long-standing demand by the real estate sector to ease restrictions on constructing highrise buildings in Indian cities has entered the policy domain with the central government deciding to form a task force to look into revising Floor Area Ratio (FAR) norms upward. The concept, according to the Ministry of Housing and Urban Development, is that more FAR — and thereby, taller buildings — leads to greater supply, which, in turn, is critical for the creation of affordable housing.
FAR — or Floor Space Index (FSI) — is the ratio of the built-up area of a building to the plot area on which it stands. So, an FAR of, say, 2 on a 10,000 sq m plot would allow for a total 20,000 sq m of construction, while an FAR of 4 would allow 40,000 sq m. A higher FAR would allow a building to go higher.
The idea of the task force was mooted in an August 2017 report by the NITI Aayog, which cited high FARs in Shanghai, Manhattan and Singapore to build a case for "expanding space vertically through the construction of taller buildings". But how would this actually work in India?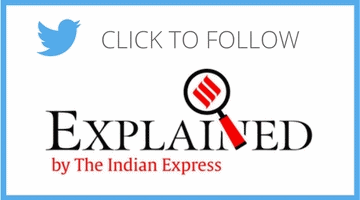 While increased FAR does liberalise real estate supply, excess supply has not generally meant affordability in the Indian housing sector. As per data from the independent real estate research agency Liases Foras, the weighted average price of a housing unit across eight major cities — Mumbai Metropolitan Region, Delhi-NCR, Bengaluru, Pune, Chennai, Ahmedabad, Hyderabad and Kolkata was, as of September 2017, Rs 84 lakh, with 9.39 lakh units unsold.
Much of the real estate inventory consisted of bigger, high-end apartments that were targeted at investors, Liases Foras CEO Pankaj Kapoor said. The 11th Five Year Plan (2007-2012) showed 99% of the housing shortage was among economically weaker and lower-income groups — sections the private realty sector mostly failed to cater to.
In 1995, Mumbai increased FAR for slum rehabilitation projects with a view to relocating eight lakh families within five years. Private builders were expected to clear slum sprawls, relocate residents to highrises and make profits by constructing apartments for sale on a part of the cleared plot. Over two decades later, fewer than 1.5 lakh families have been rehabilitated in cramped highrises on narrow plots often called "vertical slums".
The Mumbai model of in situ slum rehabilitation, by offering higher FAR to private developers, was adopted as a vertical under the Pradhan Mantri Awas Yojana (PMAY). In the three years since the PMAY's launch, just 1,588 units have been built for slum-dwellers across the country — the lowest among all verticals under the PMAY, which aims to build 1.2 crore urban dwelling units during the seven-year mission period.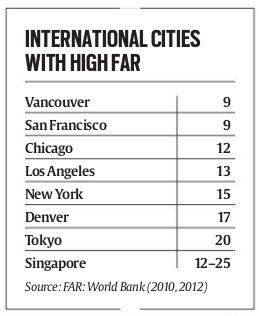 Mumbai-based architect and urban planner P K Das pointed out that global highrise hotspots such as Singapore and Manhattan invested heavily in social housing. Spain, England, France, Canada and Italy have "inclusionary housing" where, publicly-funded social housing aside, a certain percentage of units in private real estate projects are kept for moderate- and low-income families.
"Manhattan deliberately kept its social housing lowrise as highrises lead to huge maintenance costs," Das said. Also, across the world, cities that allow FAR have strict norms for ample open spaces, he said.
Developer Sunil Mantri, former head of real estate industry bodies such as the National Real Estate Development Council and the Maharashtra Chamber of Housing Industry, which have made a case for highrises, said that high FAR will translate into affordable housing only if the government waived the premium on the incentive FAR. "The government must invest in infrastructure and connectivity, and increase the carrying capacity of cities instead of stopping development," he said.
World Bank data from 2010 and 2012 show Shanghai, Tokyo, Vancouver, Chicago, Los Angeles, New York, Denver and Singapore have high FARs of 8 to 20. European cities like Paris, Amsterdam and Venice have restricted FAR between 2-3 —Delhi's FAR is in the range of 1.2-3.5, Chennai's 1.5, Mumbai's 1-1.33.
However, urban planners say, the actual FAR consumed at ground level in Indian cities could be up to 10 times higher, with local governments making exceptions for various projects over the years. According to conservation architect Pankaj Joshi, gross FAR consumed in Mumbai is in the range of 2.7 to 13. Joshi, who is part of a state government-appointed highrise committee for Mumbai, which scrutinises proposals from buildings over 24 storeys (70 m) high, said Mumbai has proposed 700 highrises, 400 of which have already taken off.
"A higher FAR in Mumbai creates greater densities compared to New York or Shanghai where the average size of the dwelling unit is bigger. Instead of higher FAR, there is a need to rationalise land and develop more mass transport corridors," Joshi said.
According to a 2017 report by the US-based research firm Demographia, which has ranked 1,040 cities across the world in terms of population density, Mumbai, with 32,300 people crammed into 1 sq km on average, is the world's fourth densest city, after Dhaka, Mogadishu and Pakistan's Hyderabad. Thirty-two of the world's 100 most dense cities are in India. Delhi-NCR is at No. 136 on the list; global cities with high FAR rank far lower: New York, 944; Vancouver, 886; Chicago, 965.
shalini.nair@expressindia.com
The Indian Express website has been rated GREEN for its credibility and trustworthiness by Newsguard, a global service that rates news sources for their journalistic standards.