The lynching of Mohammad Akhlaq in his home outside Delhi in September 2015 on suspicion that he consumed beef has been followed by a rash of attacks by cow vigilante groups across North India. At least three people have been killed this year so far, and several beaten, flogged and subjected to severe indignities. In Gujarat, the flogging of Dalits for skinning a dead cow has triggered spontaneous street protests not seen in years, and contributed to circumstances that seemingly led to the resignation of Chief Minister Anandiben Patel. Recent milestones on the dangerous road that India appears to be on.
Jammu & Kashmir and Himachal Pradesh
No attacks this year in either state.
However, on October 18, 2015, the cleaner of a truck, Zahid Ahmad of Anantnag, died of burns suffered during the petrol-bombing of the Valley-bound vehicle on October 9 in Udhampur by a local mob protesting a "beef party" hosted by independent MLA Engineer Rashid in Srinagar a few days earlier. The alleged attackers were charged under the Public Safety Act.
In Himachal, Noman, 20, was lynched in Lawasa village in Sirmour district on October 17, 2015, allegedly by villagers who chased the truck in which he was ferrying cows to Saharanpur. 4 of Noman's associates and half a dozen villagers were booked; the latter were, however, released on bail by HC.
Punjab
Jan 2: 2 trucks allegedly carrying buffalo tallow stopped in Rupnagar district; 1 truck torched; both drivers fled.
Mar 28: Truck allegedly carrying buffalo tallow stopped on Rupnagar-Kurali road; driver Balkar Singh thrashed; booked under cow slaughter law.
Jul 31: Rakesh Kumar, Ramesh Kumar beaten for allegedly slaughtering cows outside Malout, Muktsar district; booked under cow slaughter Act.
Gujarat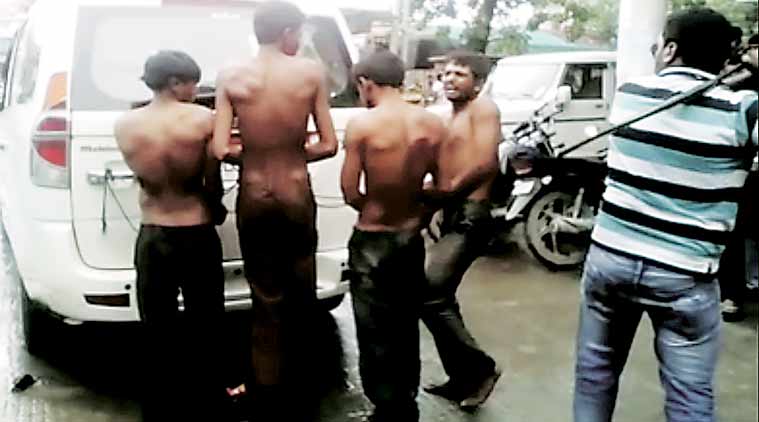 July 11: Some 35 gau rakshaks attacked 7 Dalits in Mota Samadhiyala village of Una taluka in Gir Somnath district, accusing them of slaughtering a cow. Beat them with iron rods and sticks, kidnapped four Dalits and took them to Una, tied them to a car and flogged them publicly through the town. 7 Dalits were admitted to hospital. 5 gau rakshaks and a mob of 35 booked for attempt to murder and for subjecting SCs to atrocities. 31 persons, including two minor boys, held. Dalits have said they were merely skinning a dead cow.
July 27: Girish Sosa of Navsari, who was carrying cattle meat in a plastic bag, beaten up by gau rakshaks.
Haryana
Apr 2: Body of Mustain (27), of Saharanpur, missing since March 6, found in Kurukshetra. His father, Tahir Hasan, accused 4 Gau Raksha Dal members of his murder. On May 9, the High Court ordered a CBI probe.
May 6: 3 people thrashed Waseem, 20, in Sohna alleging he was carrying beef, a fourth recorded beating, others threatened victim with a gun. Later, vigilantes posed for photographs with the "catch". FIR against Waseem; no case against the vigilantes.
Jun 10: Gau rakshaks force-fed Rizwan and Mukhtiar a cowdung mixture after intercepting them allegedly ferrying beef in Faridabad. A court sent the two men to jail for smuggling beef.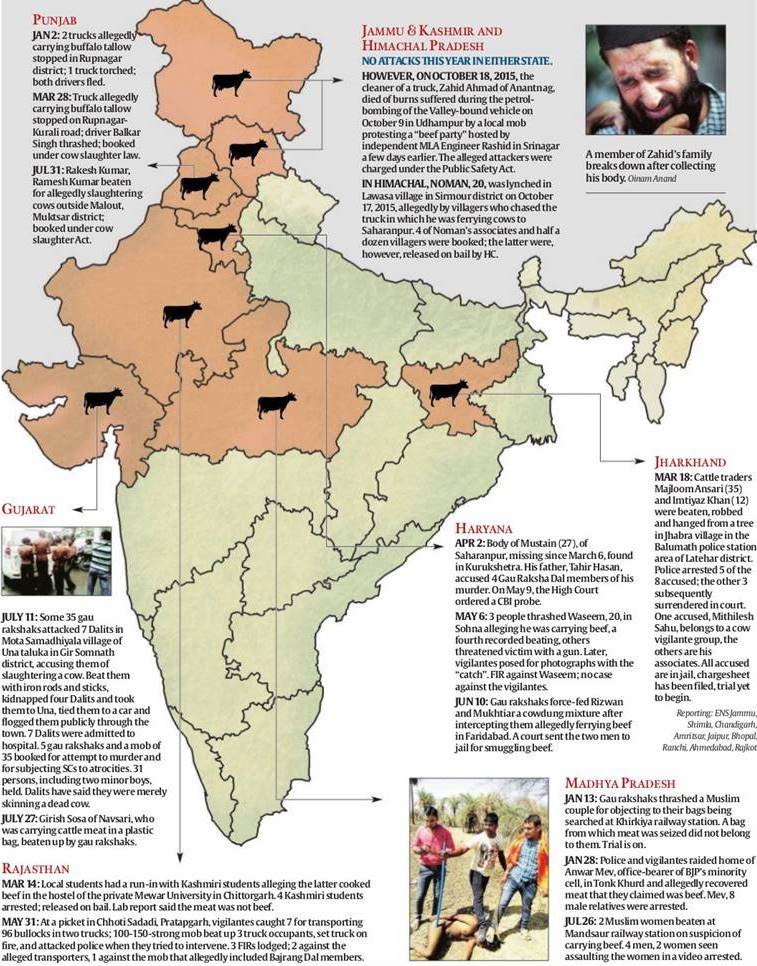 Jharkhand
Mar 18: Cattle traders Majloom Ansari (35) and Imtiyaz Khan (12) were beaten, robbed and hanged from a tree in Jhabra village in the Balumath police station area of Latehar district. Police arrested 5 of the 8 accused; the other 3 subsequently surrendered in court. One accused, Mithilesh Sahu, belongs to a cow vigilante group, the others are his associates. All accused are in jail, chargesheet has been filed, trial yet to begin.
Madhya Pradesh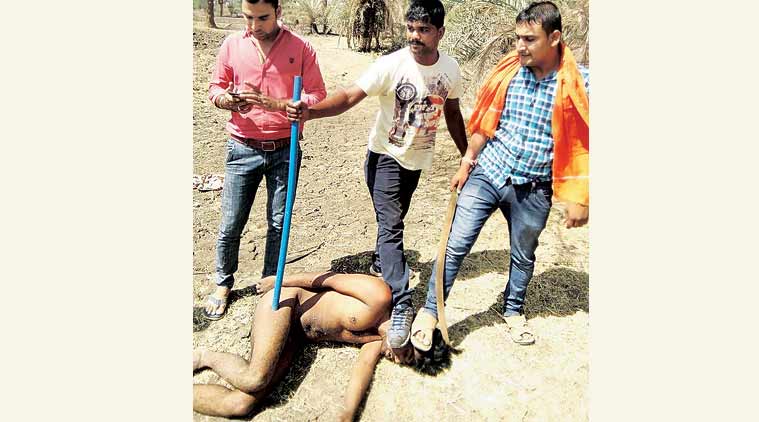 Jan 13: Gau rakshaks thrashed a Muslim couple for objecting to their bags being searched at Khirkiya railway station. A bag from which meat was seized did not belong to them. Trial is on.
Jan 28: Police and vigilantes raided home of Anwar Mev, office-bearer of BJP's minority cell, in Tonk Khurd and allegedly recovered meat that they claimed was beef. Mev, 8 male relatives were arrested.
Jul 26: 2 Muslim women beaten at Mandsaur railway station on suspicion of carrying beef. 4 men, 2 women seen assaulting the women in a video arrested.
Rajasthan
Mar 14: Local students had a run-in with Kashmiri students alleging the latter cooked beef in the hostel of the private Mewar University in Chittorgarh. 4 Kashmiri students arrested; released on bail. Lab report said the meat was not beef.
May 31: At a picket in Chhoti Sadadi, Pratapgarh, vigilantes caught 7 for transporting 96 bullocks in two trucks; 100-150-strong mob beat up 3 truck occupants, set truck on fire, and attacked police when they tried to intervene. 3 FIRs lodged; 2 against the alleged transporters, 1 against the mob that allegedly included Bajrang Dal members.
Reporting: ENS Jammu, Shimla, Chandigarh, Amritsar, Jaipur, Bhopal, Ranchi, Ahmedabad, Rajkot.
The Indian Express website has been rated GREEN for its credibility and trustworthiness by Newsguard, a global service that rates news sources for their journalistic standards.