In electrified villages, homes without electricity
On Saturday, once electricity reached Leisang in Manipur, every village in India had been electrified. In terms of households, however, an estimated 3.14 crore (17% of a total 17.99 crore rural households) remain without power. This is explained by the definition for 'village electrification' in the 2006 rural electrification policy: a village is deemed 'electrified' if infrastructure such as distribution transformer and distribution lines have been set up in the inhabited locality, including a 'Dalit basti', and 10% of the households have access to electricity through the infrastructure. Statewise, UP has the highest number of households yet to be electrified.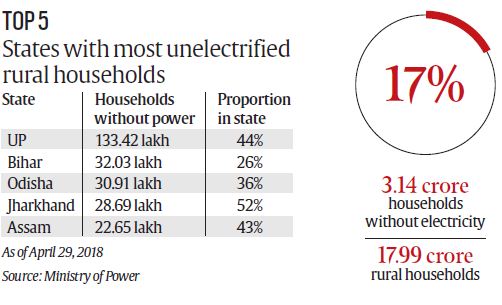 ***
Tip for Reading List
Music Can Help Alzheimer's Patients
Listening to personalised music may help alleviate symptoms of Alzheimer's disease, say researchers at the University of Utah Health. They played clips from the music collection of dementia patients and found that music activates the salience network, a region spared by Alzheimer's. "No one says playing music will be a cure for Alzheimer's disease, but it might make the symptoms more manageable, decrease the cost of care and improve a patient's quality of life," said Jeff Anderson, contributing author of the study that will appear in The Journal of Prevention of Alzheimer's Disease. (Source: University of Utah Health)
***
This Word Means
With RSS talking of 'apartment pramukhs' at urban centres, a look at who pramukhs are, what they do
Pramukhs are office-bearers in charge of various activities at various RSS levels. At the national and kshetra (a group of states) levels is a pracharak pramukh, in charge of all serving and former pracharaks of the kshetra (from district level and above). At district (rural) and mahanagar levels, apart from higher posts such as sanghchalak, pracharak and karyawah, the RSS has sewa pramukh, sampark pramukh, prachar pramukh, sharirik pramukh, bauddhik pramukh and vyavastha pramukh. At khand (rural) or nagar (urban) level, too, the RSS has bauddhik pramukh and sharirik pramukh besides pracharak, sanghchalak and karyawah. And at shakha level, the smallest, each shakha is divided into gats led by a gatnayak and each gat may be an apartment or a locality in a city or a mohalla in a village.
For gatividhi (activities performed by pracharaks and their units but not directly by the Sangh), the RSS has gram vikas pramukh, dharam jagaran pramukh (against conversion), kutumb prabodhan pramukh (for family values), gau sewa pramukh and samajik samrasta pramukh. From time to time, the RSS also constitutes a manch (forum) or an abhiyan (campaign) for specific issues, such as Seema Jagaran Manch, each of which has a seema jagaran pramukh who deals with activities relating to illegal migration and border security. —Shyamlal Yadav
***
An Expert Explains: The Collegium Must Stand Up
Govt has rejected proposal to elevate Justice K M Joseph to SC. What should SC collegium do when it meets tomorrow?
The rejection was expected. It's widely believed the government has not forgiven his quashing of President's Rule in Uttarakhand in 2016. If the collegium sends back its recommendation, the government is, by convention and in accordance with court orders, obligated to elevate Justice Joseph. Independence of the judiciary is the right of all Indian citizens. The collegium should unanimously reiterate its view on the "outstanding merit" of Justice Joseph. Otherwise, the government's stand will be vindicated.
In these fraught times, any dissent by a judge will be loaded. If CJI Dipak Misra dissents, those who moved the impeachment motion against him will claim vindication. Dissent by Justice Ranjan Gogoi is likely to be seen in the context of his expected succession as CJI. Dissent by any of the other three justices, too, runs the risk of being seen as motivated — even though Justices Kurian Joseph and J Chelameswar have already said they will not accept any government assignment after retirement.
This is a historic opportunity for the CJI to demonstrate statesmanship and lead the charge to protect the court's independence. A unanimous judicial order of the full court on the MoP on judicial appointments could rescue the court's diminishing reputation. (Faizan Mustafa is an expert of constitutional law)