For Narendra Modi, the revival of handloom in his constituency Varanasi was a repeated and emotive campaign promise. Last month, days before the government completed a year in office, a delegation of designers led by BJP politician Shaina NC met with Textiles Minister Santosh Kumar Gangwar. Among the initiatives proposed at the meeting were setting up dyeing centres, providing subsidised yarn, a campaign for handloom along the lines of Incredible India, and a nationwide series of exhibitions to establish classical handloom design benchmarks.
Handloom
Handloom, or fabric woven by hand, makes up just over a tenth of India's total fabric production. A spectacular range is created by weavers across the country, from the Madras checks and Kanchipuram weaves of Tamil Nadu to pashmina and shahtoosh of J&K, from the tie-and-dyes of Gujarat and Rajasthan to the eri and muga silks of Assam.
Powerloom
Powerloom accounts for nearly 60% of fabrics and, because it is mechanised, works nearly 10 times faster than handloom. Costs differ, but the gap is massive: handloom can cost Rs 500/metre to create, while the same fabric could be woven on a powerloom for Rs 30/metre. Average investment in a powerloom could be Rs 15,000, three times that of handloom. But many handloom motifs and patterns cannot be replicated on powerloom.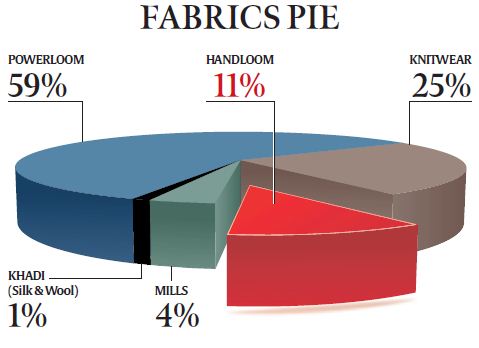 Saving the loom
The Handloom (Reservation and Articles for Production) Act, 1985, defined handloom as "any loom other than powerloom", and included 22 items such as pure silk and cotton saris, lungis, dress material, and towels. The list was whittled down to 11 items in the mid 90s. In 2012, a new definition was proposed: "Handloom means any loom other than powerloom; and includes any hybrid loom on which at least one process of weaving require manual intervention or human energy for production."
Changes in Act
Powerloom associations want the protection for handloom loosened. Association representatives met officials in April to demand saris be removed from the protected category. A month earlier, a memorandum was submitted to the government seeking the removal of both saris and lungis from the list. What if the protection is lifted?
* Powerloom fabric could be passed off as handloom. Already, because the enforcement of the Act is slack, over 70% of fabric sold as khadi and handloom is powerloom.
* Massive job losses will follow. Handloom requires at least six workers from start to finish, including dyeing, starching, spooling, weaving, ironing and tying up loose ends. Powerloom needs one worker to operate the loom.
* As the industry becomes unremunerative, centuries-old technique and skills could be lost permanently. India as a whole will lose a global USP.
* A negative environmental impact will follow the wider spread of the powerloom. Handloom is sustainable, with a small carbon footprint.
What can be done?
This is what some experts say.
Ritu Sethi, chairperson, Craft Revival Trust: Have separate policies for powerloom and handloom, ensuring that powerloom policy does not cannibalise handloom. Handloom is the second largest industry after agriculture, giving millions direct and indirect employment, and deserves its own ministry.
Maqbool Hassan, master weaver, Varanasi: Have a handloom mark like the gold hallmark to certify authenticity.
Jayati Ghosh, economist: Give handloom weavers access to markets, knowledge, credit. Get textile experts on board as decision-makers.
Deepika Govind, fashion designer: Teach weaving in schools to instil pride in students in urban areas and give a sense of purpose to weavers. Increase market connect for weavers from remote areas.
Laila Tyabji, founder, Dastkar: Government should invest in pre-loom and post-loom stages to ensure handloom weavers get finance, timely raw material and market access. Don't concentrate only on design and promotion.
📣 The Indian Express is now on Telegram. Click here to join our channel (@indianexpress) and stay updated with the latest headlines
For all the latest Explained News, download Indian Express App.
The Indian Express website has been rated GREEN for its credibility and trustworthiness by Newsguard, a global service that rates news sources for their journalistic standards.