Last week, J&K Chief Minister Mehbooba Mufti told reporters that the Government of India should consider a "unilateral ceasefire" in the state in the same way that former Prime Minister Atal Bihari Vajpayee had done. Her statement, days ahead of Ramzan, was referring to an announcement by Vajpayee on November 19, 2000: "The holy month of Ramzan… is soon approaching. The government has, therefore, instructed the security forces not to initiate combat operations against militants in Jammu & Kashmir during this most pious month in the Islamic calendar."
In July 2000, a group of Hizb commanders had declared a unilateral ceasefire, which was later withdrawn. The government seemed to believe it had an opening for talks with Pakistan, and the Ramzan ceasefire call was seen as a step toward this.
The ceasefire began on November 28 and was extended three times — from December 28 to January 26, from January 27 to February 26, and from February 27 to March 20, 2011, this last extension continuing until May 30. Hostilities continued, however, with over 800 persons killed, according to figures compiled by the South Asia Terrorism Portal. The Hizb, Laskhar, Jaish, and other groups dismissed the ceasefire as "drama" and "a trap" laid by the Indian government.

On December 7, 2000, Gen Pervez Musharraf indicated that Pakistan had offered "tripartite talks" among Pakistan, India and the Kashmiri leadership. ENS
***
Telling Numbers: Karnataka net output growth second only to Gujarat's
Between 2013 and 2017 in Karnataka, a key economic indicator, Net State Value Added (NSVA), rose at a compounded annual growth rate (CAGR) of 7.18%, RBI figures show. NSVA is defined as the value of output less the value of both intermediate consumption and consumption of fixed capital. While Karnataka is among the top five states in terms of NSVA — behind Gujarat, Maharashtra, Tamil Nadu and Uttar Pradesh — it is second only to Gujarat in terms of NSVA growth. For Gujarat and Maharashtra, data is only available until March 2016. The growth in NSVA in Karnataka was led by mining, whose CAGR has been 23.5% following the Supreme Court's decision in 2012 to lift a ban on mining. Other areas that delivered higher growth were transport & communication; financial services; and real estate & professional services. (Sandeep Singh)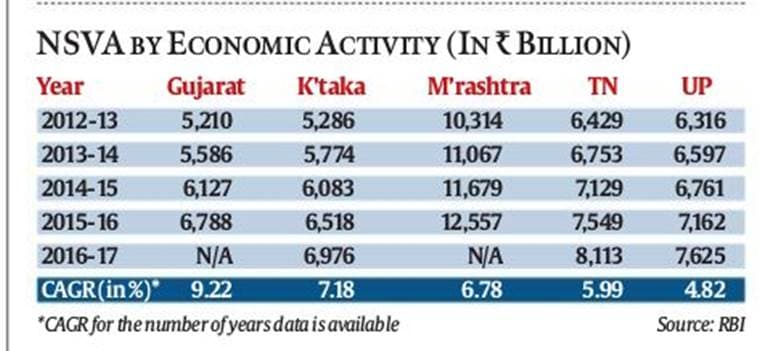 ***
This Word Means: Doctrine of Severability
Petitioners challenging the constitutional validity of the Aadhaar Act have argued that should the Supreme Court decide that the Act is not a money Bill, the entire Act must be struck down without applying the doctrine of severability. The doctrine is a global practice that states that if there are constitutionally invalid parts that are only umbilically connected to the rest of the law, then the court can term those parts void while keeping the rest intact. The application of the doctrine is provided for by the Indian Constitution through Article 13. Although Article 368 specifically states that Article 13 could not be used in cases where the Constitution was amended, this was later read down by the Supreme Court. In the Aadhaar Act, there are several sections, such as Section 7, which the government argues would qualify it as a money Bill, including parts that involve deductions from the Consolidated Fund of India. Again, Section 57 allows private bodies to use Aadhaar to establish the identity of a person for any purpose, which the petitioners say has nothing to do with a money Bill. (Harikrishnan Nair)
The Indian Express website has been rated GREEN for its credibility and trustworthiness by Newsguard, a global service that rates news sources for their journalistic standards.