The New Technology of Destruction
In 1998, the FBI started to investigate a series of intrusions into computer networks connected to the US military or intelligence establishment. The Russian government was behind the hacks, the investigators found, and the then Deputy Secretary of Defence, John Hamre, told a Congressional committee, "We are in the middle of a cyberwar." Hamre subsequently told veteran American journalist David E Sanger, "This was a real wake-up call for us. Until then, we'd had incursions, but never a case of a foreign power that broke into our systems and simply wouldn't leave — and was hard to evict."
Many years later, Russian hackers would break into the computers of the Democratic National Committee, and the emails they stole would trigger a political earthquake that may have sunk Hillary Clinton and propelled Donald Trump to power. As Sanger, who has covered foreign policy, globalisation, nuclear proliferation, and the US presidency for The New York Times for three decades, says in his third book, it is possible that Moonlight Maze — the name given to that late 1990s operation — never really ended; "it just morphed into new attacks that continued' for the next two decades".
Moonlight Maze also set off the first serious efforts by the US to defend its networks and form its own offensive cyber forces, Sanger says in The Perfect Weapon: War, Sabotage and Fear in the Cyber Age. A review in The NYT describes the book, released this week, as "an encyclopaedic account of policy-relevant happenings in the cyberworld" — important because "the newest technological means of mayhem are cyber, the development of cyber capabilities has been rapid and is continuing", but its "doctrine is largely yet to be written, and ideas about control are only beginning to emerge". While the core focus is cyberwarfare, the book deals also with privacy issues related to the collection of signals intelligence, and social media and its misuse, the review in The NYT says.
***
Telling Numbers: Since 1965, Governor's rule in J&K for 1/6th of the time
Since the day its first Chief Minister took office, Jammu and Kashmir has been under Governor's rule for almost one-sixth of the time (roughly 3,000 days out of 19,000). This excludes the eighth spell, which began Wednesday. Between 1947 and 1965, the state was headed by a Prime Minister; the first CM was Ghulam Mohammed Sadiq who took charge on March 30, 1965.
In the 53 years and 3 months since then, J&K has gone through 44 years and 8 months under 13 elected governments, and the remaining 8 years and 7 months under seven spells of Governor's rule. Between Sadiq's swearing-in date and the premature end of Mehbooba Mufti's tenure, the number of days under an elected government (a little over 16,000) and those under Governor's rule (3,000-odd) break into a ratio of roughly 84:16.
***
This Word Means: Assumption Island
India's plans for a military base have hit a roadblock. Why is this tiny island of Seychelles important?
Spanning just 11.6 sq km, a small island in the Indian Ocean has gained new attention with Seychelles saying that India's plans to build a military base "will not move forward", as reported in The Sunday Express. Assumption Island, a single coral island, belongs to the Outer Islands District of Seychelles. With only a small village on the sheltered western side and a 1,210-m concrete airfield running from there to the southeastern coast, the island's few inhabitants, mostly farmers and fishermen, have to go to Victoria (the capital) for government services. The island's location is ideal for monitoring the Mozambique Channel, which sees significant international trade. A naval base there would help India secure its merchant ships, be a resource for other shipping nations, and help combat China's increasing clout in the Indian Ocean.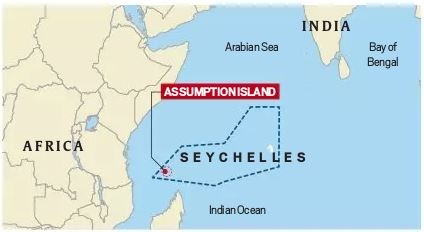 India unveiled its plans for a base in 2015, during a trip by PM Narendra Modi, but it faced resistance from the opposition there as well as citizens. Concerns ranged from environmental ones to fears of conflict between nuclear powers India and China. Seychelles signed an amendment pact with India last January, with safeguards banning India from using nuclear weapons on the base or using it in war, but the protests continued.  (Promit Chakroborty)