THE YATRA is organised annually by the Ministry of External Affairs in cooperation with the People's Republic of China. This year's Yatra is from June 8 to September 8; the last date to apply online was April 6. Rahul Gandhi announced his intention to go on the pilgrimage after he suffered a mid-air scare on April 29.
THE ROUTES: Either through Lipulekh Pass (Uttarakhand), or Nathu La (Sikkim). The Lipulekh route takes about 24 days; costs Rs 1.6 lakh per person. The Nathu La route is shorter and costlier: 21 days and Rs 2 lakh. All Yatras start from Delhi.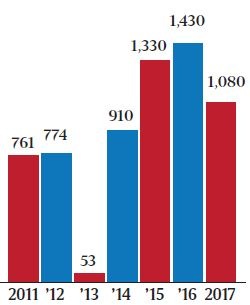 THE PILGRIMS: This year, 18 batches of 60 pilgrims are expected to go via Lipulekh; 10 batches of 50 via Nathu La. Pilgrims must be between 18 and 70 years of age. From 529 pilgrims in 2005 and 592 in 2006, the numbers of yatris has risen in recent years, with the exception of 2013. (chart left)
Pilgrims are selected through a fair, random, gender-balanced process. ITBP provides security on the Indian side, and works with the Chinese to keep track of the yatris on their side. The cost is borne by individual pilgrims. There is no direct central government subsidy, though some states offer part of the Yatra cost.—RAHUL TRIPATHI
***
Tip for Reading List
Misplaced optimism about N Korea
Amid celebration over North Korean leader Kim Jong-un's visit to South Korea and his declaration that he would close his nuclear test site, here is a note of caution. Citing two scientific papers in Geophysical Research Letters that led to reports that North Korea's test site is unusable or that the mountain that contains it has collapsed, an article in Foreign Policy dismisses these interpretations. Both papers report seismic analysis of aftershocks following North Korea's nuclear test in September. One says the explosion created a cavity and a damaged a "chimney" of rocks above it, and the aftershock occurred due to a rock collapse or compaction. The other paper says the first aftershock is a near vertical on-site collapse and later events are an earthquake swarm to the north. "But the collapsing of the cavity and shrinking of the mountain do not mean the tunnels leading to it collapsed, let alone that the mountain itself had done so. And, of course, there are two other nuclear test complexes underneath entirely different mountains at the sit," East Asia nonproliferation scholar Jeffrey Lewis writes in Foreign Policy.
***
This Word Means
COMMON SERVICE CENTRES
What is the Central scheme under the scanner for alleged breach of EPFO data?
The Ministry of Electronics and Information Technology's Common Service Centre (CSC) scheme employs village-level entrepreneurs to offer a slew of digital services to those without access to the Internet, smartphones or computers. These services include enrolment for passports and PAN, payments of bills, opening of bank accounts, booking of rail tickets, teleconsultation with medical practitioners, etc. The CSCs have, however, come under the scanner for the second time in four months with the Aadhaar-seeding portal built for the Employees' Provident Fund Organisation (EPFO) being suspended after suspected security vulnerabilities. Earlier this year, it was alleged that CSC village-level entrepreneurs had gained unauthorised access to UIDAI data. CSCs are considered to be the backbone of the Centre's flagship Digital India plan in rural areas, and the target is to have a service centre in each of India's 2.50 lakh gram panchayats. Currently, there are around 1.70 lakh CSCs across the country. CSCs are operated by a special purpose vehicle — CSC e-Governance Services India Ltd — under the IT Ministry. PRANAV MUKUL