The Regional Passport Office in Lucknow, which has been at the centre of a controversy over the way one of its officials handled the passport applications of an inter-faith couple, is the busiest of all such centres in the country. Between 2014 and 2016, the Lucknow RPO issued an average of 3,081 passports per working day, while five other RPOs — Hyderabad, Bengaluru, Kolkata, Ahmedabad, Delhi — issued over 2,000 a day. These averages are listed in a 2017 document of the Ministry of Eternal Affairs inviting tenders for printers at its RPOs.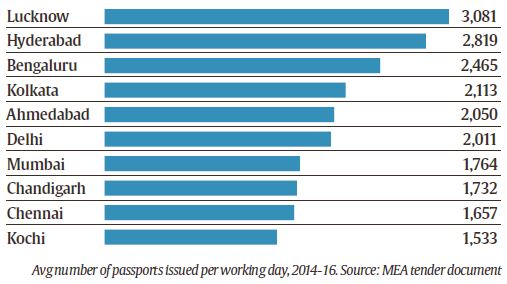 The Lucknow RPO issued over 22 lakh passports in these three years, out of nearly 2.87 crore passports issued by 37 RPOs across the country. The source for this is another document of the Ministry, which gives year-by-year figures for each RPO as well as the all-India counts.
From Asiatic Lion to Red Panda, the 21 species listed for recovery 
The Centre's Recovery Programme for Critically Endangered Species now covers 21 species or groups of species. As reported in The Indian Express Thursday, four of these have been newly added. Before that, the last set of additions was made in 2015. The 21 species are covered under the Integrated Development of Wildlife Habitats, a scheme of the Ministry on Environment and Forest.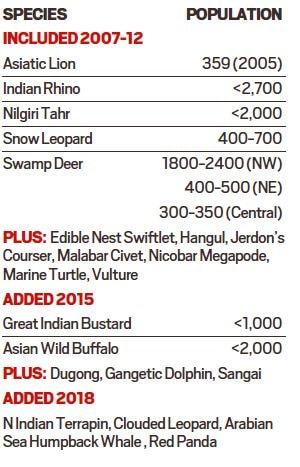 According to the website of the Wildlife Institute of India's ENVIS Centre, Asiatic Lion and Rhinoceros populations are showing an increasing trend; Sangai and Hangul populations are stable; while Great Indian Bustard and Nicobar Megapode populations have declined. Vulture populations, which had declined in recent times, have registered a small upward trend, the website adds, attributing this to conservation efforts. The list shown here includes populations as mentioned by the ENVIS website.
This Word Means: Legal entity
While declaring animals "legal entities" (The Indian Express, July 5), the Uttarakhand High Court referred to court judgments and legal volumes from around the world to define entities such as "juristic person" and "legal person". The US volume Black's Law Dictionary, meanwhile, defines a legal entity as "a lawful or legally standing association, corporation, partnership, proprietorship, trust, or individual. Has legal capacity to (1) enter into agreements or contracts, (2) assume obligations, (3) incur and pay debts, (4) sue and be sued in its own right, and (5) to be accountable for illegal activities".
On Wednesday, the HC quoted the Supreme Court in SGPC Amritsar vs Som Nath Dass & Others, 2000: "It ['Juristic Person'] is not an individual natural person but an artificially created person which is to be recognised to be in law as such." From the volume Salmond on Jurisprudence, the HC quoted: "A legal person is any subject-matter other than a human being to which the law attributes personality."