On Tuesday, online retailer Amazon reached $1 trillion in market value, becoming the second publicly listed US company to that mark. Apple, the iPhone maker, had reached there only on August 2. At the rate Amazon is growing, market watchers believe that it is a matter of when, not if, Amazon's stock market valuation eclipses that of Apple. Apple took almost 38 years (since 1980) as a public company to achieve the trillion-dollar milestone, while Amazon got there in 21 years (since 1997), a Reuters report said. Amazon's stock has increased almost 600% in the last five years, including a 74.5% surge in 2018 alone (until Tuesday), while Apple had risen about 35% this year, according to the Reuters report. On Tuesday morning, Amazon's stock climbed enough to push the company's valuation pass the $1 trillion mark, then dropped back slightly to close at $2,039.51, about $11 short of keeping its valuation above $1 trillion.
In a report explaining Amazon's growth, The New York Times noted that the retailer sells everything from computing space to peanut butter to appointments with plumbers, but adds the thing it has always sold the most is excitement. From being "an exciting new way to shop for books — online", Amazon became "an exciting new way to read (Kindle e-books), an exciting new way to publish (CreateSpace), an exciting new way to power the internet (Amazon Web Services), an exciting new way to get deliveries (Amazon Prime), an exciting new way to make your house a high-tech outpost (Alexa)".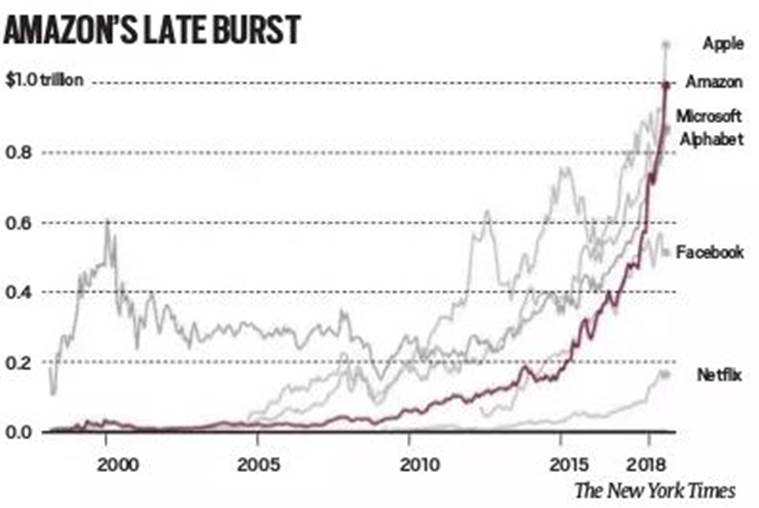 The NYT report also mentions a poll on Facebook, run by a group of young Wall Street investors, even before Amazon reached the milestone. "The question: Would Amazon or Apple be the first to hit $2 trillion? The vote was overwhelmingly in favor of Amazon. Dreams will always triumph over devices."
This Word Means – NOVICHOK
Confirmed: nerve agent used in UK attack. What is it?
Prosecutors in Britain Wednesday charged two officers from GRU, Russia's military intelligence service, with the attempted murder in England on March 4, of former double agent Sergei Skripal and his daughter Yulia with a deadly nerve agent called Novichok. Both Skripal and Yulia survived the attack, but the incident ratcheted up tensions between London and Moscow, and led to Cold War-style tit-for-tat expulsions of hundreds of diplomats.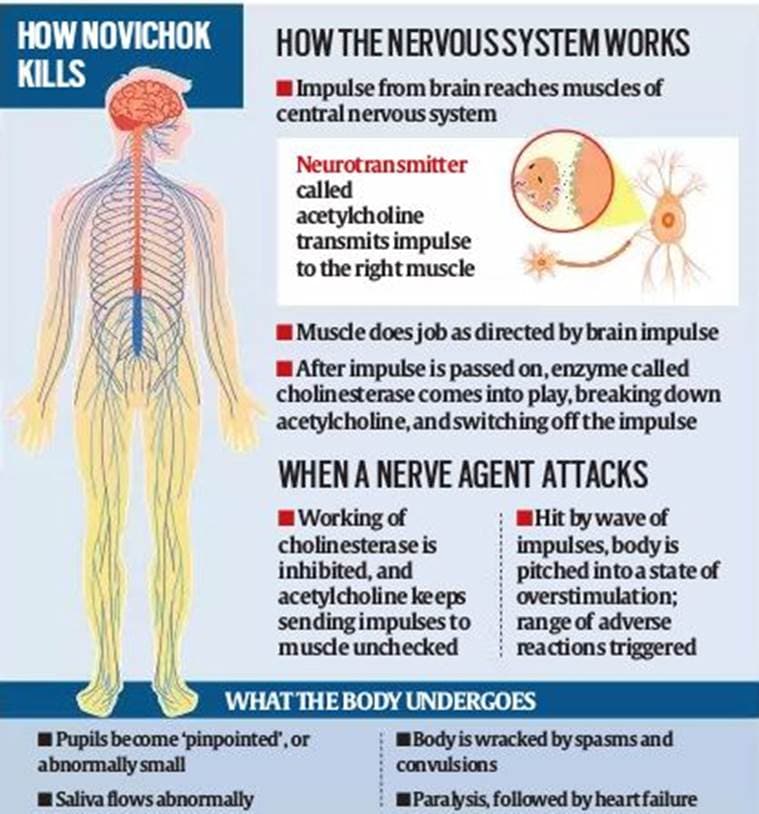 Novichok, literally 'newcomer' or 'new boy', is one of several military-grade nerve agent developed by the Soviet military in the 1970s and 1980s, and is believed by some to be the most powerful agent of all. It acts by destroying the signalling process along the nervous system, much in the same way as other nerve agents like Sarin and VX.
For all the latest Explained News, download Indian Express App