The All India Council for Technical Education has reduced the intake for its courses by 8%, from 35.52 lakh last year to 32.62 lakh this year. Technical education includes UG, PG and diploma courses in engineering, management, pharmacy, architecture, MCA, hotel management, and applied arts & crafts. Only pharmacy seats have increased this year, marginally. In the last four years, intake across technical courses has fallen by 18% (from 39.61 lakh in 2014-15 to the current 32.62 lakh), with the largest slash coming in Master of Computer Applications.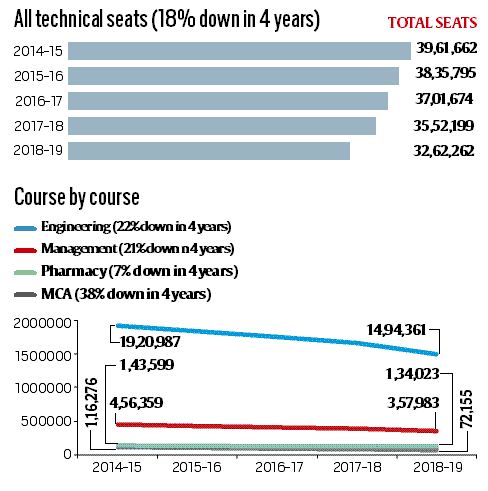 ***
Fact Check, Ground reality
CAN LIGHTNING STRIKES BE PREDICTED AND THE LOSS OF LIVES PREVENTED?
Over 150 people have died after being struck by lightning during storms this month. Telangana plans to have a system of prediction and early warning for lightning; Andhra Pradesh, which already has the system, claims it helps save lives. How does lightning kill?
In 2016, Andhra Pradesh State Disaster Mitigation Society (APSDMS) tied up with US-based Earth Networks — a weather monitoring, forecasting and forewarning agency with more than 1,800 sensors in 50 countries — to establish an advance warning system in areas vulnerable to lightning strikes. Twelve sensors were set up on highrise towers at Anantapur, Kurnool, Kadapa, Srikakulam, Visakhapatnam and Chittoor.
"It helps save a lot of lives because it is highly accurate and we are able to send out alerts to people with enough time for them to seek shelter. But there are challenges. We send SMSes, but people working in the fields often don't carry mobile phones, and don't check messages," APS-DMS Commissioner M V Seshagiri Babu said. He added, early warnings to 24 villages in Chittoor and Anantapur on May 15-16 helped save many lives.
Kishan Sanku, the head of the State Emergency Operations Centre at Amaravati, said each Earth Networks lightning censor covers 1,080 km, but a thicker network provides greater accuracy. "The sensors collect data on cloud accumulation, density and potential for lightning. We correlate the information with IMD Doppler data and issue an alert at the mandal level, using WhatsApp groups, usually 30-40 minutes before lightning strikes. But if wind speed is high and clouds move quickly, lightning may occur within 15-20 minutes of the warning," Sanku said. "Last week, we issued alerts to specific mandals, and at certain places narrowed it to 2-3 km radius."
***
It is important to understand, as Sanku says, that data from the sensors have to be combined with information on the movement of clouds — whose direction and speed can be gauged by Doppler radars — if lightning activity over a certain region is to be predicted.
The India Meteorological Department (IMD) routinely issues lightning warnings — but they are generic, meant for a large geographical area. Only the probability of lightning activity can be predicted, not individual flashes or strikes.
Maharashtra has a warning system, and a technological framework to send alerts directly to the public by SMS is being set up. Karnataka tied up with Earth Networks in April, West Bengal in February. Odisha is in touch with the company. The Earth Sciences Ministry is in the process of installing sensors across the country for more accurate forecasts.
Dr Sunil Pawar of the Indian Institute of Tropical Meteorology, Pune, agreed that lightning prediction can be made over a region about half an hour in advance, after the direction and speed of the cloud producing the lightning has been ascertained. Scientists are trying to make predictions an hour in advance, Dr Pawar said. The accuracy of the prediction is up to village-level, he said.
Lightning rarely strikes people directly. People are electrocuted after power lines snap, or after they are caught in fields filled with water. Those in the poorest, most densely populated areas, and in the poorer states like UP and Bihar, are the most vulnerable. —SREENIVAS JANYALA & AMITABH SINHA