A Central Water Commission (CWC) report on the Kerala floods, released Monday, explains how three days of intense rainfall (August 15-17, 414 mm) brought in more water than the state's dams could accommodate, making it necessary to release water. From the catchment tapped by the dams, excluding barrages, the report estimates that the runoff generated during the three-day period was 2.19 billion cubic metres (BCM), out of a total runoff of 12 BCM for the state. "The total live storage of Kerala is about 5.8 BCM. Even with 20 per cent of the live storage availability on 14 August 2018, the available flood moderation extent would have been only 1.16 BCM against the estimated inflow of 2.19 BCM," the report states. "It shows that in any case, it was essential to make releases from reservoirs."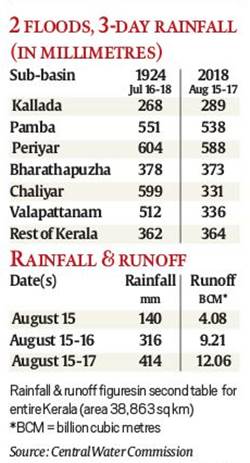 The report refers to two previous floods, in 1924 and 1961. During July 16-18, 1924, heavy rainfall occurred on almost entire Kerala, causing heavy loss of life and property. "The centre of the 1-day and 2-day rainstorm was located at Devikulam in Kerala which recorded 484 mm and 751 mm of rainfall respectively. The centre of 3-day rainstorm was located at Munnar in Kerala which recorded a rainfall of 897 mm in 3 days," says the report, which also compares the amount of rainfall during the three peak days of 1924 and the three peak days of 2018.
In 1961, floods were unusually heavy both in duration and in intensity of precipitation, with the monsoon getting violent towards the last week of June and in the early days of August. The average rainfall was 56 per cent above normal.
Tip for Reading List: Life by Algorithms
On her website, Dr Hannah Fry describes herself as a "mathematician, science presenter and all round badass". She works at University College London alongside physicists, mathematicians, computer scientists, architects and geographers, studying patterns in human behaviour in urban settings, and researching questions that range from shopping and transport to urban crime, riots and terrorism. She writes books that span fascinating interdisciplinary genres and have fun titles: The Mathematics of Love: Patterns, Proofs, and the Search for the Ultimate Equation, and The Indisputable Existence of Santa Claus.
The introductory note to Fry's third book, Hello World: How to be Human in the Age of the Machine, begins with a few classical dilemmas reimagined for our times: "Would you let your family's full medical history be made public if it would help find a cure for cancer?" "You are accused of a crime. Who do you want to decide your future: a human or a machine?" "Which driverless car would you buy: one that prioritises your life in the event of a crash, or one that reacts to save as many lives as possible?" It's a book, she says, about algorithms — "the invisible pieces of code that form the gears and cogs of the modern machine age, (which) have given the world everything from social media feeds to search engines, satellite navigation to music recommendation systems, and are as much a part of our modern infrastructure as bridges, buildings and factories ever were". Algorithms have today "learned our likes and dislikes; they tell us what to watch, what to read and who to date". Indeed, they have the "hidden power to slowly and subtly change the rules about what it means to be human".
It is not her argument, Fry clarifies, that algorithms are inherently bad; "it's how they are used that matters". She gives the examples of GPS, which was invented to launch nuclear missiles but which helps deliver pizza, pop music, which, played on loop, has been used to torture, and flower garlands that could be used to strangle human beings. "Forming an opinion on an algorithm", therefore, "means understanding the relationship between human and machine. Each one is inextricably connected to the people who build and use it".
Which means, Fry writes, her book is, at its heart, about humans. "It's about who we are, where we're going, what's important to us and how that is changing through technology. It's about our relationship with the algorithms that are already there, the ones working alongside us, amplifying our abilities, correcting our mistakes, solving our problems and creating new ones along the way." She couldn't promise her book would give any answers, Fry told The New York Times in an interview, "but I do hope it will change the way people see the world".