Since the floods began in Kerala, donations from the Middle East — by governments as well as individuals — have thrown the spotlight on the large number of people from Kerala living in those countries, and the bond that has resulted because of it. "There are around 3.8 million Keralites working in the Middle East, of whom 70-80% are in Saudi Arabia and the UAE together," said Harikrishnan Namboothiripad, CEO of Non-Resident Keralites' Affairs (NORKA), a state government department.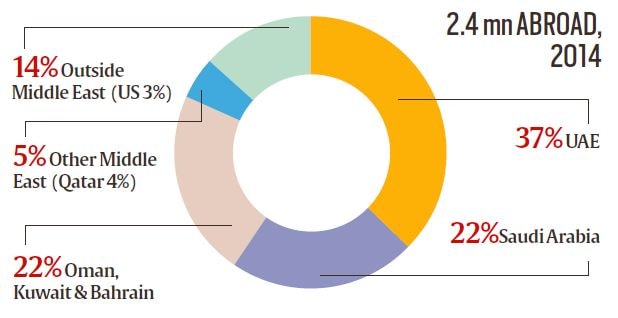 On the other hand, the 2016 Kerala Migration Survey puts the number of migrant workers from Kerala at 2.2 million, 90% of them in Gulf Cooperation Council countries. This is down from 2.4 million migrants in the 2014 survey, conducted by the Centre for Development Studies (CDS). Of these, 86% — 5 of every 6 — were living in the Middle East in 2014, including 37% in the UAE alone, and another 22% in Saudi Arabia. "The UAE's past, present and future are linked to Kerala. Unskilled labourers from Kerala… contributed immensely to building the UAE in its present form. Now, it's not just for manpower, but that country looks up to Kerala for other sectors including tourism," Namboothiripadtold The Indian Express.
Another CDS survey found that Keralites abroad sent home Rs 71,000 crore in 2014; and these reached 16.6% — 1 of every 6 — of all households in the state.
***
Tip for Reading List: Notes On The Post-Truth Era
A year and a half into the presidency of Donald Trump, there is consensus among the liberal commentariat in the West that the 45th President of the US is like no other in that country's history — a constant dealer in deception, half-truth, and often, plain lies. "He lies", to use a randomly chosen expression from The New York Times, "the way a woodpecker attacks a tree: compulsively, insistently, instinctively". According to a calculation by The Washington Post, Trump made 2,140 false or misleading claims during his first year, or an average of almost six a day. And yet, the liberal commentariat notes, many millions of Americans believe, defend, and justify Trump's assertions, and ignore or push back aggressively against their efforts to call out his deceptions.
"How did this happen?" asks Michiko Kakutani, the veteran American literary critic who was for decades the chief book reviewer at The NYT. "… How did truth and reason become such endangered species, and what does their impending demise portend for our public discourse and the future of our politics and governance?" That, she says in the Introduction of The Death of Truth: Notes on Falsehood in the Age of Trump, is the subject of her book. In it, she adds, she "hope(s) to draw upon (her) readings of books and current events to connect some of the dots about the assault on truth and situate them in context with broader social and political dynamics that have been percolating through (American) culture for years".
However, it is not happening in America alone, Kakutani points out, giving as examples the false claims that swung Brexit, and Russian disinformation campaigns in multiple countries. While reviewers have criticised the book as being a highminded, repetitive polemic, the broad philosophical questions she raises have resonance in several national contexts.
***
This Word Means: IIT-PAL
What is this IIT initiative for engineering aspirants?
Following a meeting of the IIT Council Monday, HRD Minister Prakash Javadekar said the IITs will strengthen their Professor Assisted Learning programme. Known as IIT-PAL, it is an initiative taken by the IITs to fight the coaching industry's influence among engineering aspirants, and inspired from an initiative of IIT-Gandhinagar where first-year undergraduate students are tagged with bright seniors who coach them. Launched in July last year, this platform hosts lectures by IIT professors on Physics, Chemistry, Maths and Biology to help students crack the Joint Entrance Exam (JEE). IIT-PAL channels are available for free on the Internet and DTH TV, and each subject has a dedicated channel. IIT-Delhi, the coordinating institute, has a bank of pre-recorded lectures of over 600 hours. Because it may not be completely possible to wean aspirants away from coaching institutes, IITs also describe the platform as an aid especially for aspirants from economically weaker backgrounds. "Not everyone can afford coaching classes. We need to help children from the rural backgrounds and from disadvantaged sections to enter the IITs," IIT Delhi director V Ramgopal Rao had said about IIT-PAL.
The Indian Express website has been rated GREEN for its credibility and trustworthiness by Newsguard, a global service that rates news sources for their journalistic standards.