The US National Oceanic and Atmospheric Administration (NOAA) has forecast a 70% chance of an El Niño lasting through summer, up from the 50-60% chance it had indicated last month.

What is El Niño? Why does it matter for the Indian monsoon?
El Niño refers to warmer-than-average sea surface temperatures in the equatorial eastern Pacific off the coasts of Ecuador and Peru. The abnormal warming leads to increased evaporation and concentrated cloud-formation activity around South America, causing heavy rain there. The other end of the tropical Pacific — Indonesia, Papua New Guinea and Australia — is deprived of convective currents, resulting in low rainfall and droughts, whose effects may percolate to India as well.
Does an El Niño automatically translate into drought in India?
No. India had droughts in 1982, 1986, 1987, 2002, 2004 and 2009, which were all El Niño years. But 1994 was a "moderate" and 1997 a "strong" El Niño year, and in both these, India had surplus monsoon rain. 2006 was a "weak" El Niño year — and saw normal rainfall. So, while drought years tend to be El Niño years, not all El Niño years are drought years. And you can't be sure even then — 2014 was a drought year, but not an El Niño year.
Is 2015 going to see an El Niño?
In its April 9 update, NOAA's Climate Prediction Center said there is an "approximately 70% chance" of an El Niño through the summer, and a "greater than 60% chance" of it lasting through autumn (Sept-Nov). But NOAA is still pointing to a "weak" El Niño, as against the "moderate to strong" one of 2009.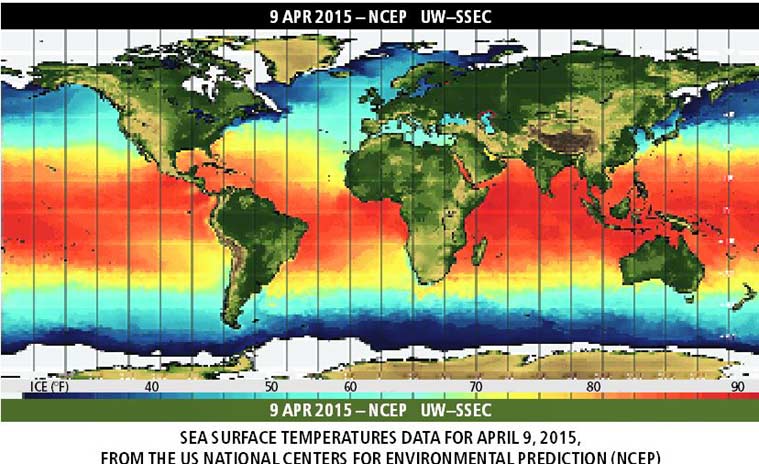 Are we in for a bad monsoon?
El Niño is not the only factor influencing the monsoon. The last "very strong" El Niño was in 1997 — and India got 2.2% surplus rain. There is also the "negative Indian Ocean Dipole" (IOD) — the phenomenon in which eastern Indian Ocean waters off Indonesia and Australia become unusually warm relative to the western tropical part, and is detrimental to the monsoon. This year, the IOD is in a "neutral phase", and the Australian Bureau of Meteorology expects it to remain so "until at least mid-year". The monsoon could well be normal if we have a "neutral" IOD with a "weak" El Niño.
In 2014, there was no El Niño and no negative IOD. Yet, India had a drought. The monsoon is ultimately about moisture-laden winds blowing in from a high-pressure area (the Arabian Sea) to one of low pressure (over land). Last year's poor rains, it seems, had more to do with "local" factors — mainly unseasonal summer showers upsetting the normal heating pattern over the Indian landmass and preventing formation of required heat "lows".
What if the rains aren't good?
Kharif and rabi harvests have been poor; a bad monsoon will make things worse for farmers. Consumers may not be impacted as much, given FCI stocks and soft international commodity prices that will help keep inflationary pressures down. But the likelihood of an El Niño would rule out further interest rate cuts by RBI. The Bank has identified a "possible intensification of El Niño conditions" as an upside risk to meeting inflation targets.
STRAWS IN THE WIND
For several months, sea surface temperatures in the tropical Pacific have been higher than average — a symptom of El Niño conditions. One of the atmospheric signs is a westerly wind anomaly near the surface: the so-called "trade winds" (surface winds along the equator), which normally blow east-west either start to flag, or even turn "westerly" (that is, start to blow west-east). In March 2015, a westerly wind burst was recorded that lasted 9 days — the strongest since 1997.
A second classic El Niño symptom is more-than-usual rain in the central Pacific, and less over Indonesia. This signal — read from the measurement of long wave radiation escaping the atmosphere (cloud formation blocks escape) — became much clearer in March.
The third bit of evidence is seen in the March values of the Southern Oscillation Index (SOI) and Equatorial Southern Oscillation Index: minus 0.7 and minus 0.9 respectively. Negative SOI values (meaning below-normal pressure over the central Pacific and above-normal over the western Pacific) indicate El Niño phenomena, whereas positive SOI values indicate La Niña episodes.
HEADED WHICH WAY?
# Warmer-than-usual subsurface water in the equatorial Pacific is likely to keep surface temperatures above average at least until June. (Predictions are for an anomaly of +0.5°.)
# It's important to recall that climate models in Spring 2014 too, had predicted an El Niño, which didn't ultimately happen. While there are clear similarities between conditions in 2014 and 2015, there is a significant difference: the Oceanic Niño Index or ONI, the standard the NOAA uses to predict an El Niño, for January-March 2015 is more than 1°C warmer than for the same period in 2014, meaning the base is higher this year.
# Based on current conditions and model forecasts, the NOAA is predicting a 60%-70% chance of an El Niño through the summer and extending into the fall of 2015.
The Indian Express website has been rated GREEN for its credibility and trustworthiness by Newsguard, a global service that rates news sources for their journalistic standards.