Written by
Rahul Tripathi
| New Delhi |
Updated: November 8, 2017 11:43:21 am
Almost a year after demonetisation of Rs 500 and Rs 1000 currency notes, the number of infiltration attempts in the valley has reached an all time high while more security personnel were killed in Naxal attacks this year as compared to last year. However a decline of 21 percent has been registered in number of incidents in the Left Wing theatre (LWE), while the number of stone pelting incidents came down by over 70 percent in Kashmir this year, officials said.
In 2016, the Centre after scrapping Rs 500 and Rs 1,000 notes said the move has dented funding of extremist groups. The union home ministry on Tuesday refused to share the exact details regarding its assessment and trends on terrorism and naxalism, a year after demonetisation. Its spokesperson Ashok Prasad when pressed for details said, "All matters related to demonetisation are being coordinated by the Finance Ministry."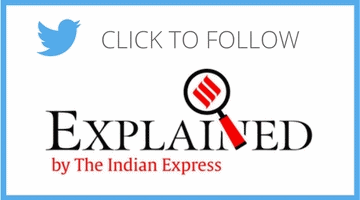 The data obtained by The Indian Express reveals that there has been rise in number of militants activities in Jammu and Kashmir where 301 terrorist incidents were recorded in 2017 as compared to 283 in 2016, the year Hizbul Mujahideen (HM) commander Burhan Wani, was gunned down by security forces in an encounter, leading to unrest in the valley.
As many as 336 infiltration attempts were recorded this year as compared to 221 last year. While 112 were estimated to be successful in 2016, only 90 were estimated to be successful in 2017. The sharp rise in number of infiltration, officials explained is because of Pakistan's ISI and Pakistan based militant groups who are pushing foreign militants from across the border.
The number of civilians killed in the valley registered a three-fold rise as compared to 13 in 2016 to 36 in 2017, according to data. However, with security forces stepping up their operations, the number of militants killed rose to 180 this year as compared to 130 last year. The number of security personnel's who lost their lives in 2017 was 66 as compared to 67 in 2016 in Jammu and Kashmir.
Jammu and Kashmir police in its report to the home ministry also conveyed that they have arrested 73 militants and carried out 112 encounters with security forces in 2017 as compared to 85 last year.
Officials while quoting the home ministry data further said the violence in the LWE theater has come down and the large number of causality among security forces is due to two incidents in Sukma early this year. In 2017, the number of Naxal related incidents have come down from 887 to 701 and civilians death from 177 to 150. However, the number of security forces killed by Maoist this year has registered a rise leading to death of 70 security personnel in 2017 as compared to 59 last year.
Another area of improvement, according to officials, is fake currency seizures. As per a study conducted by the National Investigation Agency (NIA) along with Indian Statistical Institute (ISI), Kolkata in 2016, the value of FICN in circulation was pegged to be Rs 400 crore which remained about the same over the last four years (2011-12 to 2014-15). The report further stated that counterfeit notes worth 70 crore are infused every year.
In contrast, the value of fake currency including that of new denominations of Rs 2000 seized in 2017 was stated to be Rs 16 crores. This was said to be Rs 51 crores in 2016 and Rs 45 crores in 2015. However, experts said it is difficult to estimate the actual value of fake currency in circulation since the figures available with law enforcement agencies only reveal the seizures made.
According to an assessment made by the Intelligence bureau (IB) last year post demonetization, Naxals raise Rs 300-350 crore annually, Kashmiri separatists channelise Rs 20-30 crore every year and northeast insurgents raise Rs 350-400 crore.
The Indian Express website has been rated GREEN for its credibility and trustworthiness by Newsguard, a global service that rates news sources for their journalistic standards.