Written by
Anil Sasi
Updated: November 20, 2017 8:22:09 am
On the face of it, the November 15 decision by the union Petroleum Ministry to advance the introduction of BS-VI grade petrol and diesel in Delhi by two years to April 2018 appears to be a logical step in fighting air pollution. Delve deeper, and doubts emerge over possible implementation impracticalities.
First, it took as many as seven years for the entire country to shift to BS-IV. The attempt this time is to leapfrog one stage — BS-V — altogether, and that makes the switch to BS-VI that much more difficult for both the oil companies and automobile makers. This is the second time that the government has shifted the goalposts — in January 2016, it had decided to skip BS-V and go directly to BS-VI, but only by 2020.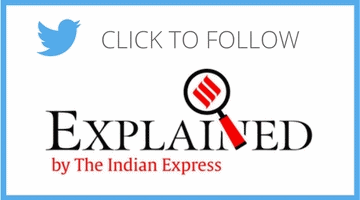 Second, the introduction of higher grade fuel will be beneficial only if it is done in tandem with the rollout of BS-VI compliant vehicles. Using BS-VI fuel in the current BS-IV engines or, conversely, running BS-VI engines on the current-grade fuel, may be ineffective in curbing vehicular pollution, and may damage the engine in the long run.
Also Read: Battling pollution in Delhi, Govt advances rollout of BS-VI fuel
Third, even if automakers were to bring forward their manufacturing schedules, it doesn't make practical sense for them to build BS-VI compliant vehicles for just one city. Also, carmakers give technical reasons (explained below) for why the first lot of BS-VI vehicles is likely to miss the government's April 1, 2018 deadline. The full migration to manufacturing only BS-VI vehicles nationwide can happen only by April 1, 2020, automakers say.
Sulphur Content
The main difference between BS-IV and BS-VI (which is comparable to Euro 6) is in the amount of sulphur in the fuel. BS-VI fuel is estimated to bring around an 80% reduction in sulphur content — from 50 parts per million (ppm) to 10 ppm. Also, according to analysts, NOx emissions from diesel cars are expected to come down by nearly 70% and, from cars with petrol engines, by 25%.
For automakers, the big hurdle in jumping directly from BS-IV to BS-VI norms lies in equipping cars with two key fitments, and road-testing them within the time schedule. Implementation of the intermediate BS-V standard was originally scheduled for 2019. While this stage has been bypassed, the BS-VI standard, originally set to come in by 2024, was advanced by four years, in line with India's promises at the 2015 Paris Climate Change Conference, and the broad public sentiment against the air pollution in major Indian cities.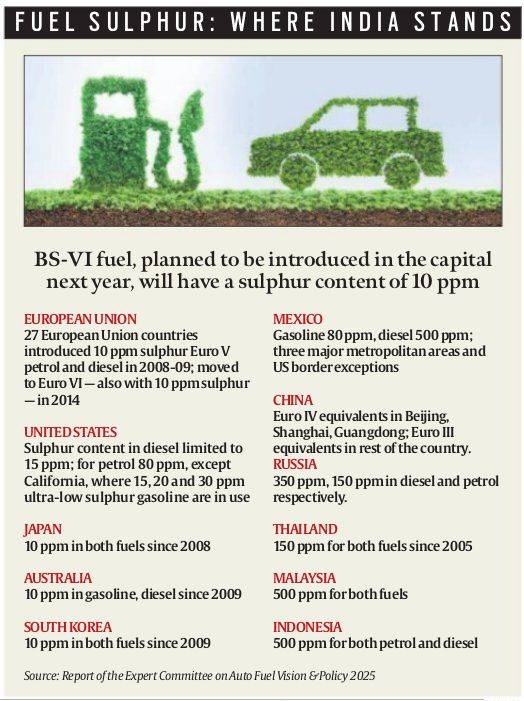 Automakers insist that BS-VI norms may not bring perceptible change in air quality but may increase the prices of vehicles by Rs 20,000-Rs 2 lakh, and that it will be a challenge to upgrade technologies to meet the higher norms in the time available.
The BS Norms
The BS — Bharat Stage — emission standards are norms instituted by the government to regulate the output of air pollutants from internal combustion engine equipment, including motor vehicles. India has been following European (Euro) emission norms, although with a time lag of five years.
India introduced emission norms first in 1991, and tightened them in 1996, when most vehicle manufacturers had to incorporate technology upgrades like catalytic converters to cut exhaust emissions. Fuel specifications based on environmental considerations were notified first in April 1996 — to be implemented by 2000, and incorporated in BIS 2000 standards. Following the landmark Supreme Court order of April 1999, the Centre notified Bharat Stage-I (BIS 2000) and Bharat Stage-II norms, broadly equivalent to Euro I and Euro II respectively. BS-II was for the National Capital Region and other metros; BS-I for the rest of India.
From April 2005, in line with the Auto Fuel Policy of 2003, BS-III and BS-II fuel quality norms came into existence for 13 major cities, and for the rest of the country respectively. From April 2010, BS-IV and BS-III norms were put in place in 13 major cities and the rest of India respectively.
As per the Policy roadmap, BS-V and BS-VI norms were to be implemented from April 1, 2022, and April 1, 2024, respectively. But in November 2015, the Road Transport Ministry issued a draft notification advancing the implementation of BS-V norms for new four-wheel vehicle models to April 1, 2019, and for existing models to April 1, 2020. The corresponding dates for BS-VI norms were brought forward to April 1, 2021, and April 1, 2022, respectively. Soon afterward, however, Road Transport Minister Nitin Gadkari announced that the government had decided to leapfrog to BS-VI from April 1, 2020, skipping BS-V all together.
Question Marks
While the Petroleum Ministry's November 15 announcement asserted that the fuel upgradation was on schedule, questions have been raised about the ability of the oil marketing companies to deliver on the claim. The upgradation to BS-VI is likely to cost well over Rs 40,000 crore — this, however, is still a lesser challenge than getting the auto companies to make the leap. Carmakers have said there isn't enough time to carry out design changes that will include adapting two critical components — diesel particulate filter and selective catalytic reduction module — to conditions specific to Indian driving, where running speeds are much lower than in Europe or the US.
Also, rolling out higher grade fuel and vehicles first in the cities has inherent drawbacks, as was evident in the BS-IV implementation. Just outside the peripheries of designated BS-IV cities, BS-III vehicles could be registered; BS-IV vehicles (especially heavy vehicles) were more expensive, and BS-III fuel was cheaper than the BS-IV equivalent. Interstate trucks and buses, the biggest polluters, were forced to stay on with BS-III engines simply because the fuel outside cities did not conform to BS-IV norms.
Investment Needs
The full transition to BS-IV took from 2010 to April 2017, because refiners were unable to produce the superior fuel in required quantities. Broadly, BS-IV petrol and diesel have 50 ppm of sulphur, as compared to 150 ppm for petrol and 350 ppm for diesel under BS-III standards. Oil companies are learnt to have put in Rs 30,000 crore between 2005 and 2010 to upgrade; the auto industry claims to have made a similar investment. Oil firms will have to invest another about Rs 40,000 crore to upgrade to BS-VI; additional investments by automakers will inevitably raise the prices of vehicles.
The auto industry argues that the huge improvements in vehicular technology since 2000 have had little impact in India due to driving, road and ambient conditions. The technology that will be used in future BS-VI vehicles, though, will have considerable impact, they claim. BS-V diesel vehicles were to have engine upgrades, particulate filters, lots of sensors, and electronic control. Petrols were to have catalyst and electronic control upgrades.
Industry estimates of required investment to upgrade from BS-IV to BS-V were to the tune of Rs 50,000 crore. DPFs (diesel particulate filters) have specific problems in the Indian context, and would have to be optimised for these conditions. Low driving speeds would make it difficult to achieve temperatures of 600 degrees Celsius required to burn the soot in DPF, and equipment manufacturers would have to work with temperatures of 400 degrees. Usually, diesel is injected to increase temperatures, but excess fuel in the compartment can cause a fire. The integrity of the vehicle too has to be considered — this would require validation tests over 6-7 lakh km, which may take up to four years.
BS-VI vehicles, too, require DPFs; in addition, they have to be equipped with an SCR (selective catalytic reduction) module — the optimisation and fitment of which, too, could take an estimated three-four years.
At every stage, the technology is increasingly more complex. To attain the specified super low emissions, all reactions have to be precise, and controlled by microprocessors. Since BS-V is to be skipped entirely, both DPF and SCR would need to be fitted together for testing, which, auto firms say, would make it extremely difficult to detect which of the technologies is at fault in case of errors in the system. Ideally, the technologies must be introduced in series, and then synergised. It's no surprise that auto firms are not too enthusiastic about the shift.
📣 The Indian Express is now on Telegram. Click here to join our channel (@indianexpress) and stay updated with the latest headlines
For all the latest Explained News, download Indian Express App.
The Indian Express website has been rated GREEN for its credibility and trustworthiness by Newsguard, a global service that rates news sources for their journalistic standards.