Prime Minister Narendra Modi and Union Minister Nitin Gadkari declared Phase 1 of the Delhi-Meerut Expressway open Sunday. It is being described as the country's first 14-lane expressway, which will reduce the travel time between the two cities from four hours (by NH-58) to 40-50 minutes on a tolled road. Phase 1 is an 8-km stretch of an 82-km project being built for Rs 4,975 crore, with three more stretches to come.
Package 1 was built in 17 months against the scheduled 30. Packages 2 and 3 will be along NH-24 while Package 4 is being built from scratch on acquired land; its contract was awarded only in February.
Read | First 'Smart' highway holds out hope for a congested, choking capital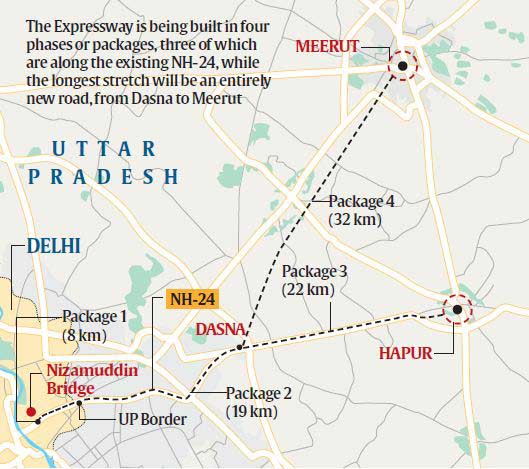 Gadkari has announced completion by March 2019.
***
Tip for Reading List: Reasons To Leave Social Media
When an awarded computer scientist who is also one the world's most celebrated tech writers and philosophers of computer science, and credited with coining or popularising the expression Virtual Reality and developing the pioneering software architecture for immersive VR applications, writes a book titled Ten Arguments for Deleting Your Social Media Accounts Right Now, it can be expected to be awaited fairly anxiously. Jaron Lanier's latest book, in which the digital pioneer-turned-critic underscores the dangers of BUMMER — 'Behaviours of Users Modified, and Made into an Empire for Rent' — releases today. Our big problem these days, says an extract in The Guardian, "isn't any particular technology, but the use of technology to manipulate people, to concentrate power in a way that is so nuts and creepy that it becomes a threat to the survival of civilisation". One need not forsake smartphones, cloud services, or the Internet, Lanier argues; "BUMMER is the stuff to avoid", because it's essentially "someone else's power trip". Among the reasons why social media is a 'bummer', Lanier says, is the fact that by throwing people in an environment in which perhaps their only reward is attention, it draws out the worst in them; it employs unacceptable levels of surveillance and manipulative behaviour to ensure the modification of individual behaviours; and it creates fake individuals, fake mobs, fake societies.
***
This Word Means:

Gaj Yatra
What is this new project for elephant protection?
The Gaj Yatra, launched in Garo Hills in Meghalaya Monday, is an awareness project to protect elephants, part of an 18-month-long national campaign launched in August 2017 by Environment and Forest Minister Harsh Vardhan. The campaign is being led by the Wildlife Trust of India (WTI) and aims to "involve people from all walks of life in the conservation of elephants". The WTI is securing 101 elephant corridors through its Right to Passage project, in partnership with the Union government's Project Elephant, state forest departments and various NGOs. The aim is to rehabilitate people affected "by conflict in corridor areas" while ensuring uninterrupted movement of elephants between key habitats.
📣 The Indian Express is now on Telegram. Click here to join our channel (@indianexpress) and stay updated with the latest headlines
For all the latest Explained News, download Indian Express App.