Written by
Harish Damodaran
| New Delhi |
Updated: November 10, 2017 11:08:01 am
How widespread is crop stubble burning?
It is mainly confined to Punjab, Haryana and parts of western Uttar Pradesh and Uttarakhand, where farmers grow paddy and wheat, and harvest these using combine harvesters. This belt produces an estimated 34 million tonnes (mt) of paddy straw every season, of which some 23 mt is from combine-harvested fields and burned within less than a month's span between mid-October and around November 10.
But why does this happen only with combine harvesting?
In manual harvesting using sickles, the crop is cut close to the ground. The resultant paddy straw after threshing i.e. separation of grain, can be used as fodder or packaging material. As against this, combines — machines that harvest, thresh and clean the separated grain at one go — operate at 50-60 cm above the ground. Assuming the average paddy plant is one metre (100 cm) tall, it would generate 40-50 cm of loose straw and 50-60 cm of standing stubble. Disposal of this residue isn't easy. Normal paddy straw, as it is, fetches very low rates, as it cannot be finely cut or made into chaff (bhusa) like wheat straw. Leftover straw is practically useless. For farmers in North India — who have the option of feeding their animals wheat bhusa, sugarcane tops, jowar, bajra and other superior fodder — it is only worthy of burning.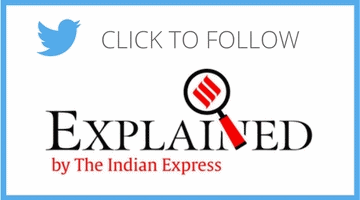 Aren't combines used to harvest paddy in other states as well — such as Andhra Pradesh, Tamil Nadu and Karnataka? Why don't we hear of farmers there resorting to stubble burning?
They, to begin with, don't have as many alternatives to paddy straw as their Northwestern Indian counterparts. But a more important reason has to do with wheat. In the Punjab-Haryana-Western UP belt, this is usually a 140-150 day crop maturing towards mid-April when maximum temperatures are just about to cross 35 degrees Celsius. For achieving maximum yields, which requires growing for the full duration, farmers have to plant before November 15. That, however, isn't possible without harvesting of paddy and field preparation happening well in time for the sowing of wheat.
Also read | Government gasps: Odd-Even is back, next week
Normally, paddy itself is not ready for harvesting before October 15. In the case of long-duration varieties like Pusa-44 — which takes 160 days to mature from the time of sowing seeds in the nursery — this could extend for even longer. Narrowing the window further for farmers in Punjab is a water-saving law — the Punjab Preservation of Subsoil Water Act, 2009 — which bars nursery sowing and transplanting of paddy before May 15 and June 15, respectively. Given the small turnaround window of hardly 20 days between rice harvesting and the optimal sowing of wheat, the flexibility to clear the field of leftover straw, whether by manual removal or in situ incorporation, is limited. The least-cost and most time-saving option is to simply burn.
Can't there be any technological fixes to this problem, which addresses concerns of environmental pollution from burning and also does not impose costs on the farmer?
One way out is to reduce the paddy crop's duration, which, in turn, increases the farmer's time to prepare for the sowing of the next wheat crop. Such breeding for shorter durations is already happening. According to G S Mangat, head of the department of plant breeding and genetics at Punjab Agricultural University (PAU) in Ludhiana, Pusa-44 covered almost 40% of the state's total non-basmati paddy area five years ago. This year, its share was only 18%, and that of PR-121, a variety that matures in 140 days, was 28%. PAU has recently released an even shorter-duration (125-day) variety, PR-126. It gives an average 30 quintals of paddy per acre, which is close to the corresponding yields of PR-121 (30.5 quintals) and Pusa-44 (32 quintals).
Read | Smog rises to emergency levels: How the haze can harm Delhi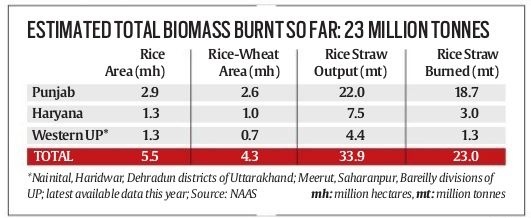 Breeding for a reduced duration can help extend the planting window for wheat. But it still does not eliminate the stubble problem — for the farmer, burning remains the least-cost method for getting useless straw off his field. Alternatives such as residue incorporation, while attractive in theory, entail costs by way of 2-3 extra tillage operations and use of chopper-shredder machines for reducing the size of straws. Farmers may well continue setting their fields on fire, even after planting short-duration paddy varieties.
So is there a cost-less, win-win solution at all?
The most viable technology seems to be what is called Turbo Happy Seeder (THS). This is a tractor-mounted machine that basically cuts and lifts the standing stubble, drills the wheat seeds into the bare soil, and deposits the straw over the sown area as a mulch cover. The THS not only dispenses with the need for burning residue, but actually allows wheat to be planted even on fields containing straw.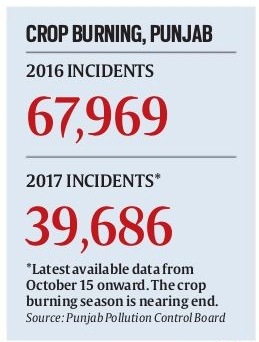 Moreover, the time savings are huge. "Stubble burning causes moisture loss. So, the farmer has to give one irrigation and wait for seven or eight days until the field has the right amount of moisture. After that, he has to undertake ploughing through two rounds of disc harrow, cultivator and planking operations. Only on this finely-prepared seedbed can wheat sowing take place. But with THS, you can harvest paddy and sow wheat the same day," says Harminder Singh Sidhu, senior research engineer at the Ludhiana-based Borlaug Institute for South Asia, who was involved in the development of the machine while he was with PAU.
The THS, however, had a problem because it couldn't take care of the loose straw harvested by the combine. This residue — as opposed to the standing stubble — has to be uniformly spread on the field to enable efficient sowing of wheat. For this, PAU has developed a Super-Straw Management System (S-SMS), which is an attachment that can be fitted on any combine harvester. The S-SMS ensures that the loose straw thrown by the combine is also cut and spread evenly on the field. The concurrent use of THS and S-SMS technology appears to be the best bet for the moment.
But these surely wouldn't be coming for free, right?
A THS costs roughly Rs 1.3 lakh, while the S-SMS adds another Rs 1.2 lakh to the Rs 18 lakh-plus price for a combine. But these machines needn't be owned by farmers. They can be used on a custom-hiring basis, just as combines are today. For the farmer, there is real gain from both time and cost savings on account of not having to do any field preparation for planting wheat. There could be further gains if the central and state governments were to subsidise the purchase of these machines by combine operators/service providers.
The good news is that there is some progress already on the ground. Kahan Singh Pannu, chairman of the Punjab Pollution Control Board, claims that the state has this year reported only 39,686 incidents of crop burning so far, compared with 67,969 for the same period in 2016. Also, sales of THS machines have crossed 1,200 units in the current season, which is indicative of their increasing acceptance among farmers.
harish.damodaran@expressindia.com
The Indian Express website has been rated GREEN for its credibility and trustworthiness by Newsguard, a global service that rates news sources for their journalistic standards.