The UN-patrolled Green Line that cuts through Cyprus has witnessed over 4 decades of conflict on its two sides. Ever since 1974, when Turkey invaded this island in the eastern Mediterranean and occupied 37% of it, Cyprus has been a nation divided between Greek Cypriots and Turkish Cypriots — and on a mission to reunify its northern and southern parts.
The buffer zone passes right through the capital, Nicosia. From the Cyprus side, Turkish flags can be seen atop buildings, and prayers from mosques can be heard. Two large Turkish flags painted on the Pentadaktylos mountain and lit up at night, are visible from many parts of the island.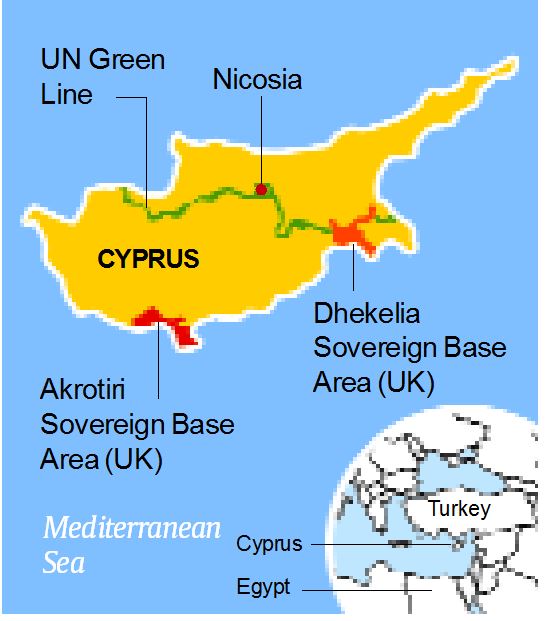 India has been supportive of Cyprus at international platforms — just as Nicosia has consistently backed New Delhi on Jammu and Kashmir. When Nicos Anastasiades, President of the Republic of Cyprus, meets Prime Minister Narendra Modi and President Pranab Mukherjee, he may ask if India could help to make the reunification of his island a reality.
President Anastasiades's meetings with Modi and Mukherjee will precede by barely days the visit of President Recep Tayyip Erdogan of Turkey, who will arrive in India on April 30 on his first overseas tour since winning the April 16 referendum that gave him unprecedented, sweeping powers.
The Dispute
Cyprus gained independence from Britain in 1960 after Greek and Turkish Cypriots reached an agreement on a constitution, but a standoff ensued after the first President, Archbishop Makarios, proposed certain amendments. The UN intervened and deployed a peacekeeping force. Turkish forces invaded in 1974, occupied the island's northern part and expelled a large number of Greek Cypriots; many others abandoned their homes and moved to the south. A Turkish Republic of Northern Cyprus — recognised only by Turkey — was declared in 1983. Many Turkish Cypriots emigrated to the north, settlers were allegedly brought in from the Turkish mainland, and the door for Greek Cypriots to return was almost entirely shut.
The Green Line
The line, representing the demilitarised buffer zone controlled by the United Nations Peacekeeping Force in Cyprus (UNFICYP), cuts across the island like a scar. The 180-km-long stretch — several kilometres wide in places — has seen no development over the last 40 years. There are abandoned ghost towns such as Varosha in Famagusta; checkpoints and watchtowers; houses displaying bullet holes, firing slots and sandbag fortifications; dusty cars rusting in garages. And there's the Nicosia International Airport, built prior to the Turkish invasion — it is said to have seen some of the worst wartime attacks.
The island is largely peaceful now — the result of years of effort by pro-solution leaders and groups. Visitors to the island can cross the Green Line to the other side at several places. But for older Cypriots, the crossings bring nostalgia and sadness. "I don't take up assignments to take tourists to the other side. I was born on that side of the Green Line. It makes me very sad," Christina, a tour guide, said, a tear in her eye.
The UNFICYP
The force has been on the island since 1963, when inter-communal violence broke out, working to keep fighting at bay and maintain law and order. There has been no major violence or loss of life in 20 years, UNFICYP spokesperson Aleem Siddique said.
Some 1,000 peacekeepers from 17 countries are currently in Cyprus. India too deputes personnel to the conflict zone, Siddique said. Violations, when they occur, mainly involve "over-manning" by troops on both sides, and the illegal raising of structures. But the conflict is not "live", Siddique said, it's "frozen".
"What we need here is a military with people skills. You can get much farther with a pen and a cup of tea than with a gun and a tank. The most common way to deal with a problem is by sitting with a cup of tea or coffee, discussing it, and defusing the situation," the spokesperson said.
The UNFICYP, consequently, maintains close relations with civil society on both sides of the island. "The job of the civil affairs office is to help the two communities by supporting bi-communal activities," Siddique said.
Pyla village along the Green Line is an example, Siddique said. It's a bi-communal village whose population of a few thousand is made up of both Greek and Turkish Cypriots. Two mukhtars, one from each community, work together. The village has a UN police station, which has some Indian officers too.
Search for a Solution
President Anastasiades and President Mustafa Akinci of Northern Cyprus have long engaged in dialogue. "The talks are at a very crucial stage," Siddique said. The two Presidents, both of whom belong to the last generation of Cypriots who lived in the undivided country, are on good terms, he said.
Anastasiades himself told a delegation of journalists, including this correspondent, last week: "Myself and Mustafa, we can find a solution. We are pro-solution leaders. We can solve it in two or three months maximum. But there are limitations."
These "limitations" are the pressures from Turkey, and President Erdogan who, post-referendum, is widely expected to become more "unpredictable". While some Cypriot leaders do expect meaningful engagement from Ankara, others point to Turkey's provocative announcement, made just a day before the April 20 talks between the Cypriot leaders, to "reserve an area within the territorial sea, continental shelf and exclusive economic zone of Cyprus", purportedly to carry out "seismic surveys". Cyprus had reacted with outrage to the statement.
The Indian Role
President Anastasiades said he was open to seeking support from India, or other countries, to end the conflict. Turkey's relations with India are good, and Anastasiades said, "Those who are closely connected with Turkey can give us the strongest help in our efforts.
"We shall ask Prime Minister Narendra Modi if he has any kind of possibility to intervene on the Cyprus question. The Indian government is supporting the solution on the basis of the UN resolution."
At the same time, the President said, Cyprus won't do anything to make "friends" uneasy. "If they are not able to intervene, we will not ask them. We are not going to ask something that may harm India's interest," he said.