Written by
Sushant Singh
| New Delhi |
Updated: June 27, 2018 7:14:53 am
A US military negotiating team was in Delhi last week to respond to Indian objections and formulate a mutually acceptable text for the Communications Compatibility and Security Agreement. What is the COMCASA?
Military agreement
COMCASA is meant to provide a legal framework for the transfer of communication security equipment from the US to India that would facilitate "interoperability" between their forces — and potentially with other militaries that use US-origin systems for secured data links. The general agreement signed by the US is called the Communication and Information on Security Memorandum of Agreement (CISMOA) but the name was changed to COMCASA to reflect its India-specific nature.
It is part of a set of three military agreements that the US considers "foundational" for a functional military relationship. In August 2016, India had signed the Logistics Exchange Memorandum of Agreement (LEMOA), which allows the military of each country to replenish from the other's bases. Negotiations on the third agreement, Basic Exchange and Cooperation Agreement for Geo-spatial Cooperation (BECA), have not yet begun.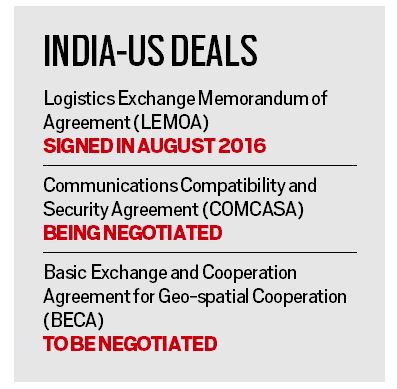 Current status
Teething issues will need to be resolved before India signs. The two sides could, however, make an announcement of the intention to sign the COMCASA during the inaugural 2+2 meeting between their Defence and Foreign Ministers in Washington on July 6.
The American push
US officials contend that COMCASA will facilitate the use of high-end secured communication equipment to be installed on military platforms being sold to India, and fully exploit their potential. India's armed forces, they argue, are currently dependent on less secure, commercially available communication systems on high-end American platforms like C-130Js and the P8I maritime surveillance aircraft. These platforms are, therefore, unable to share data in real time with other friendly militaries using American platforms, besides creating problems of interoperability during training exercises and humanitarian assistance and disaster relief operations.
The signing of COMCASA, however, becomes imperative if India is to get the armed version of the Sea Guardian drones from the US. New Delhi has been intimated by the American officials that the high-end drones are critically dependent on a highly secure data and communication system link. The US granted India the status of Major Defence Partner in the final days of the Obama administration to facilitate transfer of high-end defence technology. Signing the foundational agreements would underline that status, beside making the transfer of American defence technology possible to India.
India's concerns
New Delhi is believed to be concerned about intrusive American access to Indian military communication systems, and about the violation of Indian sovereignty due to visits by US inspectors to Indian bases to inspect the COMCASA-safeguarded equipment. There is also a fear that a lot of Russian-origin and indigenous Indian military platforms may not be compatible with COMCASA.
It is also a politically sensitive issue in India. The signing of LEMOA had earned a lot of criticism for the BJP government from the opposition parties. Moving into an election year, with India-US relations on a somewhat less strong footing, the government may be hesitant to sign the agreement now.
The Indian Express website has been rated GREEN for its credibility and trustworthiness by Newsguard, a global service that rates news sources for their journalistic standards.