The Mumbai-Ahmedabad bullet train project is racing against time to meet the August 2022 deadline (advanced from 2023) for starting operations. Since work on the ground started in December 2017, the project has faced protests over land acquisition from farmers backed by local political groups in Gujarat and Maharashtra. The National High Speed Rail Corporation Limited (NHSRCL) says that so far it has not missed milestones set in its timeline for the Rs 1.08-lakh-crore project, being built with an 80% loan from Japan. A look at the progress and the hurdles:
How much land is to be acquired for bullet train project?
The total land is over 1,400 hectares, with 353 hectares in Maharashtra and the rest in Gujarat. This is divided into 7,000 plots, in 195 villages in Gujarat and in 104 villages in Maharashtra. The project covers three districts in Maharashtra and eight in Guajarat, besides a small area in Dadra & Nagar Haveli.
READ | First bullet train tender goes out, for a bridge
How much of this is complete?
Land acquisition starts with LIDAR, a laser-based aerial survey, followed by a physical survey to verify and update LIDAR results, then a joint measurement survey by a team representing all stakeholders. Thereafter details of the land owners are processed for the compensation mechanism.
For the bullet train, the LIDAR was completed early last year. The physical survey, started in December, has covered 184 villages in Gujarat and 50 in Maharashtra. Engineers visited sites and issued notices to land-owners, but the notice did not mention that the project requires only a linear tract 17.5m wide (not the whole land) and that this was a survey, not a notice for acquisition. Some senior NHSRCL officials now believe that because of this omission, local politicians convinced farmers that they would lose their entire land.
READ | Bullet train agency studies Godrej offer for alternate plot
The joint measurement survey is complete in 50 villages in Maharashtra and 30 in Gujarat, covering 102 km of the 508 km line. This survey is followed by installing a small pillar for physical identification for acquisition. Handing out of compensation will take around three months following all due processes, NHSRCL officials said. The company's own deadline is to complete land acquisition by December 2018. So far only 0.9 hectares in Bandra-Kurla Complex has been physically handed over.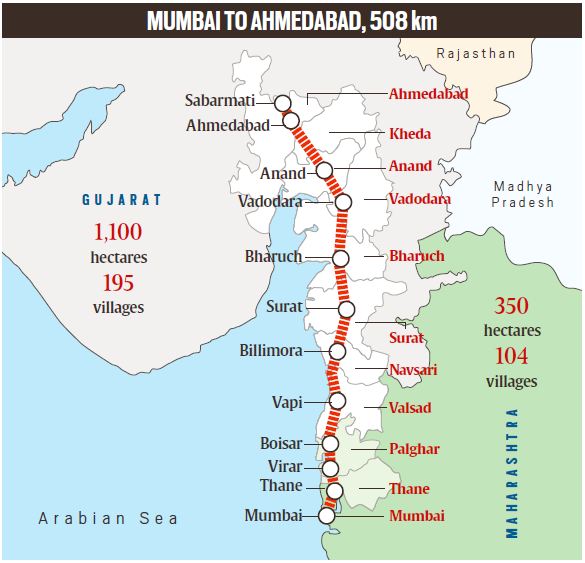 What compensation is being offered?
The two states have different compensation laws.
MAHARASHTRA: The company is paying four times the circle rate of the land, plus a 25% bonus, as well as a one-time payment of Rs 5 lakh. If one loses a house, he or she can choose either a new one built nearby (500 sq feet) or money to buy a new house elsewhere at twice the construction cost. For livelihood loss, the offer is Rs 3,600 per month for one year. There is a provision for a one-time, Rs 5 lakh rehabilitation payment to landless agriculture workers, and a one-time. Rs 25,000 to employees of shops on land to be acquired. Even for forest land, the project is paying 50% of land cost to the displaced and the remaining 50% to the state government. For fruit-bearing trees axed, farmers are being offered the amount expected to be earned for the remainder of the tree's lifetime. Besides, the company pays a 12% interest on the compensation amount to be calculated from the date of notice.
GUJARAT: The compensation under state laws works out to over four times the prevailing price. The Gujarat government plans to offer either 4.75 times the existing jantri prices (the state yardstick) or the average rate within a 1.5-km radius, whichever is higher. The company is offering a 25% bonus, and the same livelihood-loss-related sops as offered in Maharashtra.
Who are involved in the protests against bullet train project?
Apart from land-owners and activists of various organisations, leaders of the Congress, NCP, MNS and even Shiv Sena have joined protesters. Congress Rajya Sabha MP Amee Yagnik, NCP spokesperson Nawab Malik and Shiv Sena spokesperson Neelam Gorhe have addressed or attended gatherings, while MNS activists disrupted a public consultation in Palghar.
What else are the protesters doing?
Five petitions have been filed in the Gujarat High Court — either challenging a 2013 Gujarat amendment to the Land Acquisition Act, demanding the preliminary notification be quashed, or refusing to part with fertile land. In Bombay High Court, the Godrej group has objected to acquisition of 3.5 hectares in Vikhroli and offered another piece of its land, 250 m away. NHSRCL is assessing the technical feasibility of the offer; the next hearing is on July 31.
Are the protests about only compensation?
Protesters have also expressed anger at officials' inability to provide clear answers on the impact of the project on resources, restrictions on activities, vibrations from the train etc. Being a linear project, the elevated corridor is splitting land at several places. Activist Krishnakant of Surat-Based Paryavaran Suraksha Samiti, who attended consultations held by the company in Nadiad, Bharuch, Vadodara and Surat, said in June: "Farmers are given vague or varying answers when they ask if there will be access from one part to the other. If there is a borewell in one part, will they be able to use that water to irrigate the section on the other side? Will they be permitted to pass under the bridge?" Some farmers are demanding alternative land because they believe the division will leave their farmland useless.
Why must land be split?
The high-speed alignment needs to be as free of curves as possible. Any speed upwards of 300 kph requires a straight alignment. While farmers are demanding right of way, company officials say provisions of the central Right to Fair Compensation and Transparency in Land Acquisition, Rehabilitation and Resettlement Act, 2013, would allow the linear project to acquire land even without consent of certain parties, if need be, and pay required compensation. However, the company is not looking to invoke such provisions, officials say.
Are there other issues?
Ulka Mahajan, a land rights activist who has attended consultations in both states, said last month in Maharashtra: "The reports on the NHSRCL website are not in a language affected people can understand. The final detailed project report is not even ready — how can there be meaningful consultations?"
Also in June, activists in Gujarat wrote to Japanese funding agency JICA that consultations are being held without giving stakeholders time to prepare. Farmers in Bhatia village of Surat forced officials to abandon attempts at measuring land. And the Gujarat Khedut Samaj backed by the Congress held a "Sampark Abhiyan" during June 22-25.
How is the company addressing all these concerns?
In May, NHSRCL MD Achal Khare said in Gandhinagar, "We will provide each land loser an entitlement card which will have his bank account number and all the items against which he is going to get compensation. This will be monitored by the company, till the time he gets his last compensation."
For land being split, the company is paying a special compensation based on the extent — a 50-50 split has a different compensation from, say, 75-25. The land that remains on either side continues to belong to the owner, who can use it as he or she wishes. Only for digging and building a highrise will he need to inform the NHSRCL, company officials said.
The company says it has taken note of various demands for amenities such as healthcare, education, drinking, sanitation, and livelihood. In Palghar and parts of Gujarat it has deployed doctors, while the district administration is providing support staff like nurses. The company says private tuition has started for village students, toilets are being built, mobile primary healthcare vans are being arranged.
The NHSRCL has appointed a three-member committee empowered to take spot decisions for agreeing to any demand by villagers that can be carried out with up to a certain amount of money.
📣 The Indian Express is now on Telegram. Click here to join our channel (@indianexpress) and stay updated with the latest headlines
For all the latest Explained News, download Indian Express App.