Written by
Shruti Dhapola
| New Delhi |
Updated: January 10, 2018 8:44:40 am
DMK MP Kanimozhi wanted to know in Rajya Sabha last week whether the "government is considering to regulate cryptocurrencies such as Bitcoin and Ethereum, as India accounts for more than 11% of global cryptocurrency trade". Finance Minister Arun Jaitley replied that "a Committee under the Chairmanship of Secretary, Department of Economic Affairs, is deliberating over all issues related to cryptocurrencies to propose specific actions to be taken, and that "the Government does not consider cryptocurrencies to be legal tender".
Bitcoin was one of biggest buzzwords of 2017, in India and in the world. Google's 'Year in Search' report for 2017 showed 'How to buy Bitcoin in India' and 'What is Bitcoin' were among the year's top queries. The interest was fuelled by a spectacular rally that saw Bitcoin rise from under $ 1,000 at the beginning of the year to an all-time of high $ 19,000 in mid-December.
What then, is Bitcoin? Who created it?
In 2008, a paper titled Bitcoin: A Peer-to-Peer Electronic Cash System, appeared online via the Cryptography Mailing List. The author (or authors) of the paper identified himself as Satoshi Nakamoto, an identity that has never been confirmed. The paper came in the aftermath of the 2008 financial crisis, and stemmed from inherent trust problems that the crisis had laid bare in the traditional banking system. The first software version of Bitcoin client was released in 2009.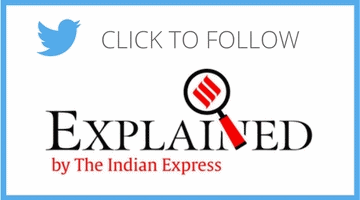 The idea of cryptocurrencies is much older, having been around since 1998, when computer scientists like Wei Dai came up with the concept of 'virtual money' that would be free from the control of central authorities, and would rely on computer encryption for transactions and creations. Bitcoin was the first implementation of this concept.
Bitcoin is peer-to-peer based, and functions through a technology called Blockchain — a kind of open ledger that gets updated in real time. Each Bitcoin transaction on the network can be traced on this Blockchain; a new block is effectively added every time a transaction is made. Each node (computer) involved in the network helps to maintain this record. In effect, every single Bitcoin transaction that has taken place since the first one was created in 2009 is on record. Anyone who joins the Bitcoin network can crosscheck the transactions and help maintain these blocks. There is no one central network managing any of this.
So, how does the Blockchain technology work?
Computers on the Bitcoin network verify transactions on the Blockchain via the digital signatures that are attached to each transaction. For this, Bitcoin relies on what is known as elliptic curve cryptography — a form of encryption in which each digital signature has a public key and a private key attached. Therefore, when A makes a Bitcoin transfer to B, the transaction has A's digital signature, and A's corresponding public key is used to confirm this. Once this is confirmed, the transaction gets added to the chain. Each Bitcoin also has its own address. For users who might not necessarily be developers or on the network, there are software and wallets to keep track of the number of coins they have associated with their accounts.
But how are new Bitcoins created in the network if no one authority is issuing them?
In a decentralised network, all nodes in the network must work towards creating new coins. Bitcoin mining happens when computers on the network solve complex mathematical problems, and are rewarded with new coins. Nodes that are involved in updating the blockchain and verifying records can charge some transaction fee for carrying out these processes. The Bitcoin network assumes that most nodes in the network will stay honest. The network relies on "CPU time and electricity" to keep the system running.
Can the Bitcoin blockchain be hacked?
On the possibility of the network being overtaken by those with malicious intent, Satoshi Nakamoto said: "The incentive can also be funded with transaction fees. If the output value of a transaction is less than its input value, the difference is a transaction fee that is added to the incentive value of the block containing the transaction… The incentive may help encourage nodes to stay honest. If a greedy attacker is able to assemble more CPU power than all the honest nodes, he would have to choose between using it to defraud people by stealing back his payments, or using it to generate new coins."
Bitcoin relies on cryptographic hashes for validating each transaction. For anyone to "hack" it would mean reversing these cryptographic hashes, which is not possible without considerable CPU power and energy. Unless an organisation or country comes to control over 51% of the Bitcoin blockchain network, the system cannot be gamed. However, Bitcoins can be stolen from someone's wallet, although their records will still be available on the blockchain. But the inherent anonymity of the network means tracing stolen Bitcoins can be harder. On December 20, 2017, it was reported that a South Korean Bitcoin exchange, Youbit, had gone bankrupt after hackers stole nearly $ 35 million in digital currencies. Earlier that same month, hackers stole $ 60 million worth of Bitcoins from Slovenia-based Nicehash.
Can you buy Bitcoins in India?
Platforms like ZebPay, CoinDelta, CoinSecure, etc., trade in Bitcoins, and you would have to pay rupees in exchange for Bitcoins. The legal status of bitcoin varies widely across the world, and is sometimes undefined or fluid. Some countries — like Japan — have recognised Bitcoin exchanges as legal. India does not specifically ban Bitcoin trading, but has repeatedly warned the public against cryptocurrencies.
The Reserve Bank of India has so far issued three press releases — on December 5, 2017, February 1, 2017, and December 24, 2013 — cautioning "users, holders and traders of Virtual Currencies (VCs) including Bitcoins regarding the potential economic, financial, operational, legal, customer protection and security related risks associated in dealing with such VCs", and clarifying that "it has not given any licence/authorisation to any entity/company to operate such schemes or deal with Bitcoin or any VC".
On December 29 last year, days before the Finance Minister's statement in Parliament, the Finance Ministry issued a clear and detailed warning against "VCs including Bitcoin", likening them to "ponzi schemes", and underlining that those who "deal with these VCs (will be doing so) entirely at their risk".
Of course, the very founding principle of Bitcoin, and other virtual currencies, is that it does not seek or desire a licence from, or the approval of, any national government or central banking authority.
So where is Bitcoin headed? Can a day come when it will actually dominate our lives?
Cryptocurrencies like Bitcoin or Ethereum (which was near $ 1,200 in the first week of 2018) represent a powerful idea. But they are not widely accepted yet. They have been used in crime, drug-dealing and other illegal activities on the dark web. Reports of hackings at several exchanges have exposed the risks attached to such investments. The number of Bitcoins that can be mined is 21 million, according to the official Bitcoin.org website.
The intense volatility of Bitcoin, in stark evidence last month, makes it an unacceptably risky investment for many — a point that the Finance Ministry made strongly. On December 8, Bitcoin stood at $ 16,000-plus, but had tumbled to under $ 14,500 the very next day. On December 19, it had risen to an all-time high of $ 19,000-plus, only to plunge dramatically to $ 12,000 on December 30. But it climbed again, and traded at $ 17,000 levels in the first week of this year. On Tuesday evening at the Indian exchange ZebPay, buy and sell prices of one Bitcoin unit were fluctuating between Rs 10.5 lakh and Rs 11 lakh.
For most though, more than Bitcoin, it is blockchain, the core technology on which the cryptocurrency is built, that is really exciting. A decentralised ledger that could replace everything from property transactions to bank records, might just be the future, argue technologists. The question, though, is if — and when.
TOMORROW: THE POSSIBILITIES
shruti.dhapola@indianexpress.com
📣 The Indian Express is now on Telegram. Click here to join our channel (@indianexpress) and stay updated with the latest headlines
For all the latest Explained News, download Indian Express App.