Written by
Sowmiya Ashok
|
Updated: December 27, 2017 12:41:10 am
The Ministry of Environment and Forests has approved a 10-year research project that will attempt to develop an immunocontraceptive to bring down the populations of Asian elephants, Nilgais, wild pigs and rhesus macaques. Rs 10 crore have been allocated to develop what will essentially be birth control for India's "problem" wild animals.
Dehradun-based Wildlife Institute of India (WII), the nodal agency for the project, has appointed retired National Institute of Immunology scientist S K Gupta — who has worked on immunocontraceptives for wildlife populations for nearly two decades — as consultant. "This is a completely new area and needs to be explored through research and development," WII director V B Mathur told The Indian Express. Mathur identified two major challenges: "identifying the drug of choice, and establishing how it will be administered to the animals".
***
Mathur said the targeted animals were "the main problem species for the country at the moment, especially with the steady increase in their populations". In urban India, rhesus monkeys affected everyone from MLAs and MPs to people like "you and me", Mathur said. "Nilgais and wild pigs affect farmers, and human-elephant conflict is a major problem. Unless their population is controlled, farmlands and livelihoods will continue to be destroyed."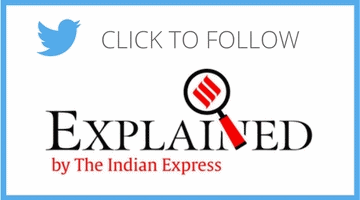 Under The Wildlife Protection Act, 1972, states can request the Centre to declare some species as "vermin" if their population becomes unmanageable, thereby removing protections assured by the Act. Essentially, the species can then be hunted or culled.
"The Central Government may by notification, declare any wild animal other than those specified in Sch. I and part 11 of Sch. H to be vermin for any area and… so long as such notification is in force, such wild animal shall be deemed to have been included in Sch. V," says the Act. Schedule V currently includes common crows, fruit bats, mice and rats.
The National Wildlife Action Plan (2017-31) calls for "comprehensive, science-based species-specific and region-specific, conflict mitigation plans that can help in prevention of human-wildlife conflict situations and reduce the adverse impacts on both humans and wildlife". These plans, it says, should focus on "scientific management of wildlife populations" and on land-use practices that aid and abet these conflicts.
Environment Ministry data show at least 80 elephants on average are killed every year in India — the main reasons being electrocution, poaching, poisoning and being run over by trains. Also, over the last three years, at least one human life has been lost every day due to conflict with elephants and tigers.
***
The first challenge for the project lies in the nature of the drug itself. Gupta said his team has focussed on egg-protein and sperm-protein to develop vaccines. "We showed proof of concept in the 'mouse model," he told The Indian Express. "What we have now is a vaccine that can be administered in two dosages, one month apart, with a subsequent annual booster shot. This vaccine can be altered for the specific species since it is a combination of proteins." This, Gupta said, is similar to what has been tested in the US and South Africa, "where the vaccine is administered through a sensor or, for large animals, through a dart gun from helicopters".
Fifteen years ago, the vaccine got good results on monkeys, Gupta said. "But things did not move any further, as we anticipated a backlash, and feared that it could become a religious issue. Things have changed now, and some states have declared monkeys vermin."
The issue has since been debated in an ongoing case in the Delhi High Court. There has also been a push for a "single shot vaccine" that can do the job. Gupta explained the trade-off: "We will have to capture the monkeys and administer injections. The country has to take the initiative somewhere to control their population. We can either wait for a single shot vaccine to be developed which may have only 30% efficacy, or we can opt for the one that we have, which may have 80% efficacy."
***
The second challenge lies in administering the drug. For five years leading up to 2012, wildlife experts fired contraceptives from the air at female elephants in South Africa's Tembe Elephant Park. In 2012, Catherine Hanekom, an ecologist with the government organisation that oversees conservation efforts in 57 parks in KwaZulu-Natal told the BBC that the vaccine was the least disruptive way to limit the animals' fertility. "The really nice thing is that it is a remote application," she said. "So we fly with the helicopter, we dart the animals from the air, the dart will fall out and that's the entire impact we have on her."
A 2011 article in the Scientific American detailed the "specific brand of immunocontraception used in elephants" — the porcine zona pellucida, or PZP, vaccine. "It's a labour-intensive process that involves chemically isolating the proteins from the egg cells of pigs. Each dose of PZP costs about $ 35 — $ 24 for the dose and $ 11 for the delivery system. For small herds the vaccines are delivered by darts shot from a car. Larger herds are often treated by helicopter," the article said. The vaccines were 100% effective — there was "not one breakthrough pregnancy (in) 16 years of immunising elephants in South Africa", the article said.
***
Raman Sukumar, who was technical adviser for India's elephant census, the Synchronised Elephant Population Estimation, 2017, however, said the birth control idea has been around for quite some time, and that the South African initiative had only "limited success".
"In the context of a growing elephant population that is spilling on to agricultural land, controlling their population will definitely be useful. But a fair amount of R&D is required since there is absolutely nothing on Asian elephants at this point," Sukumar said. "The second is the logistics of implementing it — will it be applied to captive or wild animals? What are the ethics of the technology itself? Logistically this will be a big operation, and needs to be carefully thought through."
sowmiya.ashok@expressindia.com
The Indian Express website has been rated GREEN for its credibility and trustworthiness by Newsguard, a global service that rates news sources for their journalistic standards.