The suspension of security operations in Jammu & Kashmir during Ramzan has significantly brought down stone-pelting, according to state DGP S P Vaid. The first five days of the "ceasefire" had witnessed only five incidents of stone-pelting, he said Tuesday.
Before operations were suspended, however, stone-pelting incidents between January and April had risen by over 55% compared to incidents during the same period last year, data with The Indian Express show.
Last August, during the inauguration of an NIA office in Lucknow, Home Minister Rajnath Singh had said the agency's action against Hurriyat leaders in a terror-funding case had considerably brought down stone-pelting incidents — an argument also made by Vaid and CRPF chief R R Bhatnagar earlier. NIA had registered the case in May 2017, and alleged that stone-pelting was organised by separatists at the behest of Pakistan.
A year later, stone-pelting incidents were more frequent — until the "ceasefire" was announced.
According to figures made available to The Indian Express, January-April 2018 saw 245 incidents of stone-pelting on the CRPF alone, in which 71 personnel were injured. This would roughly translate to an over 55% spike over the 162 such incidents in January-April 2017.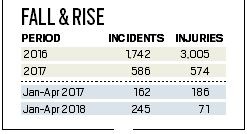 This year, April alone saw 143 such incidents, resulting in 39 injuries to CRPF personnel. January, February and March together accounted for 102 incidents. The April incidents represented a 60% increase over April last year.
Stone-pelting typically rises in summer, between May and August. Before April, the cold and the snow restrict movements in the open.
The year 2016 witnessed 1,742 incidents of stone-pelting against CRPF personnel. This dropped to 586 in 2017. July 2016 — the month in which Hizb-ul Mujahideen operative Burhan Wani was killed — alone accounted for 475 of these incidents, followed by more than 400 in August and September as well.
January-April had been relatively quiet that year, with just 56 incidents. April witnessed only 20 incidents. Things deteriorated after Wani's killing.
In 2018, the most incidents have occurred in Srinagar (145) followed by Baramulla (24), Pulwama (21), and Shopian (16).
"With the melting of snow, Kashmir generally sees a spike in stone-pelting which continues until winter sets in again. 2016 was bad because of Wani's killing. In 2017, NIA's action against stone-pelters and Hurriyat leaders had brought figures down by 60%. But this year, we have again witnessed a spike. But this is largely due to a spate of encounters of local militants with security forces that has angered locals. Subsequently, killing of some civilians during stone-pelting incidents in Shopian by the Army has thrown things out of gear. Hopefully, the ceasefire will calm things down," a Home Ministry official said.
Notably, the NIA in its chargesheet against nine Hurriyat leaders and two alleged stone-pelters, including a journalist, has said that stone-pelting was systematically organised by members of the Hurriyat through WhatsApp groups and Facebook pages, and was funded by money flowing in from Pakistan. It had even identified 128 WhatsApp groups with which close to 6,000 stone-pelters were associated.
"NIA action did have an impact last year. But things have sprung up again after the heat has gone down… Also not all stone-pelting is organised by the Hurriyat. A large section of the youth in the Valley are not bothered about Hurriyat, and are spontaneously resorting to stone-pelting," an intelligence official said.
The NIA chargesheet, filed this January, had said that stone-pelting was not a law and order issue in Kashmir, but a well-organised disruption by the Hurriyat.
"Stone-pelting in Kashmir has become a full-fledged industry wherein the cadres of Hurriyat and its constituent groups have organised themselves at district, tehsil, wards and mohalla levels, and leaders at appropriate stages have formed an armed wing represented by masked stone-pelters, consisting mainly of youth of Kashmir Valley," the chargesheet had said.
📣 The Indian Express is now on Telegram. Click here to join our channel (@indianexpress) and stay updated with the latest headlines
For all the latest Explained News, download Indian Express App.