Written by
Uma Vishnu
|
Updated: January 19, 2018 8:17:59 am
In the latest Annual Status of Education Report (ASER), Suman Bhattacharjea, Director of Research, writes of Rita, an 18-year-old who dropped out of school some five years ago, when she was in Class 8. As the ASER team asked her questions from the survey, she had only two sets of answers — 'No' or 'Don't know'.
Was she doing a vocational course? No. Preparing for an entrance test? No. Later, as the ASER team showed her pictorial questions to assess her ability to deal with simple, everyday financial situations, Rita didn't even attempt to answer.
"One could almost see from her body language that in her own mind, she had decided that anything that sounded even vaguely academic was not for her," writes Bhattacharjea.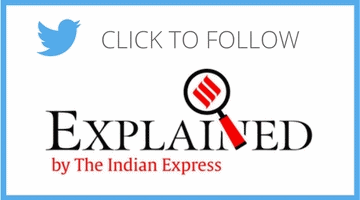 He makes another, vital point: for every one of the 24 assessment tasks, a higher proportion of girls than boys did not attempt a response.
What sets ASER 2017 apart from its previous surveys is this gender gap — which, as Chief Economic Adviser Arvind Subramanian said in a panel discussion after the release of the survey, is a "wedge that has opened up dramatically".
Consider these findings from the latest report:
* While there is hardly any difference between enrollment levels of boys and girls at age 14 (when RTE is in effect), by age 18, 32% girls are not enrolled as compared to 28% boys. Previous ASER surveys, however, showed that the enrollment gap was shrinking in the 7-10 age group. In 2016, for instance, this gap was a mere 0.2%.
Also Read | ASER report 2017: In villages, as they grow up, more girls drop out of school
What explains this high dropout level among girls at higher levels of education? The report says that one of the reasons could be that at higher stages, the number of schools decreases sharply. According to U-DISE data for 2015-16, for every 100 elementary schools in rural areas, there are just 14 offering secondary grades (Class 9 and 10) and only six for higher secondary grades (Class 11 and 12). Which means that as children get into higher levels of education, there are fewer schools, and children have to travel longer distances to get to school. An inevitable corollary of that is girls dropping out.
* Nearly 5% of the 30,000 youth in the 14 to 18 age group answered 'No' to the survey's questions on their current activity. So they are neither working nor studying, not attending vocational training or preparing for a test. The report says nearly three-quarters of them are women.
"If we apply this proportion to the 100 million or so youth in the 14-18 age group across the country, this amounts to close to 4 million young women," it says. That is, women who are not in any educational institution, and who have no alternative path in sight.
* When asked to identify their state on a map of India, 32% girls and young women did not attempt an answer as compared to 21% for boys. Of those who took a shot at the question, 58% boys and 63.8% girls got it wrong.
* More girls (76.4%) than boys (71.9%) have bank accounts. But as the numbers show, they have little control over their money because, when it comes to depositing/withdrawing money, using an ATM and Internet banking, the boys outscored the girls. For instance, 7.3% boys said they had used Internet banking; only 2.3% girls had done so.
* Aspirations are gendered too. Most males mentioned they wanted to be in the Army/Police (17.6%), while girls preferred to be Teachers (25.1%) and Doctor/Nurse (18.1%).
* While in elementary English reading and comprehension, and Class 2-level subtraction and number recognition, girls did as well or as badly as the boys — and in some cases, even better — it was in their ability to do daily tasks such as counting money, adding weights, telling the time that they fell way short. (See tables left)
What explains this sudden drop? Why is it that while there's little to separate the genders while in school, the girls seem less prepared for real-world situations?
"To me, it's because there is so little expectation from girls, not just from schools, but homes. The thinking is, they anyway have to get married and so, there is very little that's expected of them. Expectations play a big role in building your confidence. Even if you don't know the answer to a question, you would make a guess. But when you have no confidence in your abilities, you don't even venture a guess. That's what's happening to our young women," Bhattacharjea told The Indian Express.
uma.vishnu@expressindia.com
📣 The Indian Express is now on Telegram. Click here to join our channel (@indianexpress) and stay updated with the latest headlines
For all the latest Explained News, download Indian Express App.