Four contiguous states — Jharkhand, Odisha, Chhattisgarh, Madhya Pradesh — accounted for 72% of malaria cases in India in the last three years, while Karnataka and Maharashtra accounted for 53% of all suspected chikungunya cases. While malaria dropped in these three years, chikungunya and dengue cases rose. These trends emerge out of National Vector Borne Disease Control Programme (NVBDCP) figures presented in Lok Sabha last week. Replying to a starred question on vector-borne diseases, Health Minister J P Nadda said the government did not agree with some publications that actual dengue cases were higher than reported.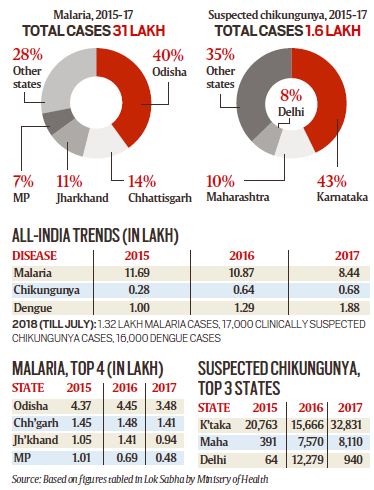 Malaria cases dropped from 11.69 lakh in 2015 to 8.45 lakh in 2017, with Odisha accounting for 40% of the three-year total, and Chhattisgarh, Jharkhand and MP for another 32%. Suspected chikungunya cases rose, with 43% reported from Karnataka (mainly because of a spike in 2017) and 10% from Maharashtra. Dengue cases, which rose from nearly 1 lakh in 2015 to 1.88 lakh in 2017, were more widely distributed.
***
This Word Means: Parens Patriae
What is the legal doctrine of guardianship of the state?
Uttarakhand High Court this week invoked the doctrine of parens patriae to issue "mandatory directions… in the welfare of cows and other stray cattle" in the state. Parens patriae, Latin for "parent of his or her country", describes the power of the state to act as a guardian for those who are can't care for themselves — such as children or the disabled. The Bench of Acting Chief Justice Rajiv Sharma and Justice Manoj Kumar Tiwari recalled the order of the Supreme Court in Animal Welfare Board Of India vs A Nagaraja & Ors (2014), in which the SC had evaluated The Prevention of Cruelty to Animals Act, and said that the "Court has also a duty under the doctrine of parens patriae to take care of the rights of animals, since they are unable to take care of themselves as against human beings". In Charan Lal Sahu Etc vs Union Of India And Ors (1989), commonly referred to as "Bhopal gas leak disaster case", the Supreme Court dwelt on parens patriae — "Conceptually, the parens patriae theory is the obligation of the State to protect and take into custody the rights and the privileges of its citizens for discharging its obligations". India's Constitution, the court said, "makes it imperative for the State to secure to all its citizens the rights guaranteed by the Constitution and where the citizens are not in a position to assert and secure their rights, the State must come into picture and protect and fight for the rights of the citizens".