The Great Father movie cast: Mammootty, Arya, Sneha, Anikha, Malavika Mohanan
The Great Father movie director: Haneef Adeni
The Great Father, produced by Prithviraj Sukumaran, Santhosh Sivan and Shaji Natesan, has Mammootty as David Ninan, a builder. Mammootty plays a rich, handsome guy who is lost in his unknown past. He excels at everything he does and is also a lover of four-wheeler stunts. David Ninan is also a Daddy Cool whose first love is his daughter. For Ninan's daughter, he is a hero, her role model.
Casting a dark shadow on Ninan's idyllic world is a masked Joker. He unexpectedly enters the life of David, his wife (Sneha) and daughter (Baby Anagha). The movie builds on present day fears about paedophilia and paraphilia and introduces a policeman who follows a criminal who brutally rapes and murders young girls. The first half ends as Ninan also begins his search for the Joker.
The film is a thriller and story evolves at a fast pace. In fact, the pace helps to cover up the drawbacks of the screenplay. Andrew Eapen (Arya), the policeman who replaces the officer who was murdered while investigating the serial killer, becomes a bigger challenge for Ninan than the serial killer himself. Then, the film ends up as a chase between the protagonist and the police.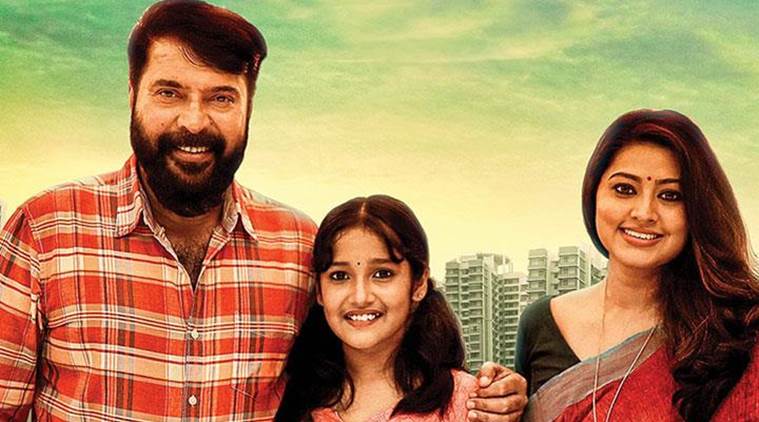 The film loses its bite when it is revealed now the antagonist will come searching for Ninan. He doesn't have much to do after that as the film becomes a waiting game. The film's political sphere shrinks when the protagonist decides to punish the antagonist. This is backed by the general refrain that there is "no hope for justice from the system."
Also read| The Great Father actor Mammootty visits Kochi Biennale, demands something important for world art. See pics
The scriptwriter fails to make Joker a layered character. He is shown in the film as the epitome of everything bad but stays one-note. Probably he has been made so dark so that Ninan's revenge is justified. However, where the screenplay succeeds is in bringing a very important issue into focus — paedophilia. To a large extent, the director does justice to the subject as well.
The Great Father is yet another Malayalam movie that portrays women as helpless beings. Sneha, the female lead, only ends up weeping on Ninan's shoulder. The director portrays the crime journalist, Kalabhavan Shajon, as a misogynist who is no less than a criminal. His double meaning dialogues were distressing throughout the film. It may be noted that Prithviraj, one of the producers of the film, had won great applause when he said he won't be part of any films that propagate misogyny.
The cinematography by Roby Varghese Raj lends charm to the movie. Sushin Shyam's background score also goes well with the movie. In short, this family thriller by a debut director is watchable but don't get your expectations high!