Sye Raa Narasimha Reddy is an upcoming multi-language multi-starrer which will see Chiranjeevi, Amitabh Bachchan, Sudeep, Vijay Sethupathi, Jagapathi Babu, Nayanthara, Tamannaah and Ravi Kishan among others in pivotal roles. The film's teaser was launched in Mumbai on Tuesday.
Produced by Tollywood star Ram Charan, the film's script has been written by Sai Madhav Burra. The Surender Reddy directorial is being touted as one of the biggest movies to come out of the entertainment industry, and rightly so, since the period drama features the best of Bollywood, Tollywood and Kollywood in primary roles.
The film is set prior to India's first war of independence, which was fought in 1857. Uyyalawada Narasimha Reddy is the freedom fighter around which the central story of the film is based. The character is being essayed by Tollywood superstar Chiranjeevi. Uyyalawada Narasimha Reddy is touted to be one of the first freedom fighters in India to revolt against the British rule a decade before India's first war of independence in 1857. He was captured and publicly hanged in 1847.
Live Blog
Follow all the latest updates of Sye Raa Narasimha Reddy's teaser launch here.
Stars attend the teaser launch event in Mumbai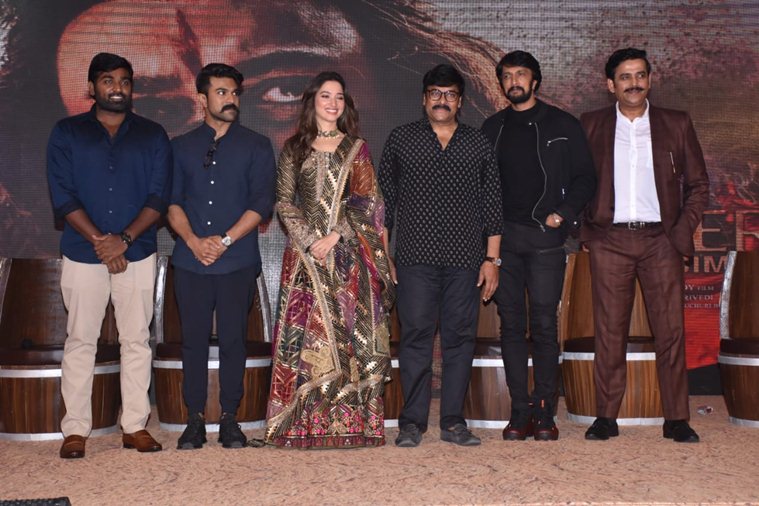 (Source: Express Photo)
Ram Charan with megastar Chiranjeevi
(Express Photo)
Watch the Malayalam teaser of Sye Raa Narasimha Reddy here!
Here's the Tamil teaser of Sye Raa Narasimha Reddy!
'Megastar's presence is unmatched'
"Superb scale. MEGASTAR ' s screen presence is unmatched. Can't wait for this film to release. Excellent visuals," tweeted Anil Ravipudi.
Our take on the teaser
"The earlier teaser was cut with a sole purpose of showing the warrior avatar of the 64-year-old superstar, who is playing the 16-century Rayalaseema freedom fighter. The new teaser, however, underlines the purpose of filmmakers in making this magnum opus. The reason is Uyyalawada Narasimha Reddy is a forgotten hero," wrote indianexpress.com's Manoj Kumar in his quick take on the teaser.
Actor Varun Tej called the teaser unbelievable
Varun Tej tweeted, "This is just unbelievable!! Amazing stuff!!🔥🔥🔥 Now I can't wait for the release!#MegastarChiranjeevi #SyeRaaNarasimhaReddy"
Chiranjeevi on preparing for his role
"The make-up took one hour. Action sequences were the difficult part. I already have a bad shoulder, I got it operated. Riding the horse was hard. But I believe in hard work, and I cherish it. By 7:00 am we started shooting, so I used to get up at 4:00 am, work out for an hour and then start working on the film," said the megastar.
Ravi Kishan on working with the big stars
"It feels great to work with these guys, they are a school (pointing towards Chiranjeevi). They dances when there are no knee pads, their knees broken. They did action sequences when they didn't have back-ups. Even standing behind them feels like I will now get moksha," Ravi Kishan said.
Chiranjeevi on changes in Hindi cinema
"Early 90s and till 2007, I was acting then I stopped and when I entered films again in 2016, there had been a lot of changes. Some have been positive and some negative. Doing my 150th film, I felt like a newcomer. The content is intimate, I trust that the content is the soul of the film, and that stays forever," said Chiranjeevi.
Ram Charan on his next project
"I have only produced this film, not acted. I am not shying away from acting in films, I was waiting to be a part of good content. My next film is RRR and it will be my comeback," said the actor.
Tamannaah Bhatia on Chiranjeevi
"I would like to thank Surender Reddy sir, I have worked with him before and he always gives me something different to do. From the time I started working in South Indian films, I wanted to work with Chiranjeevi, and finally it seems like my dream has come true. The moment I saw that I am sharing screen with Chiranjeevi sir, it felt good," said the actor.
Ritesh Sidhwani on backing KGF and Sye Raa
"It is an untold story about an unsung hero. When I met Ram Charan, he showed me the teaser and when I heard the story, I was blown, I was hoping we could be a part of this film," Sidhwani said.
Chiranjeevi on Amitabh Bachchan
"He is my real life mentor. I feel there is only one megastar, and he is Amitabh Bachchan. Working with him was an amazing experience and I am thankful to him. When I was talking to my director, he said there is this role and if we can get AB for it, nothing will be like it. So I called Amitabh sir, and told him about the role, he said, because you have called, I will do it. He immediately said yes. I am working with India's only megastar, I feel fortunate and thankful," Chiranjeevi said as he showered praise on Big B.
Farhan Akhtar on Sye Raa clashing with War
"We should go beyond this thing that two films cannot release on the same day. I hope both the films are good, and the audience gets to watch two good films," producer Farhan Akhtar said at the event.
Chiranjeevi on what it took to become the character
"It is an untold story of an unsung hero, so I wanted to tell it to everyone in India. The story has been with me for more than a decade, but then I didn't have the budget, finally it is happening, I am very happy. It is my responsibility to bring this story to all on a national level, it is coming in Hindi and four other languages," the superstar said.
Ram Charan on Chiranjeevi
"It is definitely not the same. The man is completely different once he puts his make-up on, he transforms," Ram Charan said on working with his megastar father Chiranjeevi.
Farhan Akhtar on Sye Raa Narasimha Reddy
"While I was growing up, I was brought up with a healty diet of movies. In the times we live, we have to have films that cross cultural boundaries," Farhan Akhtar said on backing the multi-starrer.
Surender Reddy on Sye Raa Narasimha Reddy
"It wasn't difficult, I managed it well. All artistes were managing very well, they all had such different things to offer," the filmmaker said about making the big-budget movie.
Amit Trivedi on Sye Raa Narasimha Reddy
"This is my first film in regional cinema. It has been such an honour working for a film with such a huge star-cast. The problem was only language, and music doesn't have a specific language so it was all about the beauty of this film," the composer said.
Ravi Kishan on Sye Raa Narasimha Reddy
"I had never thought I would get such love from south films. I just finished a Tamil film with Vijay Sethupathi sir, we wrapped it up two days ago. So this has been a lovely journey!" the actor said.
Sudeep on Sye Raa Narasimha Reddy
"Every time we saw ourselves in the mirror after we wore out costumes and make-up, it was difficult to identify ourselves," Sudeep said on his experience of working on the sets of the movie.
Tamannaah Bhatia on Sye Raa Narasimha Reddy
"My role in this film is very different. The period film I did before this was very different. I am very happy that my name is associated with Sye Raa, as it is a story that everyone should know. I hope everyone loves the film, it is an important story of India's freedom struggle," the actor said.
Vijay Sethupathi on Sye Raa Narasimha Reddy
"I am so blessed, I never thought I would be able to work with such huge actors," Sethupathi said on being a part of the multi-starrer.
Vijay Sethupathi on Shah Rukh Khan calling him the best actor
"I was so happy, I was not expecting it," Vijay Sethupathi said on his recent interaction with the Badshah of Bollywood.
Riteish Deshmukh on Sye Raa Narasimha Reddy
"B L O C K B U S T E R !! Written all over it ...... #Syeraa @SrBachchan #MegastarChiranjeevi #RamCharan," tweeted Riteish Deshmukh.
We are at the teaser launch event of Sye Raa Narasimha Reddy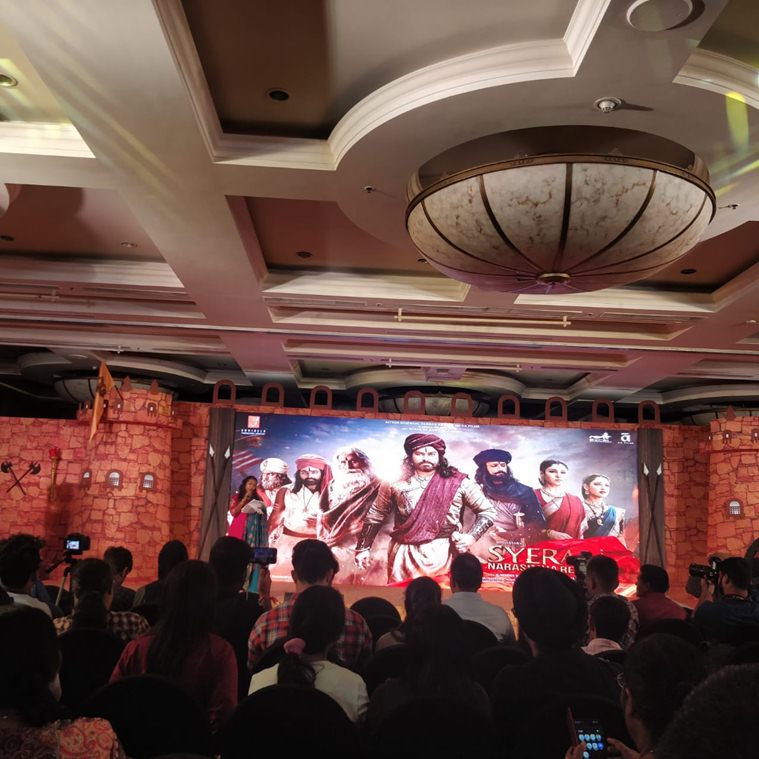 The teaser launch event is about to begin (Express Photo).
Check out the Hindi teaser of the Chiranjeevi starrer!
The teaser of Sye Raa Narasimha Reddy is here!