Starring Chiranjeevi, Amitabh Bachchan, Sudeep, Vijay Sethupathi, Jagapathi Babu, Nayanthara and Tamannaah Bhatia among others, Sye Raa Narasimha Reddy releases today. The film releases in Telugu, Tamil, Malayalam, Kannada and Hindi. The film has been directed by Surender Reddy.
Chiranjeevi plays Uyyalawada Narasimha Reddy, a Rayalaseema freedom fighter, in Sye Raa Narasimha Reddy. The film is based on Narasimha's battle against the Britishers. The war against the British is touted as the first revolt of independence which happened a decade before 1857.
At the recent pre-release event of the film, Megastar Chiranjeevi credited SS Rajamouli and his success with Baahubali as an encouraging factor for him to go ahead with the film. He said, "If not for Rajamouli's Baahubali, Sye Raa would have never happened. He gave us the much-needed confidence."
He also spoke about Ram Charan's dedication towards the film and said, "Charan did not hesitate to spend money making this film. He arranged everything that we ever asked for. We all decided that Georgia will be the right place to shoot the war sequence. Charan, without thinking twice, flew us down there. We shot there for one and a half month and it would have cost Charan roughly Rs 75 crore. He did not worry about the expenses as all he wanted to make was a good film."
Live Blog
Read all the updates about Sye Raa Narasimha Reddy.
'Such joy to see our Megastar in a period drama'
Actor Allu Sirish shared on his Twitter page, "It was such joy to see our Megastar in a period drama. Also Bachchan saab, Vijay Sethupathi, Kiccha Sudeep, Jagapathi Babu, Nayantara & Tamanna were great on screen. Hats off to dir Surendar Reddy & all technicians for this visual spectacle. #SyeRaaNarsimhaReddy Sye Sye raa!!"
So happy to be a part of this historic blockbuster: Jagapathi Babu
Actor Jagapathi Babu took to Twitter to share, "My best wishes to the entire team of Megastar Chiranjeevi's dream project #SyeraaNarasimhaReddy. So happy to be a part of this historic BLOCKBUSTER 🔥👏@KonidelaPro @DirSurender."
'A blockbuster packed with stunning action and drama'
Producer Shobu Yarlagadda said via Twitter, "Loved #SyeRaa! Chiranjeevi garu is amazing! @DirSurender delivers a blockbuster packed w stunning action n drama! Prod. design, cinematography, costumes are outstanding! Each frame oozes richness & grandeur! @tamannaahspeaks stands out and is gorgeous! Congrats #RamCharan n team!"
'Chiranjeevi portrayed his role to perfection'
"Many people ask me why #MegastarChiranjeevi is called Megastar, well why we call him megastar? for answer go and watch #SyeRaaNarasimhaReddy, it would be a understatement if I say he is EXCELLENT and has portrayed his role to perfection.. 4*/5 #SyeRaa #SyeRaaNarsimhaReddyReview," tweeted Rohit Jaiswal.
'It's an eye feast to watch Megastar Chiranjeevi'
Actor Manchu Manoj wrote on Twitter, "Congratulations to @AlwayzRamCharan @DirSurender & the entire team of #SyeRaa on their blockbuster success😍😍😍 It's an eye feast to watch our very own Megastar Chiranjeevi garu in an untold freedom fighter character 🔥 Go watch it in your nearest theaters!#SyeraNarasimhaReddy."
'Chiranjeevi carries the film with zeal and passion'
"#SyeRaaNarasimhaReddy : #Chiranjeevi is the heart and soul of this film. He carries the film with zeal and passion, and that's what makes the story so endearing and impactful. It won't be surprising if he is honoured with a National Award for this performance," read a post by a user @THEPAROTA.
'The only way to do this kinda film was with honesty and loyalty'
Kichcha Sudeepa shared on Twitter, "Hearing such wonderful things about #SNR. Feels soo good. This team has worked like there never was another day. The only way to do this kinda film was with Honesty n Loyalty & each one associated has given nothing less. Hearty congratulations for th mega success 🤗@KonidelaPro."
'All the characters are engrossing'
SS Rajamouli took to Twitter to share, "Chiranjeevi garu breathed life into Sri Uyyalawada Narasimha Reddy. He rekindled the fires of the lost history. @IamJagguBhai garu, Namma @KicchaSudeep @VijaySethuOffl #Nayanatara & @tamannaahspeaks - all the characters are engrossing and intresringly intertwined with the story."
Sye Raa Narasimha Reddy: Our verdict
The major flaw in Sye Raa Narasimha Reddy is Surender's attempt to force a sprawling story into a mould that fits the narrow definition of mainstream commercial cinema. The result is we get a typical Chiranjeevi film, where Chiranjeevi does what he has done in his last 150 films – fight for the poor and weak. The only difference is that he is at it while wearing an ancient warrior's costume and riding a horse.
Also Read | Sye Raa Narasimha Reddy movie review: A typical Chiranjeevi film with a bit of Zack Snyder-esque flavor
Watch: In conversation with Amitabh Bachchan and Chiranjeevi
'Megastar Chiranjeevi's performance mindblowing'
"EXTRAORDINARY First Half. Megastar Chiranjeevi's Screen Presence & every aspect of the film is terrific. Unlimited ELEVATION Scenes in the second half. Megastar Chiranjeevi dialogues & Performance MINDBLOWING!!!!!!!! Each & Every Actor Delivered their BEST. ALL TIME BLOCKBUSTER," @vamsikaka shared on twitter.
'Chiranjeevi carries the film with zeal'
"Movie Review - #SyeRaaNarasimhaReddy RATING - 4 stars. Story 4/5 , Screenplay 4/5 , Performances 4/5 , Direction 4/5 , Cinematography 4/5 Chiranjeevi carries the film with zeal and passion. Must Watch!," writes @TheSidMathur.
Chiranjeevi wanted to cast Prithviraj in Sye Raa Narasimha Reddy
At the pre-release event, Chiranjeevi said, "After watching Aiyya, I wanted to cast Prithviraj in Sye Raa. Unfortunately, we couldn't. I hope that we collaborate on some other movie." Prithviraj said, "The Telugu industry has inspired Malayalam directors to dream big by making films like Baahubali. Now that I have seen the footage, I wish I were a part of it. Chiranjeevi gaaru had called me to act, but I was caught up with other commitments."
Also Read | Wanted to cast Prithviraj in Sye Raa Narasimha Reddy: Chiranjeevi
Watch the trailer of Sye Raa Narasimha Reddy here
'Feast for 80's and 90's kids'
"#SyeRaaNarasimhaReddy definitely an eye feast for 80's and 90's kids. the name MEGASTAR redefined at its best and only an imbecile will talk negatively. chirus'succulence of acting drank by @DirSurender well. seriously this man Chiranjeevi is a nemesis for rivals. ❤" writes @SweetyRavi143
'Jaw dropping blockbuster'
"Saw #SyeRaaNarasimhaReddy Bosssss 1 most promising film ever is a jaw-dropping blockbuster that combines nimble action with genuine heart, infectious sense of momentum that wins over any time key plot points. NA deserving act by #MegastarChiranjeevi," writes @Avenger83391550
'Climax shot is worth your money'
"Climax one shot is worth for your money, Rest is bonus @DirSurender Thanks for that mass shot #SyeraaNarasimhaReddy," writes @PranayOfficial.
'Feast to watch Chiranjeevi on screen'
"Purely Goosebumps. must watch movie for every indian the untold story of Uyyalawada NarasimhaReddy. Entire cast and crew deserve big Reception. Especially #Megastarchiranjeevi it eye feast to watch him on the screen. Production values #Ramcharan ✌️, shares @agnostic_007 on Twitter.
Ram Charan thanks his father Chiranjeevi
'Big treat for fans'
"#SyeRaaNarasimhaReddy: Fantastic! However with large cast, Mega⭐ Shines all over. One man show! Great visuals, dop, music, emotions & action blocks! Next level for #TFI & will be a very big treat for the fans! Great making & story is outstanding! Blockbuster🔥🔥" writes @barath8174 on Twitter.
'Must Must Watch'
"#Syeraa #SyeRaaNarasimhaReddy EPIC 4.5/5. MUST MUST WATCH. OMG, that unforgettable climax will stay with you & haunt you for long. Will leave you in a hugely emotional state Telugu cinema does it yet again after Baahubali #MegastarChiranjeevi @DirSurender #RamCharan," @LMKMovieManiac wrote on Twitter.
'Megastar Chiranjeevi on fire'
A fan Jaseel Muhammed wrote on Twitter, "#Syeraa Halftime Slow Picking Up.... !! Pre Interval & Block pure Goosebumps #MegastarChiranjeevi ON FIRE. VISUALLY DOUBLE GRANDEUR"
'Good first half
"Good first half with terrific pre-interval episode. Goosebumps stuff.. #MegastarChiranjeevi #SyeRaa," wrote entertainment journalist Suresh Kondi.
Tamannaah's biggest worry during Sye Raa shoot
Tamannaah Bhatia's biggest worry during the shoot of Sye Raa Narasimha Reddy was to not forget her lines. "(It was like) I should be fully prepared. I became like a school kid. I would go through my lines over and over again so as to not mess them up. I would try to make as few mistakes as possible so that it's less inconvenient for them," the actor told indianexpress.com.
Also read | Felt like a school kid on Sye Raa Narasimha Reddy set: Tamannaah Bhatia
'We have truly made a pan-Indian film'
Talking about his film at an event, Chiranjeevi said, "We have truly made a pan-Indian film and I am confident of its success. The film is a tribute to freedom fighters who sacrificed their lives for the freedom of India. Be it Nayanthara, Tamannaah or Sudeep, everyone has given their best. In particular, I am fond of Vijay Sethupathi. He is the most hard-working yet humble actor I have met. People say I am very simple. But after working with him, I feel he is the best."
Also read | Sye Raa Narasimha Reddy is a tribute to freedom fighters: Chiranjeevi
Fans pour milk on Chiranjeevi's cutout
Fans celebrate Sye Raa Narasimha Reddy release
The theaters in Hyderabad are decorated with the posters of megastar Chiranjeevi to celebrate the release of Sye Raa Narasimha Reddy. Fans have qued up oustdide the theaters to watch their favourite star on the big screen.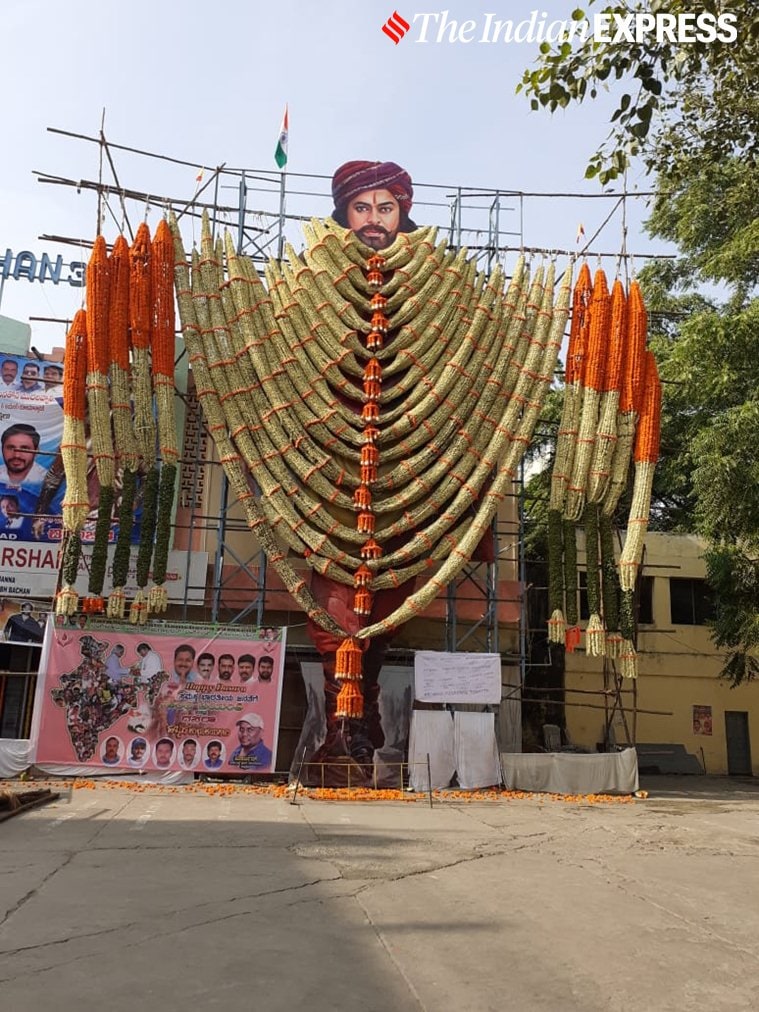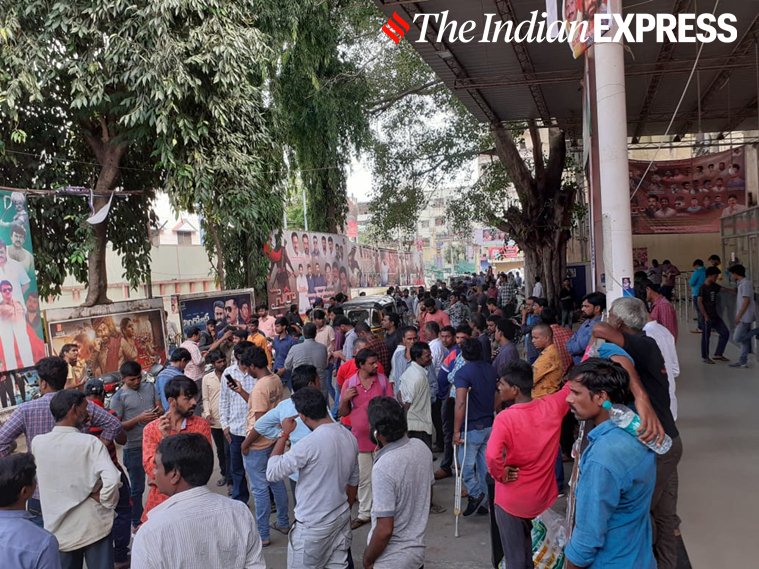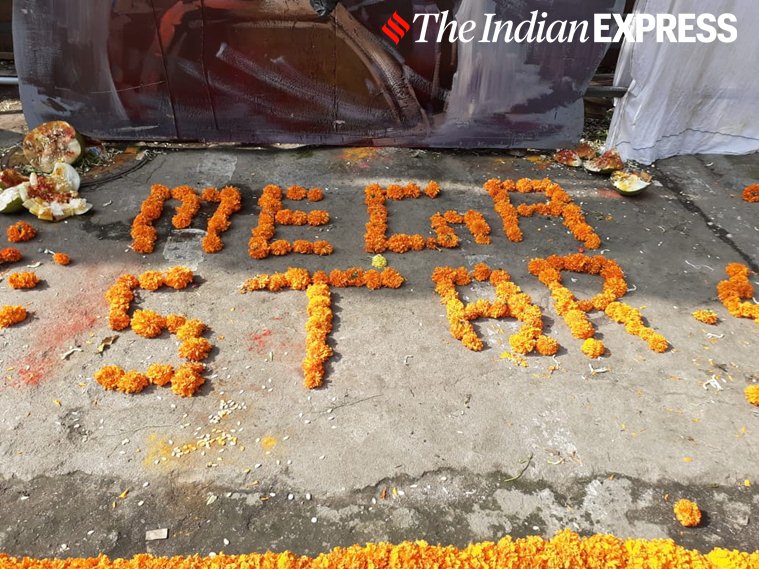 Anil Ravipudi wishes team Sye Raa Narasimha Reddy
Telugu filmmaker Anil Ravipudi wrote on Twitter, "Wishing Chiranjeevi garu, Ram Charan garu, Surender Reddy garu @RathnaveluDop garu... and team #SyeRaa a huge blockbuster. Make Telugu industry proud"
Hyderabad gears up for Sye Raa Narasimha Reddy release
'Can't wait to watch the magic'
Pooja Hegde tweeted, "Good luck to @DirSurender and team #SyeRaa... Can't wait to watch the magic that has been created by them on the big screen. SO EXCITED!"
Sye Raa Narasimha Reddy producer Ram Charan's heartwarming note
On the eve of Sye Raa Narasimha Reddy's release, producer Ram Charan said in a statement, "It has been an unbelievable journey for me. Working with some of the best talents across the country and watching my father's biggest dream come to life with Sye Raa Narasimha Reddy will surely be an experience I will cherish for life. As the release inches closer, I have mixed emotions. I am sad this journey has ended because this film made us all a family. But then I am elated too because you all will finally get to watch the film that we have put our heart and soul into. I feel a mix of nervousness and excitement that comes before the release of every film. Along with all that, I feel thankful. To the fans, to the media, to the distributors and exhibitors and to the entire team for their support without which reaching here would not have been easy. I feel a sense of satisfaction as well because I know we have done our best and left nothing out to make this the film is it today. And for that, I only have gratitude for my cast and crew. And I want to thank them all! Director Surender Reddy, who made it possible to turn a dream into reality. The Paruchuri Brothers, who have been a massive force behind making this happen with their constant belief over the years that this story was meant to be created for my father. Ratnavelu, who made this the visual extravaganza that it is. Amit Trivedi for giving us music that is one of the best I've ever been associated with. Sal Madhav Burra, who used his words to tell the story. Julius Packiam for his brilliant score. Sirivennela Seetharama Sastry garu for his beautiful lyrics. And to everyone else who was a part of the film in even the smallest way. Thank you! We have been blessed by the best talent in the country – Amitabh Bachchan sir as Gosayi Venkanna, Jagapathi Babu garu as Veera Reddy, Kichcha Sudeep as Avuku Raja, Nayanthara as Siddamma, Vijay Sethupathi as Raja Paandi, and Tamannaah as Lakshmi, Ravi Kishan ji, Anushka and lastly my baby sister Niharika who added her spirit and enthusiasm to the film – and it was a dream cast to be associated with. Our job is done and we are left only with the responsibility of giving the film to you now. I can't wait for you all to see it and experience what we all created together."
'Ram Charan has done the unthinkable'
"#SyeraaNarasimhareddy is a blockbuster right from the word go! This will be remembered in history as an UNPARALLELED tribute to a Legendary Megastar from his greatest son. #RamCharan has done the unthinkable," Pravallika Anjuri said via Twitter.
Surender Reddy on Sye Raa Narasimha Reddy
Sye Raa Narasimha Reddy director Surender Reddy posted on Twitter, "The story of a man who tirelessly fought against the tyranny of the British! Oct 2nd 2019, marks the 150th anniversary of #MahatmaGandhi There is no better day to release the tale of India's unsung hero than today. #SyeRaaNarasimhaReddy awaits you all in theaters. #Chiranjeevi"