How much money will Baahubali 2 earn? Everyone including trade pundits, fans and audience are in a hurry to get to the figure, especially after the huge hit Baahubali 1 proved to be. In fact, such is the craze for the film that Baahubali 1 has been released again on 1000 screens on Friday. SS Rajamouli's fantasy world about two cousins fighting for the throne of Mahishmati has, besides creating a fan frenzy, given rise to a million dollar question – Why Kattappa killed Baahubali? The answer will be revealed on April 28. However, it will take few days or weeks from the release date before wee finally gets to know the exact box office figures of Baahubali 2. Meanwhile, we bring you a comparison of Baahubali 1 and Baahubali 2 in terms of box office figures:
Baahubali 1:
Baahubali 1 was released on around 2000-2500 screens. Film exhibitor Akshaye Rathi told indianexpress.com, "The hype around Baahubali 1 was small as compared to Baahubali 2. The film picked up growth after positive word of mouth. The release of Salman Khan-starrer Bajrangi Bhaijaan mere one week after Baahubali 1 did affect box office business of latter."
When asked about the box office collection of Baahubali 1, Akshaye says, "The film collected Rs 500 crore gross income at the worldwide box office that includes tax and exhibitor's share. The producer's share ( that actually matters) was around Rs 230-40 crore. The net revenue of the film was Rs 450 crore. Since the investment of the whole project was around Rs 450 crore, producers didn't earn any profit from the first film."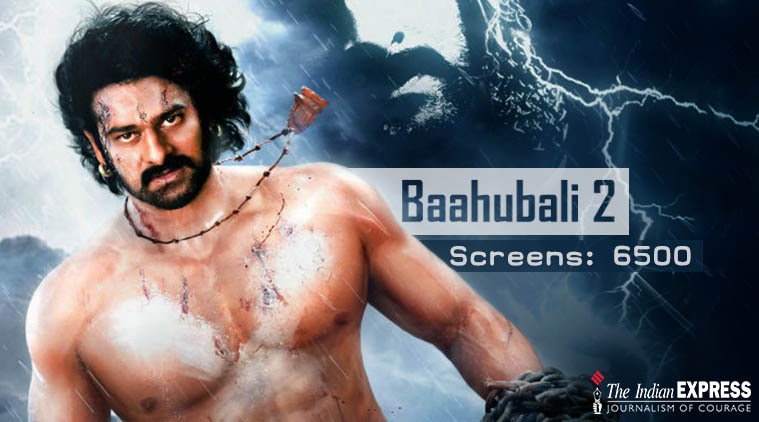 Baahubali 2:
Baahubali 2 will be released on 6500 screens. Akshaye said that it's one of the largest releases in the country. "The film has earned around Rs 80 crore from satellite and music sales. Baahubali 2 is expected to do well in north India and is expected to collect around Rs 200 crore from this region. The theatrical rights of the film in the north region have been sold for Rs 65 crore. "
According to trade analyst Taran Adarsh, theatrical rights of the film in Telugu and Karnataka states have been sold for Rs 130 crore and Rs 45 crore respectively. The theatrical rights in Kerela have been sold for Rs 8 crore, disclosed a source close to the project.
Check out box office details of Baahubali 2 vs Baahubali 1:
Baahubali 1:
Screens: 2000-2500
Nett. Revenue: Rs 450 crore
Baahubali 2:
Screens: 6500
Nett. Revenue: Rs 500 crore
Nett Revenue (Hindi): Rs 200 crore
Pre-release Revenue:
Satellite Sales (Hindi): Rs 50 crore
Satellite Sales (Tamil +Telugu+ Malayalam): Rs 25-30 crore
Music ( all languages): Rs 25-30 crore
Theatrical rights (Hindi): Rs 65 crore
Theatrical Rights (Telugu): Rs 130 crore
Theatrical Rights (Karnataka): Rs 45 crore
Theatrical Rights (Kerala): Rs 8 crore
Also Read: Baahubali 2 Hindi jukebox out: An extraordinary film gets an average album
Box office predictions:
Opening day collection: Rs 50 crore (minimum)
Opening Weekend Collection: Rs150 crore (minimum)