Making his small screen debut with Sony Entertainment Television's Haasil, Zayed Khan is all pumped up to give his best shot. And from the look of it, the show has already made heads turn with its production value, thrilling storyline and a talented good-looking cast. At the launch of this finite series, indianexpress.com got into an exclusive tete-a-tete with Zayed. When asked about his emotions towards this shift, he shared, "There will always be an anxiety on any new step that you take but I am quite reasonably confident that I have made a good decision. I can assure that nothing like this has ever been seen on television. More than anxiousness, I am excited about surprising the audience with this wonderful project."
When asked if he or his family considered his move from Bollywood to TV a demotion for him, the actor refuted it saying, "My family was very mature about it. They asked me two questions – that's most important for any actor: How is the script and who is making it. When I told them that the script is fabulous and that my brother Siddharth P Malhotra is making it for Sony, they were quite happy about it. Not that I needed their permission to do the show, but it uplifts your decision and it's a good feeling. My father is quite eager to know how things are going with me and calls me now and then to check. But it has been five days that he hasn't called (smiles). He knows that bachha bada hogaya hai (the child has grown up), and that's a good sign. Also, apart from the minutes of shooting, I don't think anything is different from what we do in a film."
See Zayed Khan starrer new TV show "Haasil" promo here:
Apart from Zayed, Haasil will also star Vatsal Sheth and Nikita Dutta in lead roles. Quiz him on his apprehensions of doing a two-hero project on his debut venture, and the actor smiled to share, "Well such kind of thoughts will only bog you down. When you are on a way to make something special, titles and statuses hold no value. When a script is so good, the need for other good talent is necessary. You can't be self-centered and want everything for you. Vatty (Vatsal) is a very sincere actor and we have become like brothers now. As for Nikita, she is a very professional actor. I think such thoughts would have only got unwanted bitterness and thus it's best to keep it away."
Zayed has always been quite vocal about his love towards his brother-in-law Hrithik Roshan. Even after his sister Sussanne separated from Hrithik, Zayed had been quite close towards him. In the light of the entire controversy between Hrithik and Kangana Ranaut, Zayed had been keeping mum. When prodded over the same and asked his opinion on the matter, the actor simply smiled to say, "I have been strictly told not to speak about the matter or the makers will terminate my contract."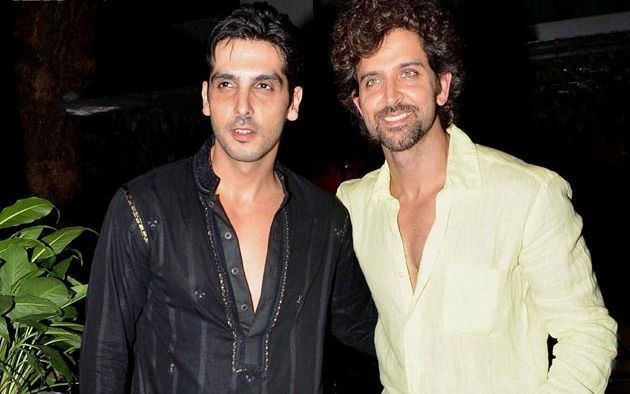 Haasil will launch on October 30, 9:30 pm.