Written by
Kshitij Rawat
| New Delhi |
Updated: January 11, 2018 3:59:43 pm
TV, as a medium, has seen a sharp increase in terms of quality. Unlike film, TV is the place to watch exciting, original content year-by-year. This reputation of the medium was only bolstered this year. Prestige shows like Game of Thrones continue to impress even if the writing suffered a little in the HBO flagship. A precious few shows like Amazon's American Gods struck the perfect balance between substance and style. Netflix's biggies Narcos and Stranger Things remained quite strong in their third and second seasons.
So 2018 is here. There are a lot of exciting shows that will arrive this year and we cannot wait to watch them. Then again, there are some really good shows that will continue with their subsequent seasons in 2018, and we cannot wait to watch them either. Here is the entire list in no particular order. There might be spoilers if you have not seen previous seasons of some of these shows.
Westworld season 2: We know perfectly well, thanks to the show's lead actor Evan Rachel Wood, that sci-fi-western drama Westworld's season 2 will debut in spring 2018. Once Game of Thrones is off-air, Westworld, created by Christopher Nolan's brother and his wife Jonathan Nolan and Lisa Joy, will be HBO's flagship. Even with Sir Anthony Hopkins' exit (unless he returns as a host), the show has a great cast and we hope the second season will bring more surprises. You can watch Westworld season 1 on Hotstar.
American Gods season 2: We do not know if this stunningly beautiful adaptation of Neil Gaiman's award-winning book will get a season 2 this year at all, but that is what's expected. Its first season showcased Ian McShane's unparalleled acting capabilities and Bryan Fuller's visual style. The writing was solid, and the payoff blew our collective minds. And I had read the book. American Gods season 1 currently streams on Amazon Prime Video.
The Man in the High Castle season 3: This brilliant Amazon series paints a world in which the Axis powers won the World War II and went on to subjugate the United States of America that has been divided among German Reich and Imperial Japan. Even with a weak second season, The Man in the High Castle is a harrowing watch. The season 3 of the show is expected to premiere in 2018.
Vikings season 5: Ragnar may be dead, but Lagertha is alive. And so are the Viking ruler's soon-to-be famous sons. The fifth season of the show airs on History channel in some countries right now, but you can watch it on AXN in 2018. Its release date is awaited.
Luther season 5: DCI Luther is back, ladies and gents! Idris Elba was really busy in 2017, but it appears he has shot enough as everybody's not-so-favourite detective with aggression issues as season 5 is widely rumoured to arrive sometime in 2018. We expect a summer release of the show on BBC.
The Handmaid's Tale: Hulu's multiple award-winning series based on Margaret Atwood's magnificent if an unsettling dystopian novel is coming to AXN. We do not have any air date yet, and we promise to update this story with details as soon as they arrive. It would air on February 5, every Monday at 10:00 PM.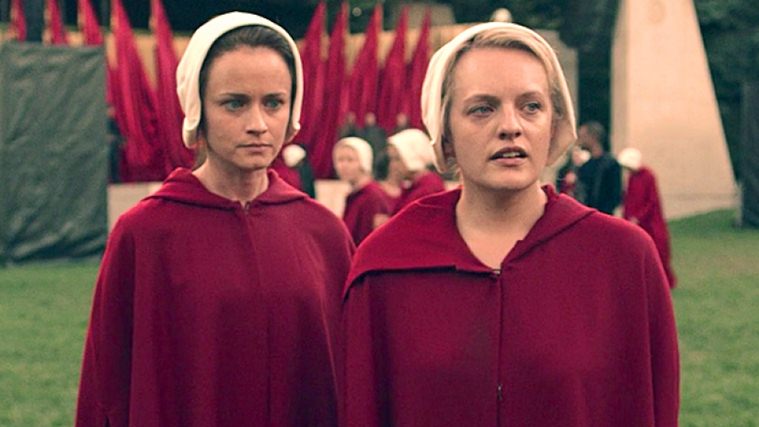 Altered Carbon: If your consciousness, practically the real 'you', can be converted to code, then the possibilities are endless, and not all of them pleasant. This is the premise of upcoming Netflix series Altered Carbon. And the series is coming on February 2. It will stream on Netflix.
Taboo series 2: Taboo was one of the most underrated series of 2017. It is arguably Tom Hardy's best work to date as James Delaney. If you have not seen the first season, please watch it because the second season, or series as the creators call it, is expected to come this year.
Narcos season 4: Narcos is fantastic. Even when Pablo Escobar, around which the show revolved, is not in the picture, it remains compelling as the season 3 showed. Season 4 should come on Netflix in 2018.
Sacred Games: Normally, I would not be interested in an Indian web series even if it is being co-produced by Netflix (it is a Netflix original), but when people like Vikramaditya Motwane and Anurag Kashyap are involved in a project, you got to take it seriously. If that weren't enough, the series, which will be based on Vikram Chandra's novel, will star Nawazuddin Siddiqui, Saif Ali Khan, and Radhika Apte. Sacred Games already looks like a hit.
For all the latest Entertainment News, download Indian Express App