Written by Mehak Arora | New Delhi |
November 2, 2017 9:27:47 pm
Surbhi asks what's happening here and Mohini says combing. Surbhi says to Harak he should atleast consider his daughter and son-in-law if not his wife. Maninder starts clapping and laughing and says to Viran son has left the house and started living with eunuchs and here his elder brother is loving someone half his age. Varun asks Surbhi to take Maninder along and Surbhi pulls him out. Varun says to Harak that he may do whatever he wants but he shouldn't hurt Preeto. Harak asks him to shut up and says he shouldn't have supported his elder brothers' wife when he died, and he wouldn't have to see this day as this lady couldn't even keep her son along. Preeto says it would have been better if she had left the house the same day her ex husband died. Harak goes in and gets Preeto's belongings and says she can go. Viran asks what's he doing and Varun says he can't do this. Harak says if anyone in the house has any problem with Mohini he may leave the house. Mohini holds his arm and says let them decide and asks him to come along to the room and help her comb her hair. They go to their room and Mohini says he is doing too much and Harak says he never thought he would have to do all this for his son. Mohini says Harman would definitely return now. Preeto picks up her belongings and walks towards the door and Viran tries to stop her but Varun asks her to stay back and asks her to come along to see Harman.
There Surbhi calls and tells everything to Saumya and she says she is coming. The other Gurumaas come there and says all these relations are when she is Saumya and she is yet to become Saumya from Tarana when Harman fulfill their conditions. Saumya says can they get above this Saumya Tarana and be human. The Gurumaa says whatever she may day but the motive doesn't change.
There Raavi says to Varun that there is no use of meeting Harman as she went there and she saw he doesn't care about anyone. Varun says he has to come and they'll go. Preeto thinks she has to wake his love for them and he'll definitely return.
There in the room Mohini asks Harak if it is not his first marriage and he says it's his first marriage and Preeto was his elder brother's wife. She asks what made him do all this and Harak asks her to mind her own work.
Maninder is glad that he saw Preeto and Harak in that condition and Surbhi asks him to fear the god but he says that Preeti has got the results of all her bad deeds and now he wants to see that Saumya in such condition. Surbhi asks him to mind his words.
Rani asks Harman to leave for work to collect neg and he says he'll just come meeting Saumya. Saumya comes and asks why he is here and he says a wife should see off her husband when he leaves for work and he was just waiting for that and they share a moment of romance.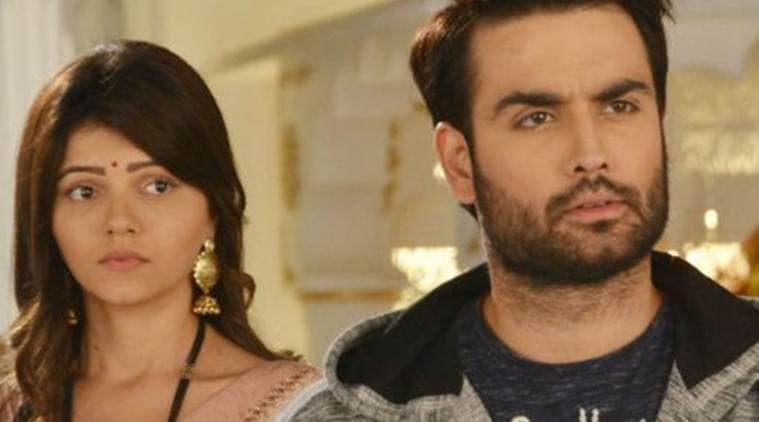 There Raavi is adding detergent to water along with Shanno and Viran comes there and asks if they are preparing to wash clothes. Raavi tells she and Shanno are preparing to kill that Mohini and waiting for her to come to bed and once she is there theyl'll wake her up and push her of the terrace. Viran asks them to be careful and Shanno asks him to engage Harak Singh somewhere as she won't let the house become a bar.
Varun and Preeto meet Harman and Varun tells Harman that Harak threw Preeto out of the house for some other women and Harman says even Preeto has broken the house many times so this was bound to happen. Preeto says she did all that for him and no matter how weak a wife is but once her son grows up he becomes his strength and pride but now she is on road and has no strength and pride left. Harman says both of them are on road, he because he was living someone but he can't help her now and not because he doesn't love her anymore but because he doesn't trust her anymore and leaves.
Preeto goes to Malika's house along with Varun and asks Malika to help her but Malika asks her to leave as she can't help her. Preeto says she is left with noone and asks her to help her when Saumya comes there and asks whats the matter. Preeto gets her dupatta in her hand and asks her to help her. Varun says Saumya is coming from the temple and she must have prayed for everyone's good.
The Indian Express website has been rated GREEN for its credibility and trustworthiness by Newsguard, a global service that rates news sources for their journalistic standards.