Written by
Sonup Sahadevan
| Mumbai |
Updated: December 25, 2015 11:59:41 pm
Salman 'Hero' Khan was in an unusually good mood at the launch of 'Bigg Boss 9' on Monday (September 28) evening. From having the audience in splits with his hilarious wisecracks to pulling legs of all those present on stage with him (even brand heads were not spared), Salman was at his entertaining best.
The show started with a few former contestants making their appearance on stage to dancing to the tunes of popular Bollywood numbers. Soon enough, they gave way for the dapper Khan to make his heroic entry while 'Main Tera Hero' chugged along melodiously in the backdrop.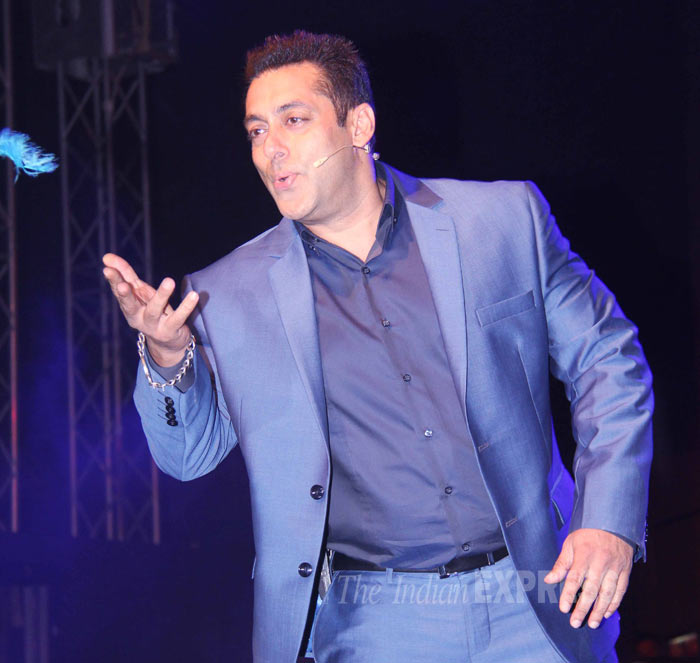 Post the dancing revelries, an accused box was arranged for all the former contestants to sit in. Seeing the box, Salman Khan couldn't help but get sportingly nostalgic about it while indirectly reminiscing his own association with his legal troubles. As soon as the former contestants including Urvashi Dholakia, Puneet Issar, Ali Quli Mirza, Rajev Paul, RJ Pritam, Karishma Kotak and others settled inside, Salman Khan played the grilling host putting the participants in sticky situations with his tough questions. Salman Khan later shook his leg to his famous towel dance with a few media personnel.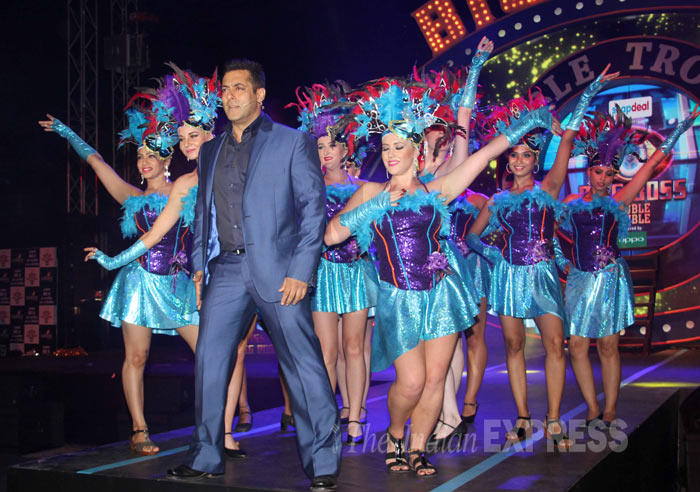 Talking about why he chose to come back as the host of 'Bigg Boss' yet again, Salman Khan said, "After those three months you get exhausted, everything keeps on coming onto your head but it's a long association and there is a huge connect with all the contestants inside as well as the team. So, you start missing this whole thing after some time. I think our country and youth are going in one direction and 'Bigg Boss' is a window to that. Educated people come on the show who are not scared to say anything on television.
Watch Salman 'Hero' Khan Sets The Tone For 'Bigg Boss Nau – Double Trouble':
They sometimes do over dramatic things. Some fight with mind others with heart. Everybody who has come out of Bigg Boss house has been working every single day. So, it gives me great pleasure in guiding them in the right direction. Sometimes people go overboard and I at times think am I their father or brother to get involved? Why should I say anything? There is a boundary and if you cross that limit you don't get entertainment or work outside. Sometimes I get criticized for getting into their issues. It is not my space.
Like with Mr Bachchan as the host whatever happened in the house, he didn't react. But I get involved with these people and most are in touch with me even after 'Bigg Boss'. So when I am there I feel I should be a part of this. Ultimately, the reason why I keep coming back is because it is a good show about people, relationships. And I feel I can share my own life experiences here. That's why I keep coming back."
[related-post]
While Salman, who had earlier not agreed to the tagline 'double-trouble' but ultimately gave into the channel's decision, also said that he himself was responsible for his own trouble. When we asked him if he has ever faced any troubles from others in the industry, Salman said, "No one has ever troubled me.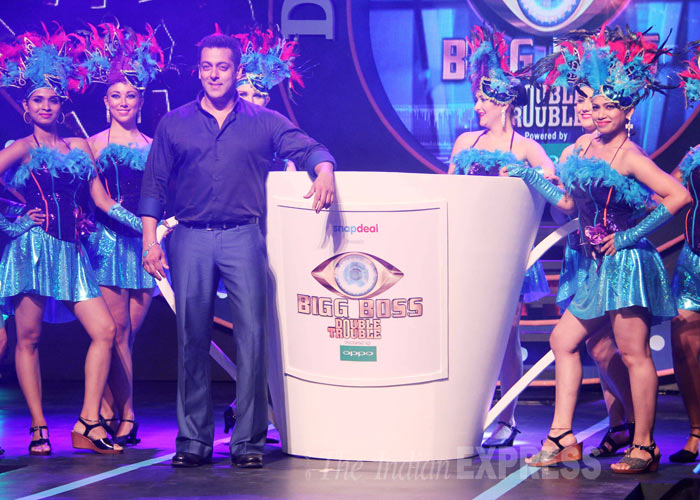 If there is anyone responsible for my troubles, it is my destiny, and my luck. Had something like this never happened in my life, I would have been a different person. So it keeps me grounded and real. It keeps you balanced. You don't think no end of yourself."
Salman Khan also clarified that he never acts while hosting the show and is always himself while connecting with the contestants. The star also revealed that he takes feedbacks from his mother and Karan Johar's mother, Hiroo Johar about the show.
Unfortunately nothing was revealed about the show's format, the design of the house or the current contestants.
The Indian Express website has been rated GREEN for its credibility and trustworthiness by Newsguard, a global service that rates news sources for their journalistic standards.