Written by
Sana Farzeen
| Mumbai |
Updated: September 14, 2017 1:55:22 pm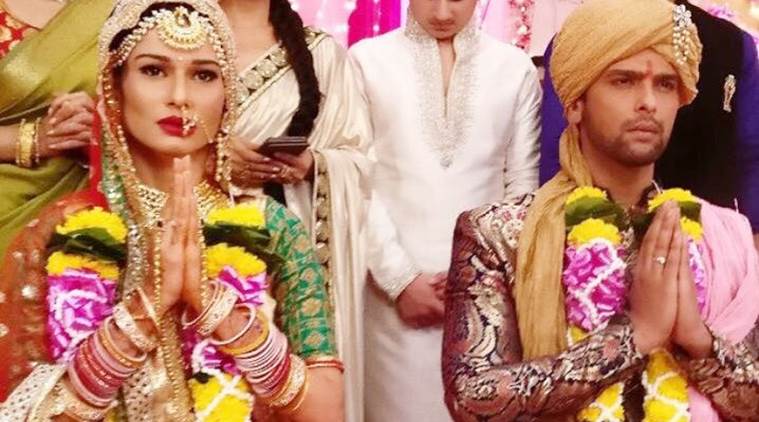 A source from the Beyhadh sets shared with indianexpress.com, "Kushal is very proactive and alert. When he saw that Aneri's pallu (gathbandhan) had caught fire, he swiftly tore away the piece before it could cause damage."
Wedding sequences seems to be jinxed on the sets of Beyhadh. The first time that Arjun (Kushal Tandon) and Maya (Jennifer Winget) was to get married, the entire mandap caught fire and Kushal jumped into the raging flames to save his co-star. And now, during the wedding scenes being shot between Arjun and Saanjh (Aneri Vajani), the team had a narrow escape from a fire accident. Things could have once again turned ugly had Kushal not acted on time. A source from the set shared with indianexpress.com, "Kushal is very proactive and alert. When he saw that Aneri's pallu (gathbandhan) had caught fire, he swiftly tore away the piece before it could cause damage."
The team was much relieved as the fire could have turned ugly had it not been spotted on time. Aneri, who was shaken a bit, was given time to relax and they carried on with the shoot. Kushal, wanting to light up the moment, started joking that he has no hands in burning down his mandap.
Kushal has been the real life hero on the sets as he has saved both his co-stars. Jennifer was rescued quite heroically by Kushal when the mandap caught fire and she was stuck inside. While last year, Aneri was protected by Kushal from a cup of hot tea that left the actor's hand injured.
See others posts when Beyhadh stars Kushal Tandon, Aneri Vajani and Jennifer Winget faced fire:
The popular show on Sony Entertainment Television was to go off air last month. However, on public demand, the show has got an extension for a couple of months.
For all the latest Entertainment News, download Indian Express App