With few flops in his kitty and not-so-memorable performances, an actor as talented as Shahid Kapoor has had his share of bad luck in the industry. But good times started with Vishal Bhardwaj's 'Haider'. When the actor was finalised for 'Haider', there were raised eyebrows questioning the logic behind the decision.
Shahid Kapoor silenced his critics and how. So, calling 'Haider' his best decision till date, and even better than getting married, won't be an understatement. Perhaps, his third best would be to agree judging 'Jhalak Dikhhla Jaa' – Season 8 and "Reload"ing it with his style.
On the makers' side, it's the best plan, but yes, second to retaining Manish Paul as the host. We'll come to that later. Firstly, the man of the moment – Shahid Kapoor.
While Madhuri Dixit was perfect as the show's judge for more than a couple of seasons, there's a newness that Sasha has brought along with himself. He is cool, polite and just Shahid. So he doesn't mind squirming in his seat, readjusting his position and showing his socks. He knows girls swoon over him and hence, he just has to be himself.
[related-post]
It might be too soon to judge Shahid's judging skills, but his debut as the cool, candid judge is beyond praiseworthy. And not to forget his opening act. There's is a reason as to why Shahid is hailed as the dancing star and he proved them all right with his 'Dhating Naach'.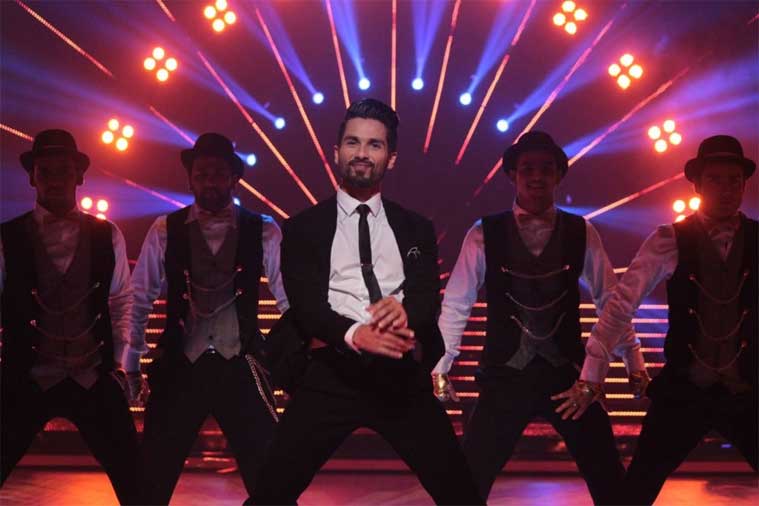 There's a newborn bromance on the show with Shahid and Karan Johar. It's not forced at all. Add without any gayish connotations.
There was a subtle indication of his marital status at the start of the show, when he said, "Mujhe mere bachelorhood ke din yaad aa gaye." But after that, no drama, nothing. The simplicity of things and we liked it.
All the drama was exhausted in the first 15 minutes when KJo was showed ruing the boredom in his life. But had it been anybody else, we would have hated. KJo somehow manages to infuse interest and cuteness in whatever drama he does.
Then came Shahid, like a breath of fresh air, riding on a segue and "reload"ed Jhalak.
KJo was as usual adorable in his judge avatar. Ganesh Hegde was at par with Remo D'Souza, picking the right points to criticise and doing it politely.
There was a 'nickname' moment when KJo, Shahid and Ganesh divulged their nicknames. KJo divulged Shahid's – Sasha.
However, we didn't quite understand the presence of Lauren Gottlieb among these celebrated names. Lauren is, no doubt, a good dancer but she was a participant two seasons back. And having Ganesh and Lauren made to sit separately from Shahid and KJo, is like making the difference too apparent. The channel needs to rethink what it plans to do – make Lauren a judge or a demi judge?
And one advice Lauren, speak English if you want to and smile a little less. Honestly.
Manish Paul is introduced as the host since the very start of the season, unlike the previous one, and that we say is the best move.
Manish has a natural flair of comedy and when it comes to 'Karan sir', it doubles up. We will definitely not miss his putting-Madhuri's duppatta-in-mouth antics; they did become boring sometimes. He should try something new with Shahid this time. And, for the mentions, his 'chhanni' joke about a choreographer's costume – the best one.
Talking of participants, unlike previous seasons, most of the names this season are well known. Sanaya Irani, Vivian DSena, Mohit Malik, Radhika Madan, Kavita Kaushik, Faisal Khan, Ashish Chowdhury and Shamita Shetty are already in the running for the coveted trophy. These people, along with a huge fandom, have an innate talent of dancing and this surely will take them a long way.
The interaction between the participants, judges and host is also free flowing, without much ado or drama. Especially the moment when
Shahid Kapoor was teary-eyed after watching physically challenged Subhpreet Kaur's dance. It was touching, without being overtly dramatic. A much needed progress and hope it continues.
Another dance reality show, in lieu of becoming better became 'Too much', and we feared the same might happen with Jhalak, but so far so good. Things seem pretty smooth unless the drama heads of the show take-over and make the show 'dramatic' again. But since it's Shahid at the judges panel, who brings subtlety into even the most fiercest dramas, we can sit back and relax.
As Shahid said, 'Naya try kiya hai, purana fry kiya hai…' Jhalak is totally new. 'Jhalak Dikhhla Jaa' is actually 'Reload'ed this time.