Television star Hina Khan on Thursday was accused of causing loss of over Rs 11 lakh to a jewellery brand. She was also sent a legal notice, demanding a written apology and compensation of Rs 2 lakh. Now, Hina's stylist Hemalata Pariwal has responded to the allegations. She stated that the Bigg Boss 11 star's name has been dragged by the jewellers for publicity. She also added that the said jewellery was misplaced by her assistants and the brand was duly informed about the same.
In a statement, Hemalata said, "I had sourced the jewellery for Hina's appearance at the Dadasaheb Phalke Awards in April. But she rejected the ornaments and asked my assistants to return the same. I was shocked when they informed me that they have lost it. I had dutifully lodged an FIR at the Bangur Nagar police station against the assistants for deliberate theft."
The stylist added that she was taken by surprise to know about the legal notice. According to Hemalata, the coordinating agency's owner was aware of the theft. "Hina has nothing to do with the jewellery. We have been forthcoming and cooperative with the agency so that they can get the insurance for the lost jewellery. But they are threatening us and not letting us speak to the jeweller directly to sort the matter."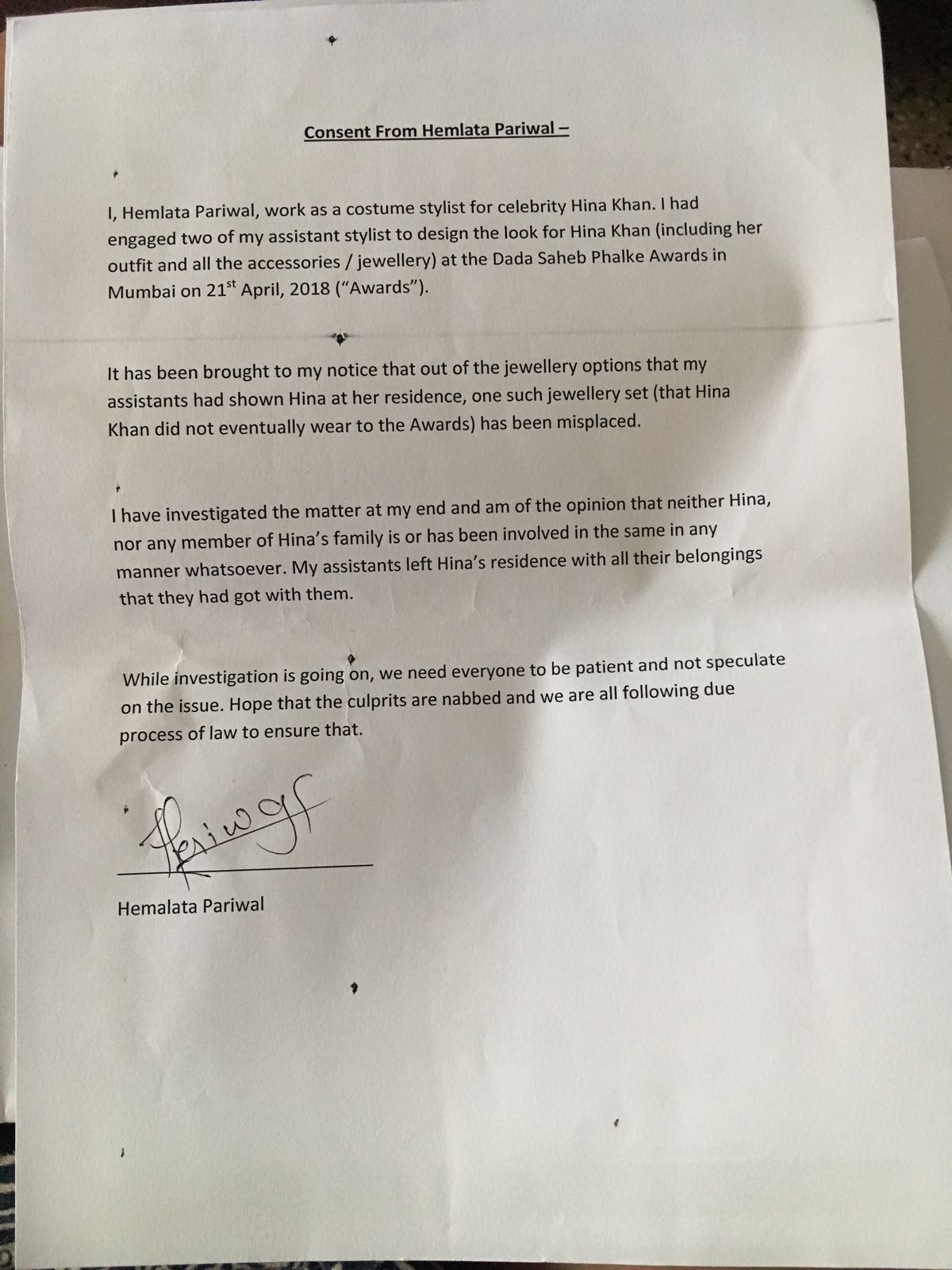 As per Hina Khan's publicist, the actor would respond legally once she receives the notice. The actor feels that the matter is a cheap resort to extort money and popularity using her name. Hina had also tweeted about the legal notice. She posted, "LOL wonder why this legal notice did not reach my house and instead reached all the media houses.. sorry haters this tactic will not work.. try something new.. bhassodi will still shine."
Also Read | Hina Khan gets legal notice for not returning jewellery
The Khatron Ke Khiladi finalist recently made her music video debut with Bhasoodi. The Sonu Thukral song has already crossed 10 million views on YouTube.