Written by
Sana Farzeen
| Mumbai |
Published: July 4, 2017 6:03:37 pm
"I feel so happy seeing Shruti when I wake up in the morning," gushed the newly married Dhruv Bhandari. Tying the knot in Mauritius away from the prying eyes of media, Dhruv and Shruti Merchant (celebrated choreographer Vaibhavi Merchant's sister) became man and wife on 20 June.
Talking exclusively to indianexpress.com the dashing actor, who won hearts with his portrayal of Mantu in Tere Sheher Mein shared, "I have been dating Shruti for more than four years and marriage was the next step. I actually surprised her and my family when I proposed to her for they knew this was inevitable. While on our show in Turkey, I organised an exceptionally romantic surprise for her and proposed to her. Her reaction was a 'huh' as she was completely taken aback. I took help from my promoter and booked an entire restaurant. It was well decorated with lights and roses and it was magical. The memories of the day will be etched in our minds forever."
Son of popular actor (late) Mohan Bhandari, Dhruv ventured into TV with Rakt Sambandh after a stint in films, while he has been extensively involved in the musical play Taj Express, which was choreographed by Shruti. This is where he the two met and what followed was a love story straight out of a fairy tale.
"Shruti and me both wanted a destination wedding and did an extensive hunt for location. Finally we zeroed upon Mauritius and it was beautiful. The hotel was also called Paradise and it truly was a setting in heaven. Along with our families, we were actively involved in the preparation from shopping to finalising on the decorations and food. The wedding actually brought us and the families closer. It was a beautiful phase. Being artistes we also presented quite a hit dance performance for our guests." added the actor.
Stating that he has always wanted to live with Shruti, Dhruv added, "We have been dating for long. We have travelled and partied together and it felt weird to say goodbye while going home. Now that she's home, I am happiest. She is a very organised person so she has been preparing the shift, but she is slowly settling down."
When we quizzed him on what did Shruti cook for him, blushing he replied, "She made amazing anda bhurji (scrambled eggs) for me. It was the best one I have ate in my life."
Check out some pictures of the couple: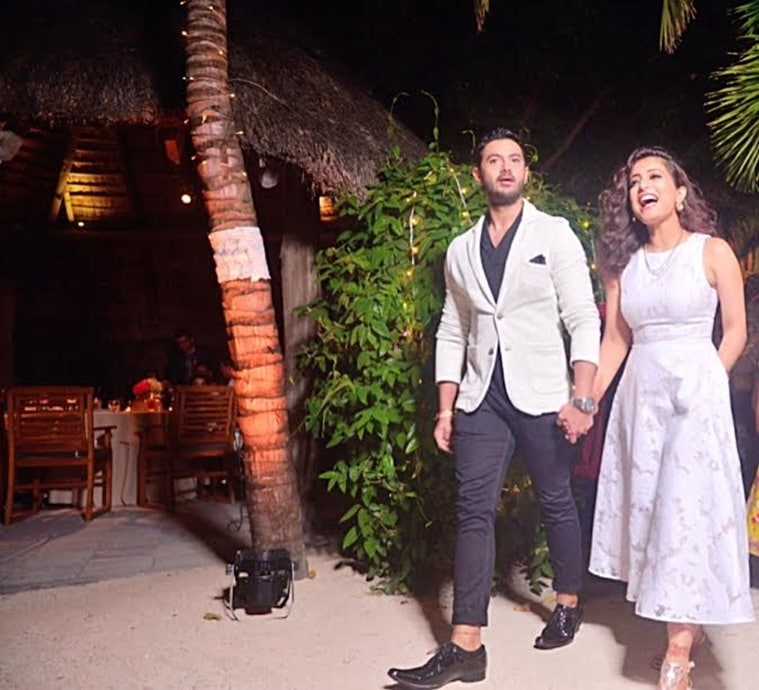 And lastly as we probed him on his honeymoon plans, Dhruv quipped, "Right now there are no plans as we both want to focus on our careers. It's been long that I have been away and feel that it's time I get back to work. It was a conscious decision that I'll marry before taking up a show, for TV would have never given me the required time to live my big day."
Here's wishing Dhruv and Shruti a great married life ahead.
For all the latest Entertainment News, download Indian Express App