Former Big Boss contestant Bobby Darling, who became Pakhi Sharma after undergoing gender transformation, recently accused her husband Ramnik Sharma of domestic violence and demanding dowry.
Bobby Darling got married to Bhopal-based road contractor Ramnik Sharma in February 2016. The former Bigg Boss participant, who has also featured in films like Hasee Toh Phasee (2012), Kya Kool Hai Hum (2005) and Page 3 (2005), maintained a cordial relationship with Ramnik and his family until recently.
Today when indianexpress.com spoke to Ramnik, he told us everything that Bobby has said is baseless and she is doing it to get some publicity and his money. Ramnik has also lodged a complaint with Bhopal police stating that Bobby Darling is missing.
Here are five revelations Ramnik made about Bobby Darling and their marriage
1) She had told me that she could biologically have babies
"After Pakhi had a sex change, and when we fell in love, she told me that she could physically have babies, but then when I realised that she had lied to me, I told her we can have a baby through adoption, but she refused. So, my family and I were okay with that too. I was cheated on many grounds. Her hair is not real too. She wears a wig. She shouldn't have lied to me like this. I love her. I wouldn't have had problems with all this if she had been truthful," said Ramnik Sharma
2) She is addicted to drugs
"She takes drugs regularly. Initially, Bobby told me these are the medicines her doctor prescribed. Her sex reassignment surgeon had given her drugs that were different. Those were hormone drugs," added Ramnik.
3) She wants all my money
Accusing Bobby of being a gold digger, Ramnik Sharma quipped, "Bobby is saying that I used to beat her up from last one and a half years, but do you really think she would keep quiet for so long. She is now talking to media and abusing me with such bad expletives. After we got married, I had transferred half of my property in her name, because that's what we do here. We transfer half the property in our wive's names, so they are taken care of when we aren't around. But now she is lying. I or my family never beat her up. I have proof of how we used to have so much fun as a family. My mom loves her. My family was always supportive of her. She herself said it when she interacted with media after her first 'karvachauth' fast."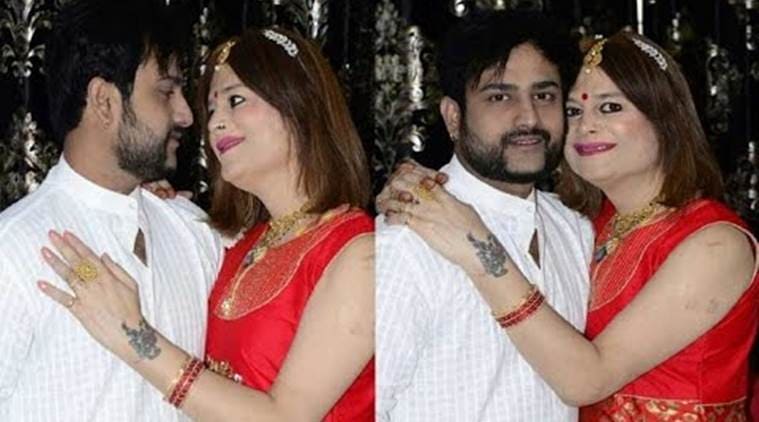 4) She is frustrated because she is not getting work
"For so many years now, she has not been working. She wants to work, but she is not getting roles in films. Bobby assumed that after the sex reassignment procedure, she will start getting roles as heroine in films, but that didn't happen. I made sure to take care of her during her tough time. We went on so many international holidays also. I continued to support her, but now she is blaming me. I have not hit her, and her dowry charges against me and my family are baseless too. We got married in a temple through Arya Samaj ritual and it doesn't have anything like dowry. She also said that my brother used to beat her up too, but he stays in Itarsi, and everybody knows that Bobby stayed with me at our penthouse in Bhopal," said Ramnik Sharma.
5) She had suffered partial paralysis and I took care of her
"Because of her drug problem, she had a clot in her brain and she was left paralysed on her left side. I have doctor's reports. She is getting cured for the same. Now she can move around but it was difficult for her. Her family never supported her, and she had found a loving family in my family. And, now she is doing this to us. I have finally gone to the police and stated my side of the story too. I have lodged a missing complaint, and there were a lot of things which went missing at home. I have lodged a complaint for theft too." remarked Ramnik.
📣 The Indian Express is now on Telegram. Click here to join our channel (@indianexpress) and stay updated with the latest headlines
For all the latest Entertainment News, download Indian Express App.