Gangs of Wasseypur singer Deepak Thakur has rightly named the Bigg Boss 12 house as the 'Battle of Grahyastra'. It's not even a week and the contestants have already formed groups and are picking fights.
Giving the housemates a hint of the next task, Bigg Boss will play the song 'Badshah' as the morning alarm. And soon the first captaincy task 'Raja Ki Duvida' will be announced. The men of the house will bear the brunt of the first task. They will not be allowed to compete for the captaincy.
As part of the task, the jodis will have to nominate one pair among Saba Khan-Somi Khan and Kriti Verma-Roshmi Banik and the singles had to choose between Nehha Pendse, Srishty Rode and Dipika Kakar. In the task, Anup Jalota would play the role of a Rangeela Rajkumar and the girls will have to act as his 'Ranis'. The Ranis had to earn a rose from the Rajkumar by entertaining him. Whoever would get the maximum roses will be declared as the captain of the house.
The contenders would be seen trying to impress the Rajkumar as they would sportingly take up dancing, singing, cooking – making every attempt to win roses from him. While Dipika would perform to "Dil Cheez Kya Hai", Kriti will leave no stone unturned as she would dance on "Jab Pyaar Kiya Toh Darna Kya".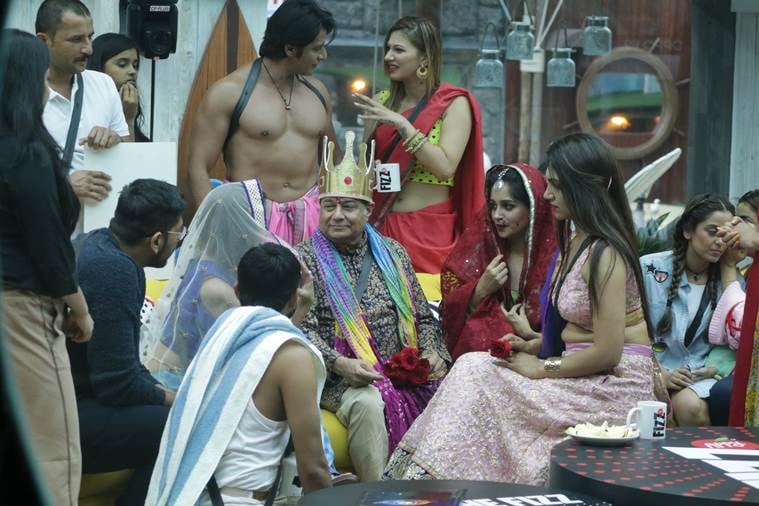 On the other hand, the boys of house will also take it upon themselves to entertain the Rajkumar. While Karanvir Bohra will give a kathak performance, Romil Chaudhary will rap a song and Sreesanth would sing a bhajan for him. Jalota too would leave everyone giggling as he will croon Sunny Leone's "Baby Doll".
Amid all the fun, the nominations would continue to be a burning topic in the house. Deepak Thakur, Romil Choudhary and Nirmal Singh will discuss how they need to up their game in order to survive in the house. On the other hand, while everyone would be making new friends, Somi will still not manage to connect with anyone in the house and would be seen staying aloof throughout day. Also, Shivashish Mishra and Sreesanth will get into a heated argument which would later blow out of proportion.
Who will manage to become the first captain of the house? To know more watch Bigg Boss 12 tonight on Colors.